Shenkman Jewish Center opens to public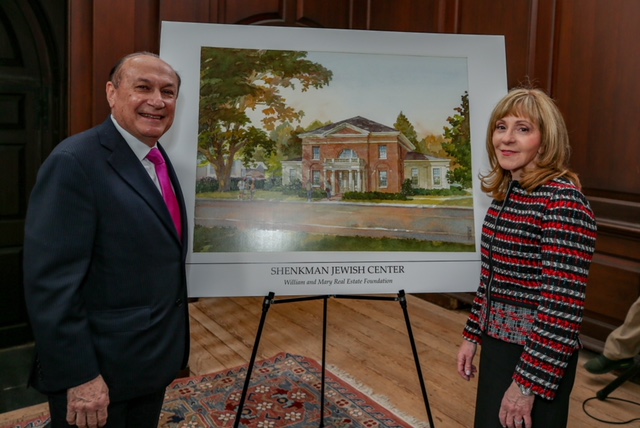 At the corner of Jamestown Road and Cary Street, the Jewish community at William & Mary now has a dedicated home. The Shenkman Jewish Center opened its doors to the public the morning of Wednesday Nov. 14, only nine months after its groundbreaking ceremony in February of this year.  
There was not much elbow room on the first floor of the two story, 3,000 square foot center, as a crowd of students, faculty, staff, administrators and community and religious leaders packed the Shenkman Jewish Center's main room to watch the dedication ceremony. The center is named for the Shenkman family, and donations from Mark Shenkman and Rosalind Shenkman funded the project, with its associated seven-figure monetary cost.  
Before the ribbon-cutting, university President Katherine Rowe, President and CEO of Hillel International Eric Fingerhut, Director of Hillel at William & Mary Rabbi Gershon Litt, outgoing Hillel President Alexina Haefner '19 and Mark Shenkman all took to the podium to speak about the center's importance for the Jewish community at the university. Former university President Taylor Reveley, who presided over the groundbreaking ceremony in February, was also present at the event. 
Haefner said she was looking forward to using the space for Jewish students in her last semester at William & Mary before she graduates in May, and that its impact will extend beyond her time as a student here.
"It's a space where Jews can gather for holidays and events, but also just to study and hang out, where friendships are made," Haefner said. "And so, Jewish students who want to get more involved or meet other Jews at William & Mary, they'll know exactly where to go," Haefner said. "When I come back for Homecoming in years to come, I know that I will be coming back to a larger and more engaged community as a direct result of this gift."

Mark Shenkman, in his remarks, emphasized that he hopes to see the Center brought to life with engaging students, impactful programs, memorable social events and kosher food. Additionally, Shenkman — echoing other remarks made at the event by others involved in the development of the Shenkman Jewish Center — said that he hopes its existence will attract more Jewish students to enroll at the university.

"Many of you may know that my dream was to matriculate at William & Mary," Shenkman said. "It started when my parents visited Colonial Williamsburg when I was 10 years old. … Today, as an amateur historian and collector of documents and political artifacts connected to America's Founding Fathers, strolling around this campus, reflecting on the great impact this college has had on American history is a unique and inspiring experience. One of our family's philanthropic objectives is to ensure that our gifts will make a difference. I was always struck when I visited my son Greg at the College, how could the nation's second-oldest college fail to have a visible Jewish presence?"
For more on this story visit "The Flat Hat."