Musical activism earns Gilliard '18 Monroe Prize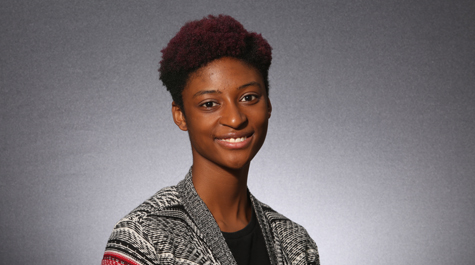 Photo by Stephen Salpukas.
When Jordan Gilliard's high school choir teacher cued the group to start singing, silence followed.
"No one would sing because we were so scared we wouldn't know the note," said Gilliard. "He told us, 'If everyone is waiting for someone else to sing, then nothing will happen.' And I've just incorporated that into my life. Nothing's going to happen if we're all waiting for someone else … You don't have to be the savior, just the person who starts stuff."
During her four years at William & Mary, Gilliard '18 has often been that person, building community by working to provide students of color more opportunities to have their voice heard, in both the university's music scene and beyond.
For her work, Gilliard will receive this year's Monroe Prize in Civic Leadership at the Charter Day ceremony in Kaplan Arena Feb. 9. The prize is awarded annually to a student who "has demonstrated sustained leadership of an unusual quality, leadership combined with initiative, character and an unfailing commitment to leveraging the assets of the William & Mary community to address the needs of our society," according to the award description.
"Jordan Gilliard has exemplified civic leadership throughout her time at William & Mary, bringing her commitments to social justice, racial equity and community building to every aspect of her life," said Melody Porter, director of the Office of Community Engagement. "In organizational leadership, academic inquiry, music and writing, Jordan's active citizenship has challenged injustice, spoken truth and deepened relationships in ways that are keenly needed in our society."
During her time at the university, Gilliard, a public policy major focused on educational policy, served as the president of the W&M NAACP chapter, co-founded the Featuring Lyrics of Other Worlds music group, created the "Real Talk A Capella at W&M" video series and organized a Black Lives Matter William & Mary conference. A Sharpe Community Scholar, she also participated in a Branch Out Alternative Break trip to Philadelphia that focused on criminal justice and mass incarceration.
For more on this story click here.