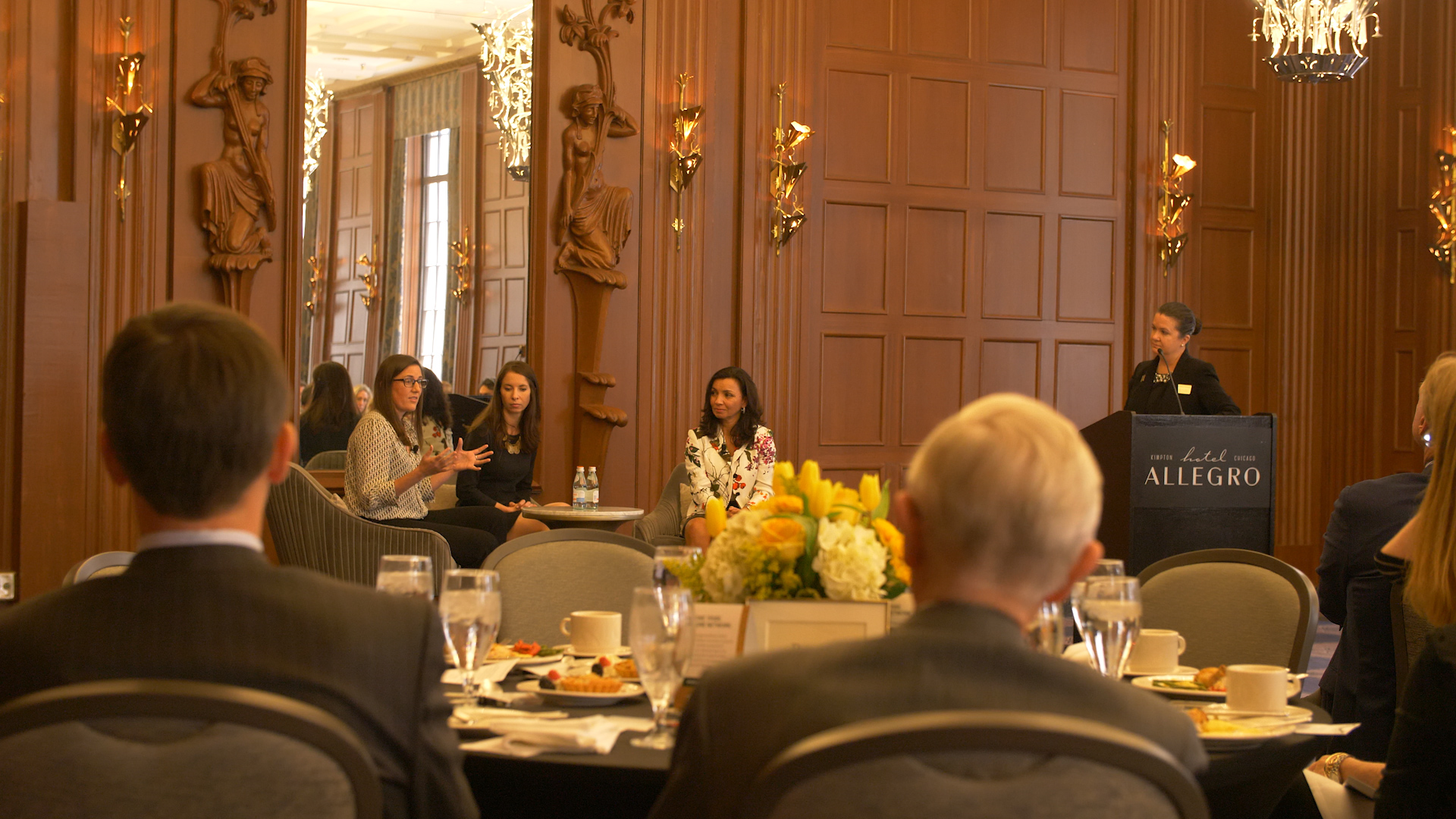 The attention span of a goldfish is only eight seconds. The attention span of the average human is only seven. So how do you get and keep people's attention? 
That's where marketing professionals come in. At a luncheon at William & Mary Weekend in Chicago this June, three alumnae in the marketing profession answered this question and more in a panel discussion moderated by Dr. Dawn Edmiston, clinical associate professor of marketing at the Raymond A. Mason School of Business.
The three women — AnnaMaria DeSalva '90, Anne Desmond Warden '02 and Amanda Willard '02 — discussed understanding and motivating audiences, reaching customers using multiple media and growing your career in a time of rapid technological change. DeSalva is a senior adviser at DowDuPont; former chief communications officer, DuPont; and independent director, XPO Logistics, Inc. Warden is executive vice president at Edelman. Willard is vice president of marketing and brand at Teeoff.com by the PGA Tour.
Warden shared that the key for reaching people despite their short attention spans is to know exactly who you want to reach. Targeted messages take more effort to produce but achieve better results, she explained. 
"Trust who your customers are and lean into that. You need a crystal-clear image of what motivates your audience," she said. "The average American scrolls through 300 feet of social media feed per day. You need to really speak to their needs in an authentic way to reach them."
Gathering data on your customers can help with this, but privacy concerns must always be top of mind.
"The new privacy rules from the European Union are forcing us to be more globally focused," said Edmiston. "It's also changing the way we teach. Ethics shouldn't be the last chapter of the textbook, but the first thing we discuss and part of everything we do." 
Even though the new digital landscape creates challenges, Edmiston still believes it's a great time to be in a marketing career.
DeSalva agreed. "It's a great time to be in corporate communications, too," she added. "Corporations are struggling with challenges to their reputations, difficult stakeholder relations and adapting to the digital landscape. Think about where you can make a difference." 
The panelists took questions from the audience about how to hire more William & Mary alumnae, how to work more closely with sales departments, and even a question from President Taylor Reveley about how best to pitch William & Mary to prospective students (the answer: tap into what people already love about William & Mary, and help people find their Tribe). 
Willard's advice for people wanting to pursue a career in marketing is to "trust your gut."
"Sometimes you will need to make courageous decisions and speak up for ideas you know are good," says Willard.
The luncheon was sponsored by the Society of 1918 and One Tribe. One Network. For more great career development resources and programs, including webinars, online networking, in-person events and more, visit wmalumni.com/onenetwork.
This September, William & Mary is offering another great opportunity to hear from inspiring alumnae and celebrate 100 years of William & Mary women. The first-ever William & Mary Women's Weekend will be held on campus September 21-23. Refresh, reconnect and reenergize as we learn from each other, explore what wellness means in all areas of our lives and focus on issues that matter. Register today.