Alumnus H. Mason Sizemore's Legacy Shines Brightly at William & Mary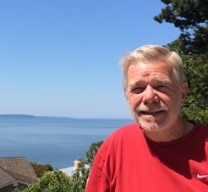 "'Why not?' Those two words might be used to describe H. Mason Sizemore's '63 outlook on life."
"They were the words he used when he sent a letter seeking employment to the Seattle Times after attending journalism school at the University of Missouri. They were the words he used during his ascent from copy editor to president and chief operating officer at one of the largest afternoon newspapers in the United States, a paper that won two Pulitzer Prizes last year. Those words could be used to explain his motivation to move to the Pacific Northwest and still stay involved with the College."
This is an excerpt from an article in a 1998 Alumni Gazette — now referred to as the William & Mary Alumni Magazine — which was written as a lasting tribute to Sizemore when he was recognized with the Alumni Association's most prestigious award, the Alumni Medallion.
Twenty years after this article was written and Sizemore celebrated his induction into the distinguished and exclusive group of alumni medallion recipients, the William & Mary community is mourning the loss of our esteemed alumnus.
Sizemore will always be remembered for his spirited devotion and love for alma mater and for his skillful and trusted leadership in the field of journalism.
The son of parents who both graduated from William & Mary in the 1930s, Sizemore's interest and passion in journalism started at an early age. A native of Halifax, Va., Sizemore was a copy editor, business manager, managing editor and editor-in-chief of William & Mary's own Flat Hat. While working at the newspaper, he met his future wife, Connie C. Sizemore '62.
When serving in various roles at the Flat Hat, he always stood up for what he believed was right, even if it meant a brief expulsion from school. While editor-in-chief, he was thrown out for a weekend for running an editorial criticizing the restriction on academic freedom in light of a ban on controversial speakers, according to the article in the Alumni Gazette.
After graduating with a history degree and marrying his college sweetheart, Sizemore earned a masters degree in journalism from the University of Missouri before he took a job as a copy editor at The Seattle Times. He stayed with the paper for 37 years, working his way up to become president of the company. During his tenure as president, the industry faced incredible change as the Internet age presented great challenges for newspapers, including his own, across the U.S. But it was his vision and leadership that enabled the company to turn the difficult challenges into opportunities.
The Sizemores' connection to William & Mary stayed with them long after they graduated in the 1960s. Their generous support of the university led to the creation of the Sizemore Journalism Travel Fund in 2014, which provides travel funding for undergraduate students to conduct interviews and research for journalism projects.
While the university doesn't have a journalism program, there are other courses that provide opportunities for students to write for non-academic audiences. The Sizemore Fund provides students enrolled in these courses with the resources to go out into the field and gather the necessary information they need to write substantive articles and publications.
Additionally, Mason and Connie established the Sizemore Fellowship for Graduate Study in Journalism, which provides financial assistance to graduating seniors pursuing an advanced degree in journalism. In a 2014 William & Mary Alumni Magazine article, "The Liberal Arts Media," Jeff Dooley '09, who at the time was general editor at ESPN Insider, credited the scholarship funded by the Sizemores as a reason why he was able to attend Columbia University's Graduate School of Journalism and later become a much better journalist.
Sizemore was also the co-founder of William & Mary's Seattle alumni chapter and served on the Alumni Association's board from 1990 to 1996. Incredibly, while on the board he never missed a meeting, even if it was in London. According to Sizemore, "There's more to contributing to the College than getting on a plane and traveling to Williamsburg."
It is this sentiment that people serving with him greatly admired. Most would say that so many in the Tribe community and beyond have learned a great deal from Sizemore's can-do attitude and belief that anything is possible if you work hard and put in the time.
Perhaps most of all, Sizemore will continue to teach us the importance of asking "Why not?" more often as we continually strive to pursue our passions, make an impact in the world and become who we were always meant to be.
Read more about Sizemore's legacy in The Seattle Times' tribute here.
The 1998 Alumni Gazette article about Sizemore receiving the Alumni Medallion can be found here.
The editorial that ran in the Flat Hat can be found here.
Alumnus Wilford Kale '66 writes about Sizemore's legacy here.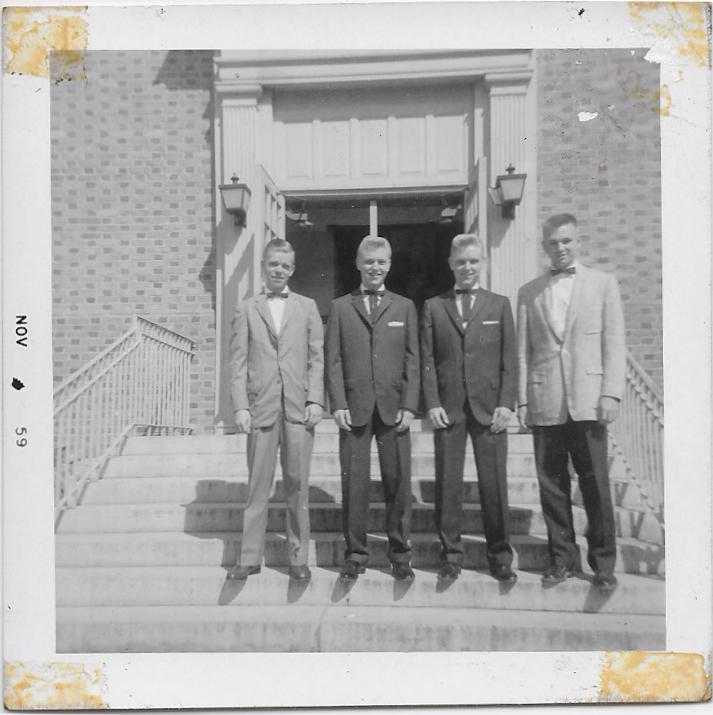 Photo courtesy of Pam Hitt '63
From left to right: H. Mason Sizemore '63, Artie Regel '63, Jonny Regel '64 and Dave Hitt '63.