Library receives diary of soldier imprisoned at William & Mary during Civil War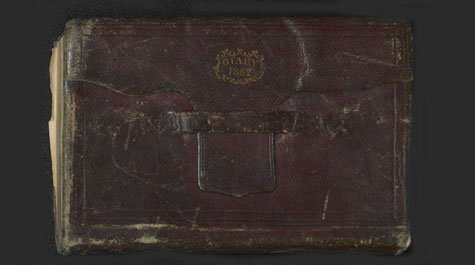 Photo courtesy of Swem Library
On a cold, rainy day in May 1862, a young Union soldier, Henry Alexander Scandrett, would experience his first battle. Unfortunately it would be a losing battle. His regiment, the 70th New York, joined the attack on Confederate lines at Fort Magruder, an earthen redoubt two miles east of Williamsburg. The regiment saw heavy action; 350 men were killed or wounded. A small group of survivors, including Scandrett, were taken as prisoners of war and held at William & Mary.
Writing in his pocket diary, Scandrett's first entry on May 5, 1862 begins with a significant announcement:
"Was in my first battle today. About 1 Oclock P.M. our regiment was marched into the field about. We were thrown in advance and through some blunder was not reinforced. We have lost all our company officers and our field officers are all wounded. With fifteen others I was taken prisoner and am now in William & Mary college."
This is the first record of Union prisoners of war being kept at William & Mary during the battle in 1862, according to local historian, Wilford Kale '66.
For more on this story click here.