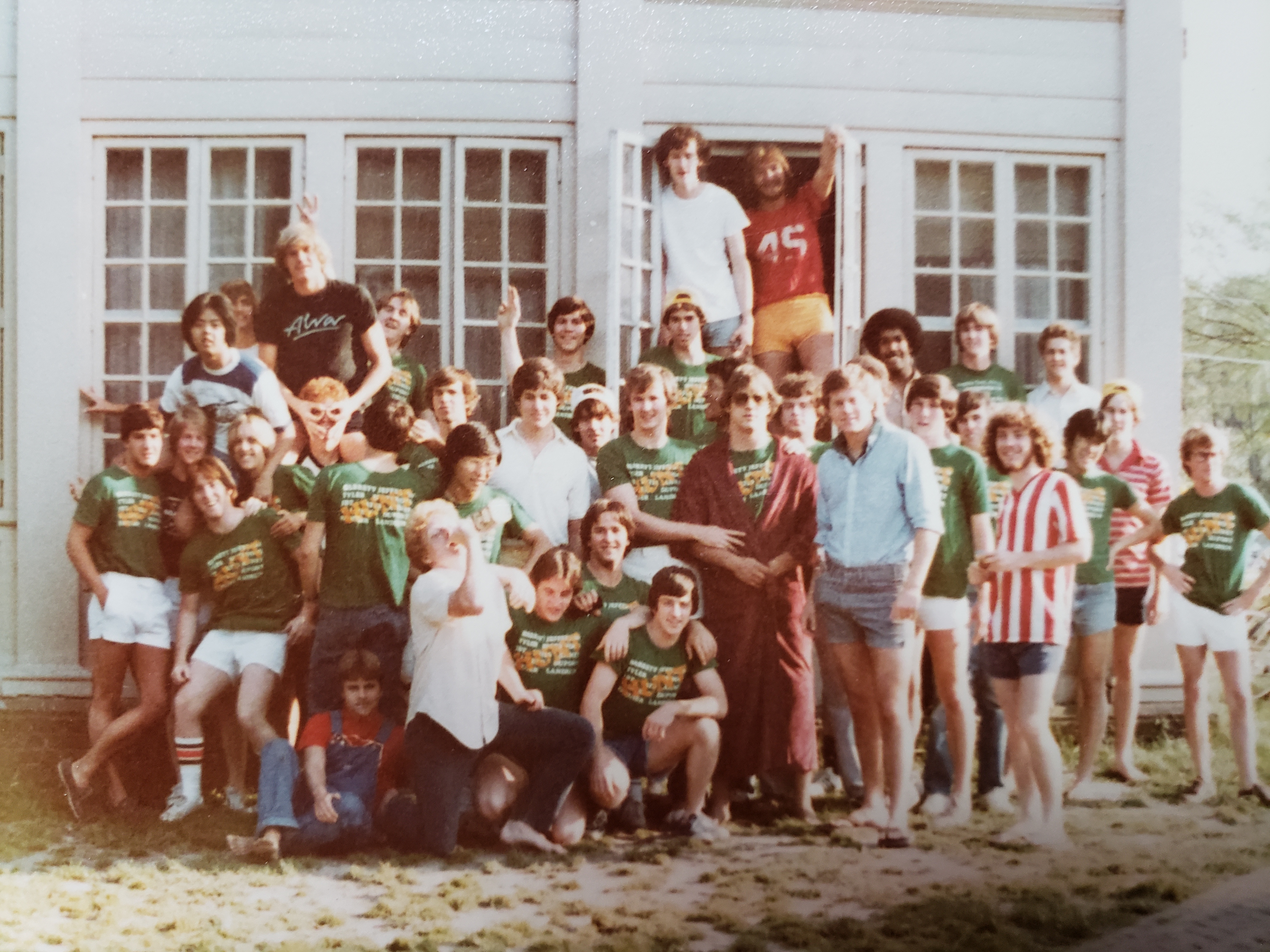 John Graham '83 answered the ringing phone on the second floor of Hunt Hall, his freshman dorm. A familiar voice spoke from the other side.
"Collect call from Mr. Crenshaw!"
Graham knew what was coming. Looking to his left and his right, he saw a group of his friends stampeding through the hall, laughing all the way. While other residents and Resident Assistant Doug Cochrane '82 watched and laughed in anticipation, the group piled on top of Graham football-style, thus executing a perfect Crenshaw.
The story of the Crenshaw, in its bizarre and chaotic glory, is the story of the Class of 1983's freshmen year in Hunt Hall. Together, the dorm's 50-student all-male group formed lifelong friendships and created countless zany memories — some of which can't be repeated.
In 2008, the 25th anniversary of their graduation, members of the group began reuniting outside their freshman hall at Homecoming. Now, 10 years later at the 35th anniversary, the reunion and its subsequent stories are set to be better than ever.
No one knows why or exactly when the Crenshaw started. It just happened. Graham told it this way: One day, while a group of Hunt Hall dorm residents walked together near Wren, two started roughhousing, and one tackled the other. Soon everyone joined in, they ended up with a full pile-on, and one member, Jeff Harrell '83, yelled "Crenshaw!" echoing the name used for pile-ons in his rural Virginia hometown. They kept 'crenshawing' each other throughout the year and, well, history was made.
But that wasn't all.
Graham remembers taking some of the notoriously inedible hamburger patties from the school cafeteria and playing hockey in the hallways. They launched water balloons off the roof at rival dorm Tyler Hall and threw theme parties, dressing in "Gilligan's Island" or "Star Trek" costumes, in each other's rooms. They even started a dorm newspaper, "The Hunt Runt," which still circulates among the Hunt alumni via email to this day.
"When we saw each other around campus we would always chant, "Hunt! Hunt! Hunt!" like a loud tribal cry," said dormmate Skip Rowland '83. "Looking back, it probably confused everyone on campus."
At the time, there were also pubs within walking distance of Hunt, and the legal drinking age then was 18. That's all Graham, Cochrane, Harrell and Rowland had to say about that.
In 1980, there were no laptops or cell phones. If you wanted to contact other students, you had to visit their dorm room and leave a note on a whiteboard hanging on the door. There was one landline phone for each hall and one small television in each lounge. Most of your friends were the people who lived nearby.
The Class of 1983 group in Hunt Hall was a small microcosm of the country. There were some from the South and some from the North. Some were quiet, some loud. The group included party animals, nerds, athletes, music fans, a scrawny guy nicknamed "The Hulk" who painted himself green one Halloween and one particularly artistic student from Seattle.
Somehow, they brought the best out in each other. They just seemed to gel.
"It was just the perfect storm for bonding," said Cochrane.
Cochrane, one of the buildings R.A.s, assumed an older-brother type role for the rest of the dorm. Even if some rules were occasionally broken, the R.A.s knew when to step in and say no.
"We felt like our role was part social director for the dorm, part big brother," Cochrane said of the RAs. "We felt like this group was special."
Rowland and Harrell both grew up in rural Southern Virginia — Harrell's hometown had a population of 55. Living together with such different people opened their eyes. They came from one-size-fits-all towns, where you had to invent your own fun, but in Hunt, exposed to different cultures and perspectives, they left more open-minded and adaptable to different communities.
Graham, too, said he came to college an insecure and homesick 17-year-old. The nine months he spent living with the 49 other members of the dorm taught him confidence and reassured him about college and life going forward.
He knew he found a community where everyone belonged.
At previous Homecoming reunions, freshmen currently living in Hunt allowed the alumni back inside the dorm to take a tour. They report that Hunt's not quite the same as they remember. You can't open up the third-floor French doors and sunbathe on the roof anymore. The small lounge TV, where they watched the real-life "Miracle on Ice," has been replaced with a newer flat-screen.
Cell phones now exist. So do laptops. It's easier to make friends across campus and harder to keep a freshman hall together.
But the 1979-80 Hunt residents haven't drifted apart. Even now, more than 35 years later, they keep in contact through phone and email, and they expect at least 25 at this year's reunion. Three members of the group have died. A few others have been hard to track down, but the majority continues to get back together.
"The first time we got back for the reunion we picked up right where we left off," Harrell said. "It was like 2008 and 1980 were just one day apart."
During their freshman year, the group had custom t-shirts made for themselves, with the names of all other freshman dorms listed on the front and a giant, bolded "HUNT!" stamped across them all. In celebration of this year's reunion, they've reordered the same t-shirts and are bringing fresh ones back.
For nearly four decades, the 'Hunt Men,' as they like to call themselves, laughed, pranked, grew with and supported each other. Years later, when one member of the group found out he had Lou Gehrig's disease, they started a GoFundMe campaign to raise money for in-home care, and also bought a custom brick for him outside the Alumni House. They embraced each other then and they embrace each other now.
Each member of the group had advice for current students trying to build close relationships with neighbors on their hall.
Cochrane suggested looking at college as a chance to learn beyond your classes, and Graham said to eat with and form intramural teams with your hallmates, even the guys you know less well. Harrell advised staying off your phone, and Rowland recommended keeping an open mind.
The magic of Hunt Hall in 1979-80 may not be repeatable, but it happened once, and that's what makes it so special.
Rowland's son attends William & Mary now. He, just like his father, stayed in Hunt freshman year.
It was strange, Rowland said, to walk through the building as a parent. Things had changed, as had he. But in those halls there were inerasable memories — memories that stayed with Rowland, even when he left.
It was never just about the building anyway.