Pilot, Incubate, Partner, Impact: Helping W&M take global problem solving to scale
William & Mary's Global Research Institute (formerly known as the Institute for the Theory & Practice of International Relations) is celebrating 10 years of empowering teams of students and faculty to make a difference in the world.
In the Institute's first decade it catalyzed path-breaking research; trained more than 1,000 undergraduate students as leaders in the areas of international security, development, and data science; and created a vibrant intellectual community of faculty, practitioners and students. The Institute's goal is to raise $3 million for the anniversary campaign in order to continue to have a global influence through research.
"William & Mary and the Institute have created a generation of globally minded and engaged students," said Grace Perkins '14. "During my time there I found mentors, friends, future professional colleagues, and a life-long passion for asking the tough questions."
These opportunities for students and faculty, combined with the Institute's impact in the world, have raised the profile of W&M as a global institution.
"The Institute exemplifies the best of William & Mary," said William & Mary Chancellor Robert M. Gates '65, L.H.D. '98, "Creativity, entrepreneurship and intellectual risk-taking are rewarded. By investing in the power of student-faculty research, the Institute is helping position W&M as a leader for world-class, applied undergraduate research."
During the past 10 years, Institute projects and faculty have been globally recognized for their insights. Research at the Institute is regularly featured in outlets such as The Economist, The Wall Street Journal, Foreign Policy and The Washington Post. Organizations such as the Bill & Melinda Gates Foundation, the Carnegie Corporation of New York, the MacArthur Foundation, USAID and the National Science Foundation have invested more than $50 million in the Institute's projects. The U.S. Department of State, Department of Defense, the World Bank and nonprofits throughout the world have used its research results to inform their decisions.
"We're already one of the best places in the world to get a degree in international relations," said Sue Peterson, Institute co-director and the Reves Professor of Government and International Relations at William & Mary. "We aspire to be one of the best places in the world to do applied global research. And we're well on our way."
The heart and soul of the Institute is the opportunity it provides for undergraduate students to partner with faculty to engage in cutting-edge research.
"We didn't seek out to construct a great culture and great community," said Mike Tierney, Institute co-director and the Hylton Professor of Government and International Relations at William & Mary. "But our approach to research, I think, has done exactly that." From expedition-based coursework in Guatemala, to briefing policymakers in Washington, D.C., running evaluations in Liberia, or conducting data analysis on W&M's supercomputers, each semester more than 200 students work with faculty on an Institute project or participate in one of its programs.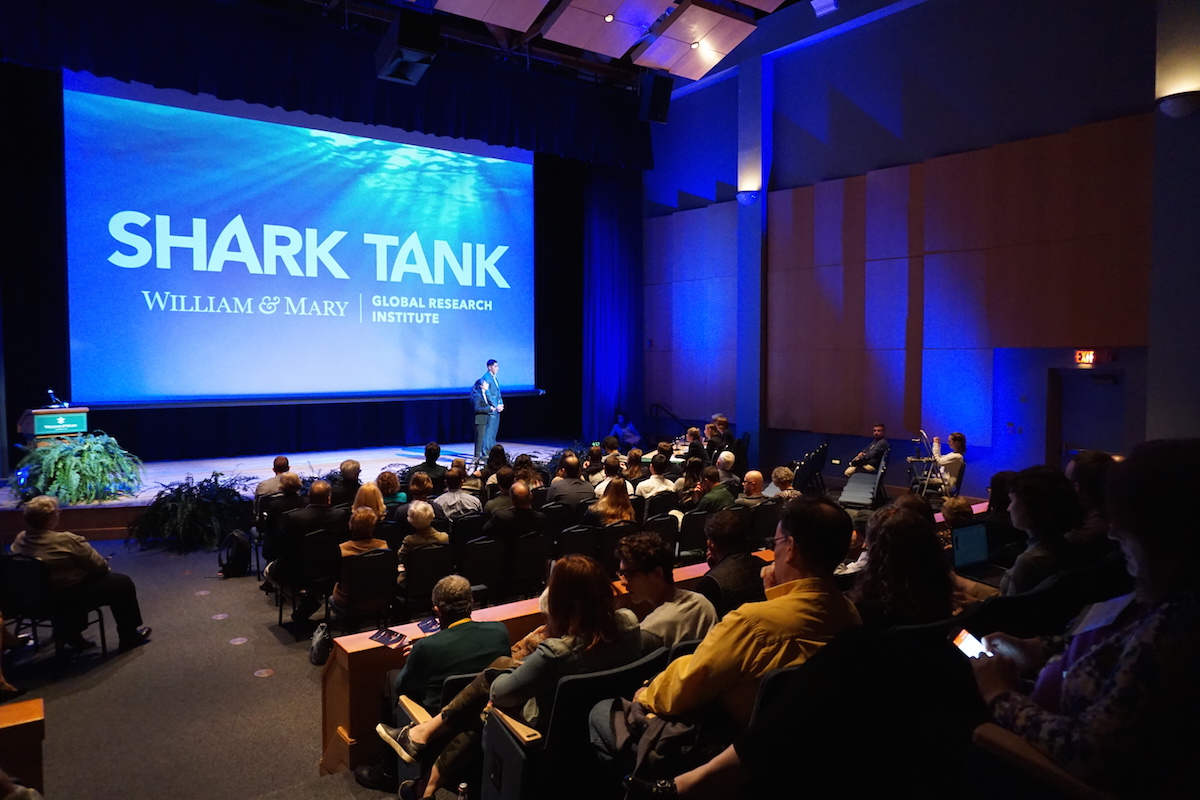 As the Institute looks to the next 10 years, it has an audacious goal: it aims to make W&M the best place in the world for undergraduate students to do applied research on global issues.
"It's places like the Global Research Institute that help William & Mary be the place you come when you have an unsolvable problem, requiring data that has not been collected and research methods that have not yet been invented," said William & Mary President Katherine A. Rowe during the recent Shark Tank competition. "When you meet their students, you see that the future of solving these problems is bright indeed."
We are asking you to help invest in their future. The Institute has a strong history of innovation and exploration, incubating powerful ideas and scaling the best of them. A gift to W&M's Global Research Institute will help the Institute continue its historical 10-fold return in attracting investment by external partners, helping to seed new ideas, develop the next generation of leaders, and provide funding for the inevitable ups and downs of grant-funded work. To learn more about the Institute's work, visit their website, view their recent video or contact them.