Breaking Ground, Making History: Thanks to private donations, work begins on the Tribe Field Hockey Center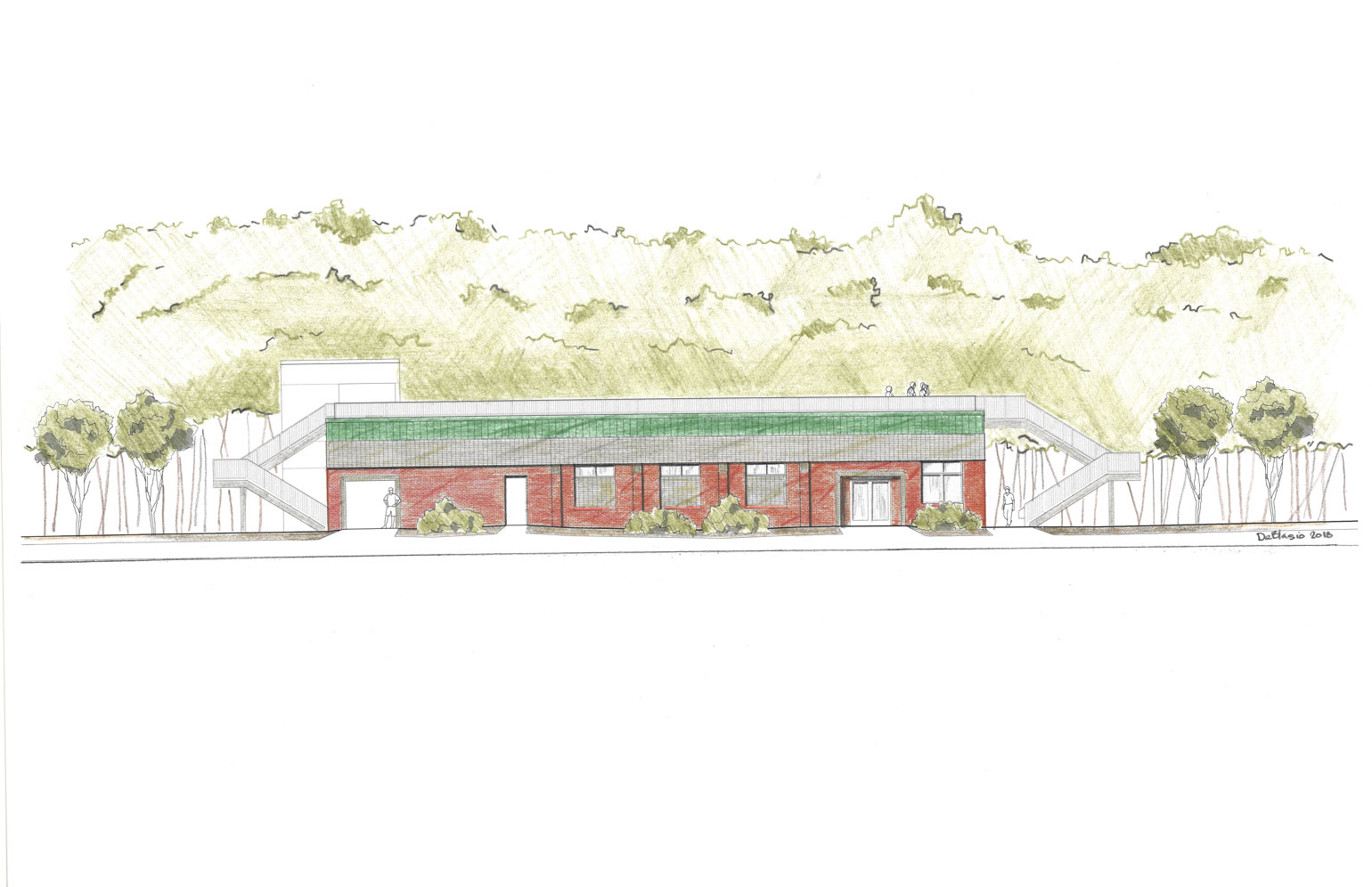 Rendering by Darin DeBlasio with McKinney and Company
When William & Mary head field hockey coach Tess Ellis first came to the College in 1992, she said she remembers dragging old sticks from the now-demolished equipment shed on Barksdale Field back for use. Her office is filled with photos — and even more have been moved to the archives — depicting the rich history of the team. This semester, through Century Project donations, the team is once again making history.
As part of the commemoration of 100 years of coeducation and 100 years of women's athletics, a team of donors contributed $2.4 million to establish new facilities at Busch Field. This fundraising project, titled the Century Project, was designed to enhance the experience of female athletes and the caliber of the College's facilities. Now, following a vote by the Board of Visitors, the facilities will be named the Tribe Field Hockey Center, featuring public restrooms, women-only locker rooms and other athletic facilities.
For Cathy Bessant, mother of Meredith Clay '18 and Bank of America chief of operations and technology, there were several clear reasons that led her to give back to the team. One of these reasons is that, to her, student athletics is a way to foster personal and professional skills. As she puts it, athletics develops "whole life" skills that benefit all aspects of life.
"I'm a big believer in athletics," Bessant said. "I think that athletics teach resilience; they teach team effort; they teach the importance of preparation. If I see two resumes that look identical, and one person's an athlete, whether they are number one on the team or the last person on the bench, I want to interview the athlete first. It also teaches how to balance complex demands on your time."
Additionally, Bessant said that after her first time in Williamsburg cheering on her daughter, she saw the need to support both women's athletics in general and the field hockey team.
"I think physical facilities really matter," Bessant said. "Having a place to prepare, having a place to come together, is important to athletes and team performance. The quality of facilities impact performance. … When the facilities aren't competitive, it's hard to do recruiting that is competitive."
Ellis echoed this sentiment. She said that today's world is materialistic, and that the new field hockey facility will put William & Mary's team among the ranks of the University of North Carolina and the University of Michigan — showcasing what she sees as the growing talent of the team.
"We can now say we have this beautiful complex; don't you want to be a part of this?" Ellis said.
For Bessant, who is one of the lead donors of the Century Project, her financial contribution was also intended to encourage others to donate. She said she believes that athletics act as a community unifier and that if William & Mary can provide a stronger athletic experience through building new facilities, it will strengthen the unity created on the field.
"Age, income, gender, race, none of that matters when you're cheering for your team," Bessant said. "I do think it has societal benefit in uniting communities and uniting people. I also think that athletics make for really vibrant communities. It is a lot of fun and very attractive and very magnetic to have a rich athletics community."
Other lead donors include John Clay, the father of Meredith Clay '18, Kelly and Chris Donahue, Maryellen Farmer Feeley '85, Ed Feeley M.B.A. '85, Tribe Athletics Hall-of-Fame women's golfer Tracy Leinbach '81 and former women's Athletics Director Millie West.
"What we're doing on the field is being matched off the field by the donors," Ellis said. "We've stayed competitive, that's allowed donors to take pride in that."
Beyond recognizing the success of the field hockey team, who went to the National Collegiate Athletic Association Tournament this year for the third time since 2000, the construction of the new facilities is also a move to celebrate equity in women's athletics. The team, along with Ellis, has been recognized by both the Ladies of Alpha and the Seven Society for its strength as a women's team.
"We are thrilled to honor a century of women at William & Mary with the groundbreaking of the Tribe Field Hockey Center, generously funded by donors to the Century Project," Director of Athletics Samantha Huge said in a press statement. "This facility is a physical manifestation of the strength and excellence of Tribe women athletes through the years and I am proud that the Tribe Field Hockey Center will serve our student-athletes for generations to come while recognizing the enormous contributions of women to William & Mary."
Bessant also said that throughout her years as a field hockey parent, she's noticed that women's sports get less attention from donors and from the audience. She said that moving forward, her gift, which she hopes will inspire others, will lead to a more equitable situation.
"Women's sports have typically gotten far less resources than some of the men's sports," Bessant said. "This field hockey facility is $2.4 million. I think the school just paid over $20 million to renovate the football field. I know this is an ongoing question, the real fact of it is, there is a real question of equity in the support of women's athletics. I get that women's athletics don't bring in the big money. That said, an institution with the academic and social integrity of William & Mary, I expect to be a leader in gender equity. Part of what I wanted to do with our lead gift here is motivate and encourage the university to work on athletic equity."
For more on this story visit "The Flat Hat."