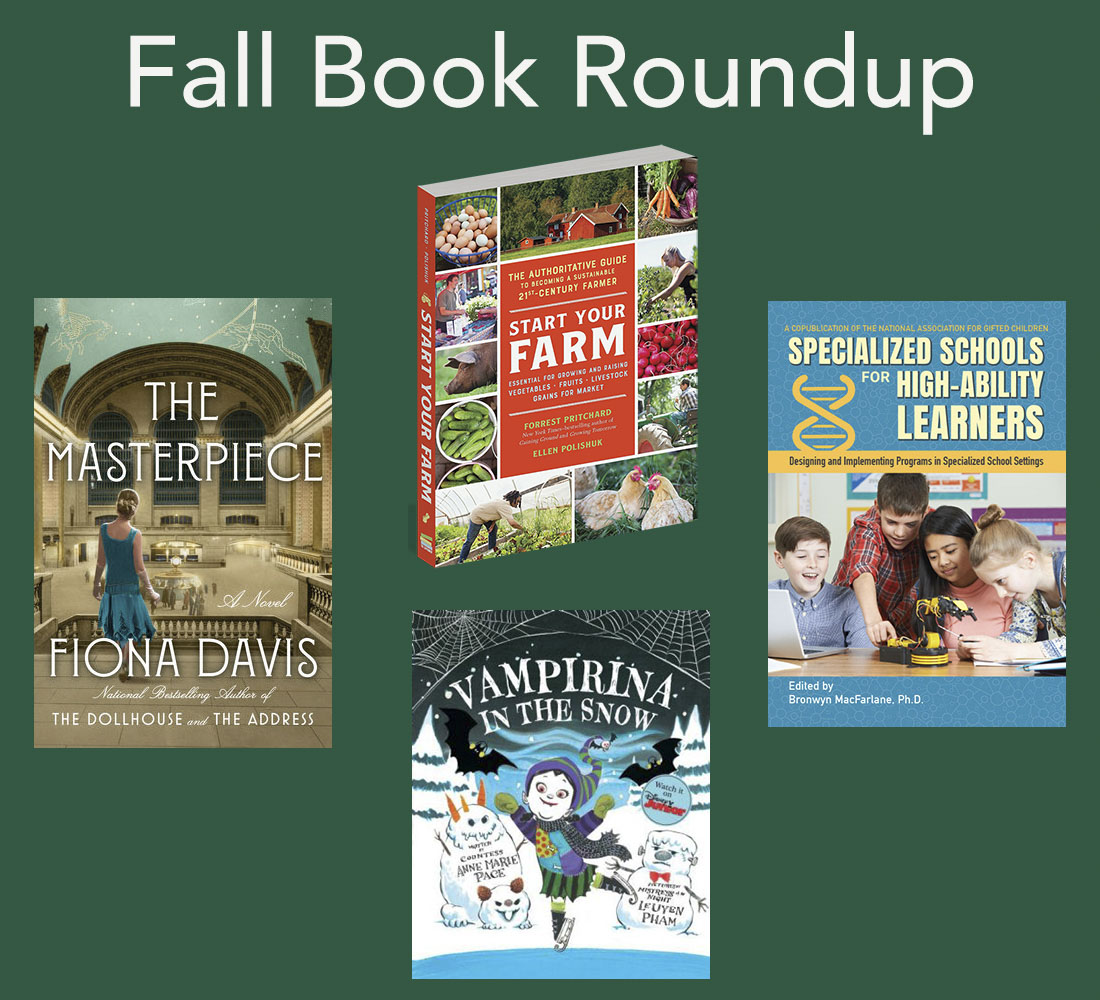 Celebrate National Book Month this October with a good read, especially those found in The Gale quarterly roundup of recently published titles by the William & Mary community.
By Fiona Davis '88
Two Manhattanites from drastically different moments in history find their lives revolving around Grand Central Station – Clara Darden as a teacher at the terminal-based Grand Central School of Art in the 1920s and Virginia Clay as an information booth employee in the 1970s. Clara, a talented illustrator, battles her way through a male-dominated workplace in an effort to achieve her dream of designing cover art for Vogue, all while facing the looming Great Depression. Fifty years later, Virginia Clay stumbles upon the abandoned Grand Central Art School during her days as an information booth attendant at the train station and is drawn to a beautiful watercolor painting by Clara. Virginia begins to research Clara and tries to find out why she disappeared in 1931.
By Forrest Gander '78
"Be With," Forrest Gander's first book of poems since his Pulitzer finalist "Core Samples from the World," is making waves already by being named to the 2018 National Book Award Longlist. Readers will connect with the poetry's reflections on loss and regret as Gander draws upon his work as a translator to write about issues like immigration and caring for a parent with Alzheimer's Disease.
Specialized Schools for High-Ability Learners: Designing and Implementing Programs in Specialized School Settings
By Bronwyn MacFarlane, Ph.D. '08
Bronwyn MacFarlane's new book is a toolbox for teachers and administrators supporting gifted students by providing insight on educational programming offered in nontraditional educational settings. "Specialized Schools for High-Ability Learners" provides educators with advice based on research and practical applications about how to serve gifted learners in specialized schools.
By Rob Oliver '81 and Katie Oliver
Alumnus Rob Oliver and his daughter Katie began working together on Moon Child when Katie was just four years old. With unique illustrations created by a young Katie out of colored construction paper, glitter and pen, the process of writing and designing the book with her father helped her process unsettling news about a crime. This children's book highlights Katie's love for the moon and the special bond with her father.
By Anne Marie Pace '87
Popular children's series Vampirina continues with a new adventure! "Vampirina in the Snow" explores a winter wonderland by Vampirina breaking out her ballet moves on the ice, making snow angels and enjoying a host of snowy activities.
Start Your Farm: The Authoritative Guide to Becoming a Sustainable 21st Century Farmer
By Forrest Pritchard '96 and Ellen Polishuk
Do you dream of starting your own farm but wonder where to begin? Or do you already have a farm but wish to become more sustainable to compete in today's market? This book is for you.
By Maciek Sasinowski M.S. '93, Ph.D. '95
What do William & Mary, the Sphinx and a worldwide epidemic have in common? They all appear in the new young adult novel "Heir of Ra," which sends nods to W&M by having a scene set on campus and including a Griffin on a family sigil. The story revolves around brilliant and resilient 16-year-old Alyssa, who must try to rescue her father and the world from a worldwide epidemic when a curse is released from underneath the Sphinx during an archaeological dig.
By Dana Stahl M.Ed. '83
Dana Stahl's new book provides parents with practical guidance on various learning disabilities and behaviors. The book offers teaching strategies that can be used by both teachers and parents to help students. The resource section at the end of the book is a treasure trove of useful information, such as a list of professionals who can assist in treating specific learning issues.