Celebrate 100 years of coeducation at William & Mary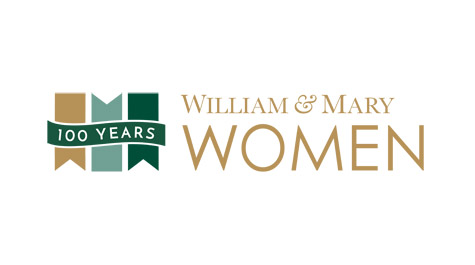 In the fall of 1918, 24 women were admitted as undergraduate students, making William & Mary the first public coeducational university in Virginia. Today, William & Mary women include professors, deans, coaches, award-winning scientists, playwrights, poets, entrepreneurs, community leaders and more. Over the course of the academic year, the university will host a series of special events, including the first-ever W&M Women's Weekend for alumnae, Sept. 21-23.
"The year will unearth, explore and illuminate the stories and accomplishments of many of the more than 55,000 alumnae and the many W&M women students, faculty and staff," said Jayne Barnard, 100th Anniversary Committee co-chair and James Cutler Professor of Law, emerita.
The school year will offer hundreds of opportunities for students, faculty, staff and community members to participate. To keep people informed, the 100thAnniversary Committee has launched a website, a Facebook page and an events calendar.
Here are some of the events featured this semester:
The 100th Anniversary Committee has transformed the main floor of the Sadler Center with inspiring banners, photos and artwork representing 100 years of women students at the university. The display includes an interactive feature that leverages the historical significance of ribbons, commonly used as symbols of a cause. Some of the first women students at W&M wore ribbons to support each other. Visitors are invited to add the name of a W&M woman who has affected their lives to a ribbon, then weave it into the display.
On the second floor of Sadler, the President's Collection of Art has installed an exhibition of art created by alumnae when they were students. The exhibition, Following in Their Footsteps, also features a bronze sculpture, "Dawn," created by alumnus Christina Fleckenstein '18 and commissioned by the Triangle Arts & Culture League for the 100th anniversary. Both exhibitions will remain in the Sadler Center until May 12.
The Virginia Symphony Orchestra will debut its "Symphony Under the Stars" series at 7 p.m. on Aug. 30 in a free performance at The Martha Wren Briggs Amphitheatre. The orchestra will perform music by female composers and about strong women, such as "Rey's Theme" from Star Wars. Wristband distribution begins at 5:30 p.m., and doors open at 6 p.m. 
To learn more about upcoming events visit W&M News.