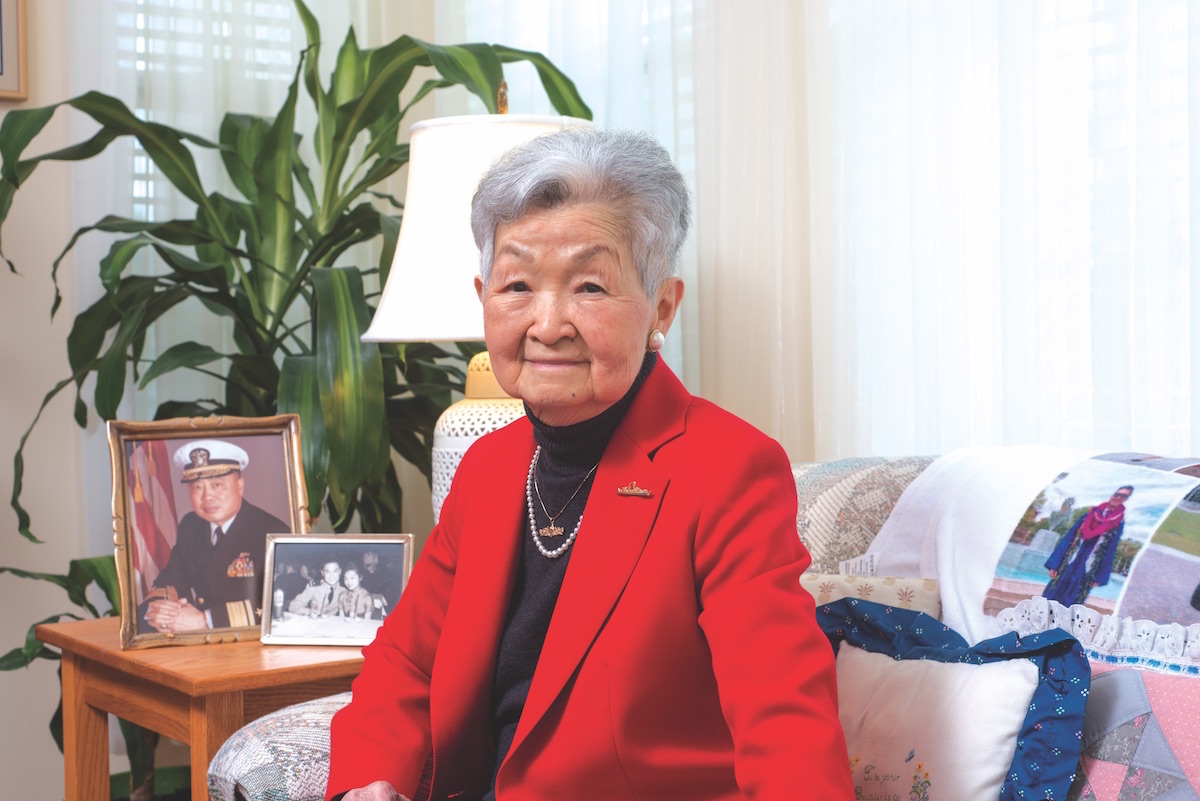 Ming Chang '55 and Charlotte Chang are the embodiment of the American dream. Their story merges hard work and the freedom to pursue their destiny into a life of opportunity, success and notable firsts in the Asian-American community. Now the Chang family strives to create the same opportunities for others.
"Education is a key pillar of the American dream and supporting education is one very tangible way we can help the next generation," said Charlotte. "Ming worked so hard to go through William & Mary; he wanted to establish a need-based scholarship to help others achieve success just as so many had helped us."
Several years ago, the Changs included a bequest to William & Mary in their will. After Ming passed away last year, Charlotte decided to move forward with the commitment now to establish the Donald C. Chang Scholarship Endowment, named in honor of their second son, Donald, who passed away as an infant.
"By establishing the scholarship now, it can be invested to benefit even more students and my children can contribute to the scholarship as well," said Charlotte. "I'm thrilled to make a more immediate difference and to see our support put to even greater use."
Now Charlotte looks forward to meeting the first Donald C. Chang Scholarship recipient and hopes their family's story will inspire others to support our nation's future dreamers too.
Distinctive from the start
Charlotte came to the United States in 1945 with her parents and sisters. Her father was a diplomat in the Chinese Embassy in Washington, D.C. Ming's father was in the U.S. Navy stationed at the Pentagon. At the end of World War II, he arranged for Ming and his mother, who were in China, to join him in the U.S. and they settled in Fairfax, Virginia. Ming's father served in the U.S. Navy for 25 years. The two first met in 1953, when Charlotte's parents hosted a party for Chinese college students. Ming's parents suggested he go to meet the diplomat's daughters so he attended without an invitation.
"He was smart; he went straight into the kitchen to help my mother," said Charlotte of her late husband of 61 years. "Our generation was told to marry Chinese and a week later when he came back to call on me, my mother already liked him so she said yes."
From that first meeting, Charlotte knew Ming was destined for a life of distinction. When he came to William & Mary in the early 1950s, he was one of the only Asian-American students on campus. He studied physics and math and worked three jobs—at the bookstore, cafeteria and Kings Arms Tavern in Colonial Williamsburg's Historic Area.
"He used to laugh that so many people wanted to take a picture with him because they had never seen an 18th-century Chinaman," said Charlotte. "He had so much fun at William & Mary. He was very outgoing and very connected to his classmates."
Ming became a member of the honor council, the university choir, Lambda Chi Alpha, Baptist Student Union, and the William & Mary Order of the White Jacket, which honors students who work in food service. He graduated in three years with a B.S. in physics and followed in his father's footsteps, with a commission in the U.S. Navy.
Navigating a Prominent Career
In 1962, Ming earned a B.S. in electrical engineering from the Naval Postgraduate School and went on to build an impressive naval career with increasingly important assignments in the Navy's cruiser and destroyer commands. In 1980, he attained the rank of Rear Admiral and was the first naturalized Asian-American naval officer to reach flag rank in the U.S. Navy. He finished his distinguished career as the Naval Inspector General of the Department of the Navy.
"We had a great life together," said Charlotte. "We lived up and down both coasts in some of the country's most beautiful places." Ming retired from the Navy in 1990 after 34 years of service and became the vice president and corporate director for the Pacific region at Raytheon International and then president of MEC International, LLC. Ming also served on the William & Mary Foundation Board from 1994 to 2000.
Both of the Chang's children followed the family's tradition and pursued a Naval career. Their daughter, Donalda, served 11 years as an officer in the Navy. Their son, Daniel, graduated from the U.S. Naval Academy in 1979 and retired as a commander after 22 years.
Building a Legacy
Just as Navy service is in the Chang's blood, so, it seems, is William & Mary. Charlotte and Ming's grandson, Jacob, graduated from the university in 2009 with a degree in business. Jacob also served four years in the U.S. Navy as an officer.
"Because Ming had such a positive experience and an exceptional education at William & Mary, he had very strong feelings for the university," said Charlotte. "Jacob also had a wonderful experience. He met his wife Eliza Murphy '10, whose grandmother was a classmate of Ming's. It is yet another wonderful family connection to William & Mary."
Now, the Changs hope the Donald C. Chang Scholarship Endowment will enable others to make the same lifelong connections their family has enjoyed.
"Because we've been successful, we have a responsibility to help others be successful," said Charlotte. "Whether you come here or were born here, you need to help others achieve what they want to achieve."
During the For the Bold campaign, more than 18,200 people have contributed to scholarships, impacting more than 700 students. The university is seeking an additional $100 million to meet its $350 million scholarships goal. 
"Our whole family has been so fortunate. Others giving back meant that we could achieve our dream and it is important to help the next generation do the same, " said Charlotte.