Summer Tribe Book Roundup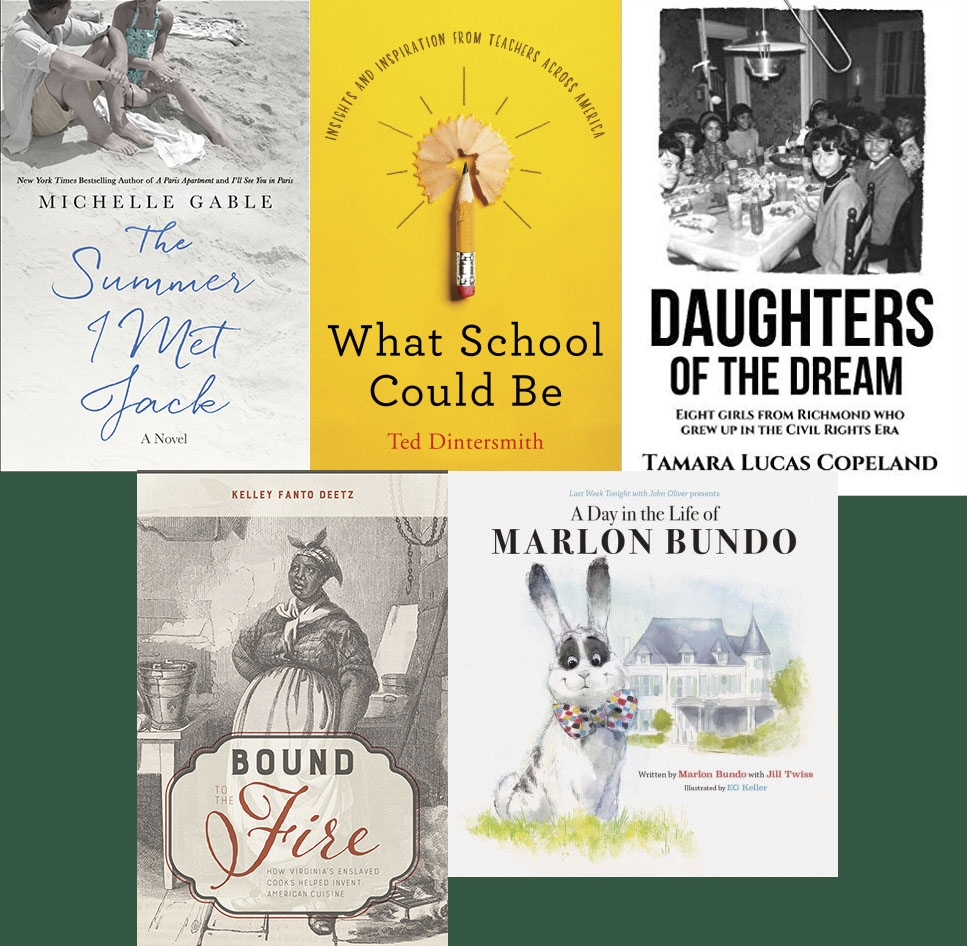 Summertime is ripe with books by William & Mary alumni. In The Gale quarterly roundup of recently published books authored or co-authored by W&M community members, readers will be sure to find great beach reads to end the summer on a sweet note and thoughtful reads to start the fall off right.
By Henri Cole '78
Henri Cole combines autobiography, diary, essay, poetry and photographs to create a memoir of his time in Paris. The book details how the city inspired artists and writers and reflects upon family, friendship and solitude.
Daughters of the Dream: Eight Girls from Richmond Who Grew Up in the Civil Rights Era
By Tamara Lucas Copeland '73
Tamara Lucas Copeland, the president of the Washington Regional Association of Grantmakers, reflects upon what it was like to grow up as an African-American woman in the South during the 1950s, 60s and 70s. In addition, she pulls back to analyze overarching historical themes of the era and explores the roles ordinary people have in social movements.
By Charles Davis '81
Written by the first husband of Fuhrman University, "In the Kitchen at White Oaks" is a part-cookbook, part-history book that honors the 25th anniversary of the bequest of the president's house to the university.
Bound to the Fire: How Virginia's Enslaved Cooks Helped Invent American Cuisine
By Kelley Fanto Deetz '02
History and food lovers won't be able to put down James River Institute for Archaeology Researcher and Randolph College Visiting Assistant Professor Kelley Fanto Deetz's new book about the role of enslaved cooks in American cuisine and history. Drawing upon cookbooks, archaeological evidence, folklore and plantation records, Deetz shines a light on these forgotten figures in plantation culture and celebrates their legacies and mark on food.
What School Could Be: Insights and Inspiration from Teachers across America
by Ted Dintersmith '74
On a mission to visit schools in all 50 states during one school year to teach educators about innovation, Ted Dintersmith learned that his thinking was incorrect. Instead of explaining innovation to them, teachers across the country showed him how they were the groundbreaking ones – imparting knowledge, skills, purpose and a love of learning to their students within budgetary and time constraints. At the end of his project, Dintersmith fused all he learned with his own expertise to create a pragmatic, optimistic roadmap for creating cultures of innovation and real learning in all our schools. 
Find Rest: A Women's Devotional for Lasting Peace in A Busy Life
By Shaunti Feldhahn '89
Between managing work, friends and home, most women usually are constantly on the run. In her new book, Shaunti Feldhahn helps readers find peace for their spirits, during the most frenetic, demanding days.
By Michelle Gable '96
Inspired by the true story of Alicia Corning Clark, an early love of President John F. Kennedy, Michelle Gable weaves an intriguing tale of a young immigrant who begins her life in America as a servant to a prominent family, where she falls in love with one of her employer's sons. After a failed engagement, Alicia moves onto a glamorous life dating actors and athletes. Shortly before the presidential inauguration of her first love, Alicia and John must confront what they mean to each other. "The Summer I Met Jack" is a gem of a beach read.
By Maureen Klovers
In her 60s, Rita Calabrese sets off on a new career as a reporter for her local newspaper in the Hudson Valley of New York. When a murder of a beloved town member occurs, Rita becomes involved in the investigation. Besides the interesting mystery, the book includes eight Italian-American food recipes!
The Remarkable Kinship of Marjorie Kinnan Rawlings and Ellen Glasgow
By Ashley Andrews Lear, Ph.D. '98
"The Yearling" is a classic American novel – a touchstone for many readers. Few know about the friendship between its author Marjorie Kinnan Rawlings and Ellen Glasgow, both pioneers of American literature who broke boundaries for women writers. Dr. Lear uses their letters to each other to paint a fascinating portrait of a friendship between two women writers during a time of drastic social change in the American South.  
Selling the CIA: Public Relations and the Culture of Secrecy
By David S. McCarthy '03, Ph.D., '08
After a disastrous year threatened to derail its operations in 1975, the CIA turned to a public relations campaign that lasted decades to change its image. "Selling the CIA" spotlights how the agency succeeded in outmaneuvering Congress and avoiding public scrutiny.
Down by the Sea and Other Tales of Dark Destiny
By Michelle Mellon '93
Are you a fan of Stephen King and other spine-chilling tale-tellers? Then, you will enjoy Michelle Mellon's collection of frightening stories about murder, paranoia, Satan and much more that all lead to some form of justice.
By Elizabeth Robin '76
In her new book of poetry, Elizabeth Robin, a pseudonym, works through the loss of her husband. Much of the poetry is inspired by his love of South Carolina's Lowcountry. The poetry reflects Robin's journey from mourning to purposefully appreciating what she has in her life now.
A treasure trove of children's and young adult books 
Star Wars: The Mighty Chewbacca in the Forest of Fear
By Tom Angleberger '92
Chewbacca and his friends realize they may be in over their heads when a job they thought was simply ferrying cats is, in fact, much bigger and drops them in a blue forest that emits a fear-causing mist. Will they be able to recover a precious book and save Han Solo?
The Darkest Legacy (A Darkest Minds Novel)
By Alexandra Bracken '09
The fourth title in The Darkest Mind series, "The Darkest Legacy" finds 17-year-old Suzume "Zu" Kimura accused of a crime she did not commit. Zu relies on her fellow Psi kids to help clear her name, but she may have chosen to trust the wrong people. The movie of the first book in the series comes out on August 3.
By MJ Hayes '69
Despite a fear of horses, Gavin, a young blind boy, bravely agrees to participate in equine therapy. With the help of his instructor and a fellow rider, Gavin learns to enjoy his equine therapy, especially after his senses tell him that his horse does yoga!
Last Week Tonight with John Oliver Presents a Day in the Life of Marlon Bundo
By Jill Twiss '98 and illustrated by EG Keller
A bestseller last spring, "A Day in the Life of Marlon Bundo" takes a humorous look at a day in the life of the vice president's favorite pet rabbit. Although the book has its funny moments, it also explores issues of same-sex marriage, tolerance and democracy. One hundred percent of Last Week Tonight's proceeds will be donated to The Trevor Project and AIDS United. Who knew a bunny could make such an impact? 
Superluminary: The Space Vampires
By John C. Wright, J.D. '87
In the second book of the Superluminary series, the Lords of Creation must fight a frightening new enemy – the vampiric necroforms, who have sucked the life from numerous stars and planets. Can the Lords of Creation overcome their internal strife in time to save their solar system? Science fiction fans will enjoy this thrilling story.

To have a book featured in the next Tribe Book Roundup, email Ashley Speed at akspeed@wm.edu.