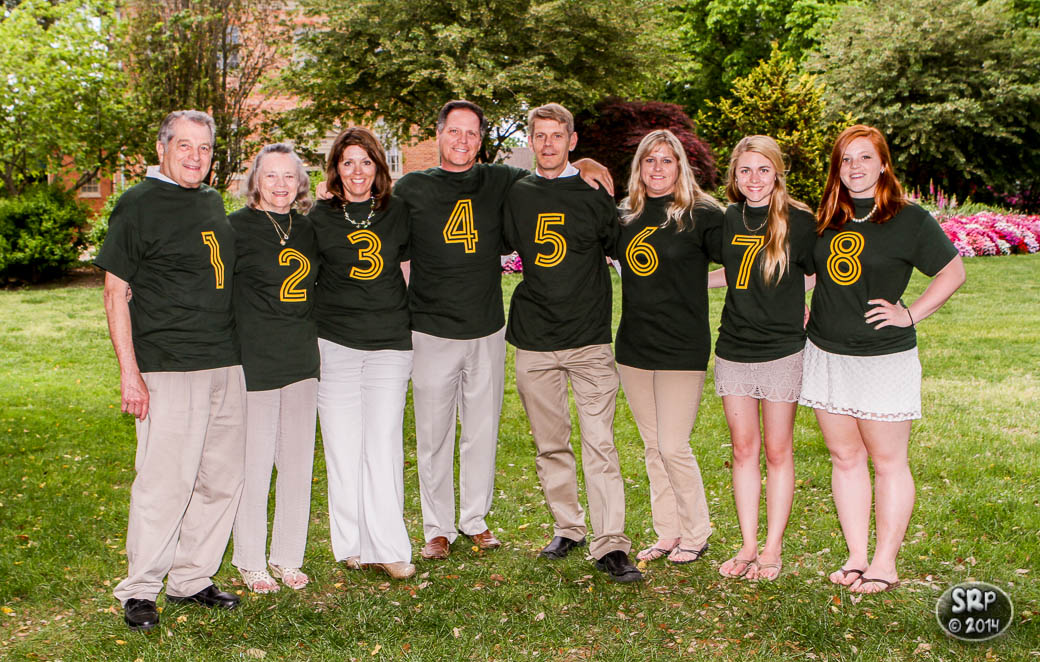 William & Mary events are often family reunions for the Sell-Phillips family. From left to right: Stewart "Stew" Sell '56, Patricia "Pat" King Sell '58, Sherri Sell Phillips '83, Howard Lee "Bud" Phillips III '82, Sean Sell '87, J.D. '93, Stephanie Sell Kinzel '91, Samantha Phillips '14 and Alexandra Phillips '16. Photo courtesy of Skip Rowland '83.


"My life without William & Mary? It's like asking what you would do without your right arm!" said Sherri Sell Phillips '83, P '14, P '16. She is one of eight members of her family, spanning three generations, who are William & Mary alumni. Just as the Tribe has been an integral part of their lives, they are an integral part of the Tribe. 
It all began in 1953, when Pat Sell '58 was sitting in homeroom in Arlington, Virginia, with her friend Mary Dyekman Lesher '58. Pat was planning to attend Purdue, "for nonsense reasons," she said. But Mary convinced Pat to apply to William & Mary with her.
"My dad was in the Navy and stationed in Norfolk, so we went down to see him and stopped on the way for an interview with the dean of women at W&M," she said. "When we got back to Arlington, there was an acceptance letter waiting for me!"
Pat and Mary became sorority sisters and math majors together and are lifelong friends.
Pat married another William & Mary graduate, Dr. Stewart Sell '56, and the two moved to Pittsburgh, where they started an alumni chapter. They then moved out to San Diego, where they again created an alumni chapter to keep strong connections to the university.
In 1977, the family came to campus on as summer vacation. It must have made an impression, because three of the next generation of Sells — Sherri Sell Phillips '83, Sean Sell '87 and Stephanie Sell Kinzel '91 — attended W&M as well.
Sherri said she can't even imagine having gone to college somewhere else. She applied early decision after traveling back to William & Mary with just her mom for Pat's 20th Reunion. Hearing stories from alumni at a reunion dinner touched her heart. "That trip to William & Mary with my mom was really insightful. I was able to sense the connection people had. I already felt like part of the community."
Through the William & Mary community, she met her husband, Bud Phillips '82. They have three children, and their daughters Samantha '14 and Ally '16 both attended William & Mary.
The three generations of women — Pat, Sherri and Stephanie, Sam and Ally — have seen women's experiences at William & Mary change over the past 60 years. For example, four of the five were in the Pi Phi sorority, but Pat had "house mothers" and stricter rules about boys in the house. Sherri lived in Yates her freshman year while it was still an all-women dorm. But Pat feels the important things about William & Mary never change. 
"William & Mary prides itself on its history, but reaches forward and outward to the country and the world," Pat said. "It's always improving, not just counting its many blessings. It still feels like one big family."
Sam said although she was worried at first about following too closely in her mother's and grandmother's footsteps, her William & Mary experience was all her own.
"William & Mary is unique for each person. Everyone has their own interests, activities and friends, so no two experiences will be the same. I found great friends and great activities: some, like Greek life, were things that family members had been involved in, while others, like Senior Class Gift, were totally different," said Samantha.
The Sell-Phillips family gets together on campus as often as they can. "Family members that are not part of the Tribe don't understand our W&M connection, and they kind of tease us about it. For us, it's really nice to have that connection. We're spread out all over the country — my mom and daughter are in California, I'm in Virginia — but they make an effort to come every year, so it's also a small-scale family reunion for us," said Sherri.
Ally also treasures these family get-togethers on campus. She hopes the family tradition of attending William & Mary will continue.
"For me, graduation was a really special moment because my entire extended family came to Williamsburg from all over the country to celebrate the occasion and the special connection that we have to the William & Mary," said Ally.
Pat and Sherri both serve as class reporters for the William & Mary Alumni magazine, keeping their classmates — their extended Tribe family — connected. Stew and Pat have also been active supporters of various campus initiatives, including One Tribe One Day. The Sell-Phillips Family Challenge, a gift given by Stew on behalf of his family, was unlocked when 6,078 donors gave during William & Mary's annual day of giving.
With William & Mary such an important part of her family, Pat was excited for the chance to honor this connection as part of the Alumni House Expansion. Donors to the Family Courtyard, a beautiful outdoor space in front of the historic Bright House, will have their family's legacy at William & Mary honored with a plaque listing each family member's name. Pat said she was inspired to give to the courtyard project because of the commitment to the university she sees throughout the William & Mary community.
"The people who come here really love William & Mary and what is stands for. That's always been true. They've all contributed to it in one way or another, and that's an inspiration to me," she said.
The Family Courtyard will open as part of the Alumni House Expansion project in spring 2020. For more information about the project, contact Richard Long at RNLong@wm.edu or (757) 221-1016.