All Aboard! Society of 1918 Celebrates First Event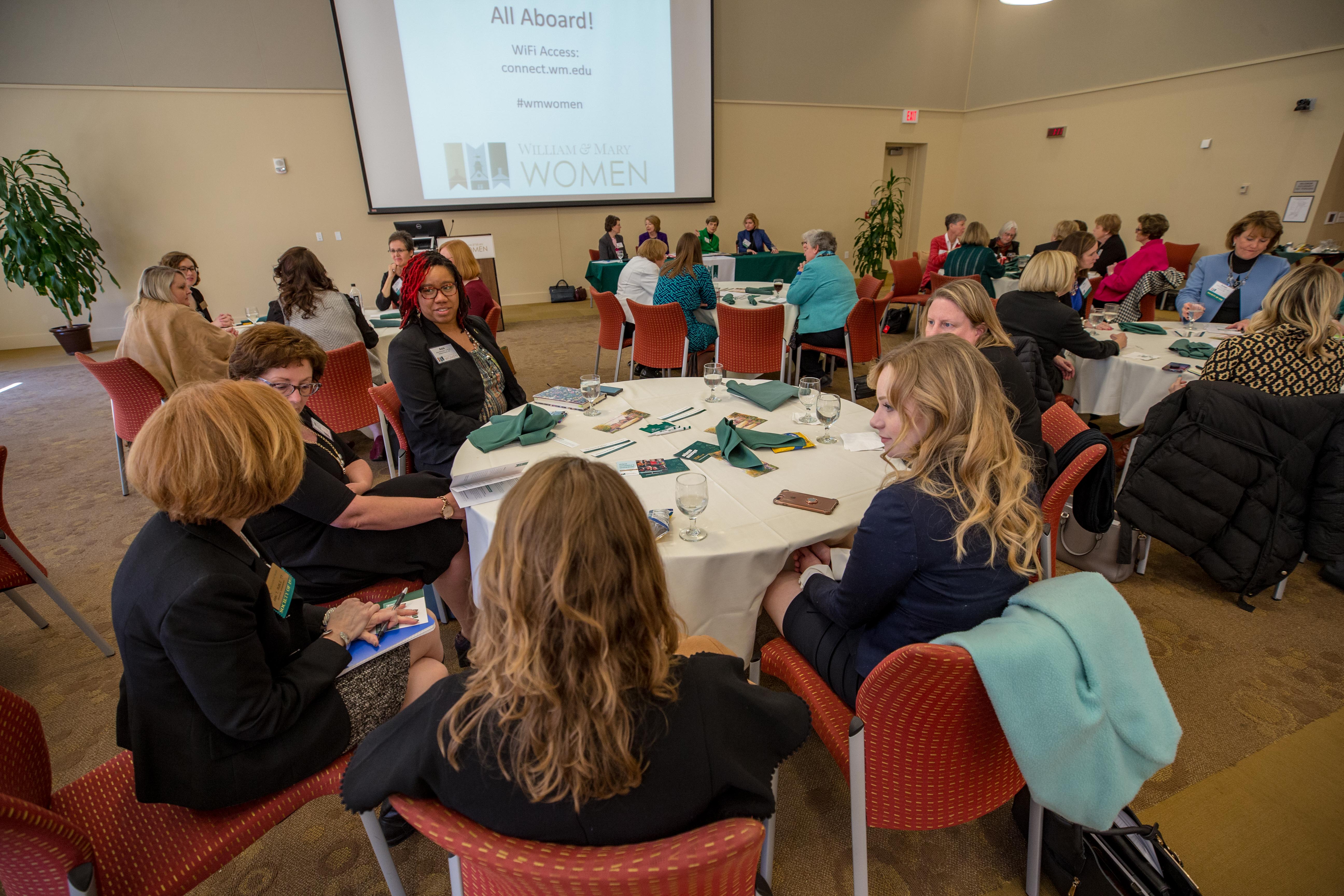 "It's an incredible time to be, to become, a William & Mary woman," said President-Elect Katherine Rowe in a surprise visit to the first official event of the Society of 1918, William & Mary's new giving society that supports women's initiatives. "The sisterhood is incredibly powerful. We are creating changemakers."
The Friday, March 23 event, "All Aboard," was about creating change in communities, organizations and the world through board service. Almost 90 William & Mary women, both society members and prospective members, participated in a series of keynotes and panels about serving on corporate, nonprofit and elected/appointed boards.
"Women comprise just 36 percent of nonprofit board members in the U.S.," said Fran Engoron '70, chair of the Society of 1918. "But the numbers show that diversity on boards positively impacts the bottom line. Does your organization have the board of the future or the board of the past?"
Catherine Bromilow, partner at the PwC Governance Insights Center, said in her keynote that the representation of women on corporate boards isn't much better. "In 2016, 87 percent of directors said they found new board members from who they knew already," she said. "There's very little turnover, so getting new voices is challenging."
But the Honorable Viola Osborne Baskerville '73 sees this moment as the perfect time for more women to become involved in boards and run for office. She spoke about her experience working for several governors as well as serving as vice mayor of the City of Richmond, Va., in her keynote. "The hand that rocks the cradle rules the world," she said. "Local service is critically important. Challenge yourself — what do you want to accomplish? Then go out and do it."
The women in attendance had a variety of levels of experience with board service, some having been on dozens of boards over decades and some interested in joining their first board.
Janet Rollins Atwater '84, chair of Food Allergy Research Education and a past president of the Alumni Association, had practical advice in her keynote for those looking to begin their board service. "Make sure you know the expectations of time, talent and treasure," she said. "The role of board members is high-level vision and strategy, but you also have to be willing to do the work and volunteer for the mission."
After the serious discussions of the morning, the group took a break for lunch and some Laughter Yoga — practicing laughing anywhere, anytime, for health and relaxation, and getting to know each other better in the process.
In the afternoon, participants divided into groups based on interest in nonprofit, corporate and elected/appointed boards. Each group heard a panel discussion with experienced board members and then shared their thoughts with their group.
Though the women were different ages and came from a variety of industries and backgrounds, by the end of the day, many felt they knew each other much better and had made connections they would call upon in their personal and professional lives.
The day was a great bonding experience for Marie Cruz Metzger '81 and Sue Newman '79, who were in Alpha Chi Omega together, but hadn't seen each other since their time at the university. They were surprised and excited to see each other at this event and spent time reminiscing about the old days as well as catching up on life since William & Mary.
"I joined the Society of 1918 because of Fran Engeron," Metzger said. "She was my inspiration to support women leaders at W&M. After repatriating from Shanghai in 2017, I started a new job at BASF, commuting between Texas and New Jersey and became a new grandmother, too. There's a lot going on in my life but I was motivated by Fran to join and help support current and future leaders."
Dr. Karen Kennedy Schultz '75, a member of the Board of Visitors, participated in the event. She was impressed by the number and quality of connections women made throughout the day. "People are so willing to share with each other, offer to help one another and ask thoughtful questions. There's a spirit of encouragement and empowerment."
After the program, participants enjoyed a reception at DoG St. Pub. That evening, many joined the Raymond A. Mason School of Business' annual Women's Stock Pitch keynote at the Kimball Theater to hear Ursula Burns, the first African-American CEO of a Fortune 500 company, share her advice on leadership.