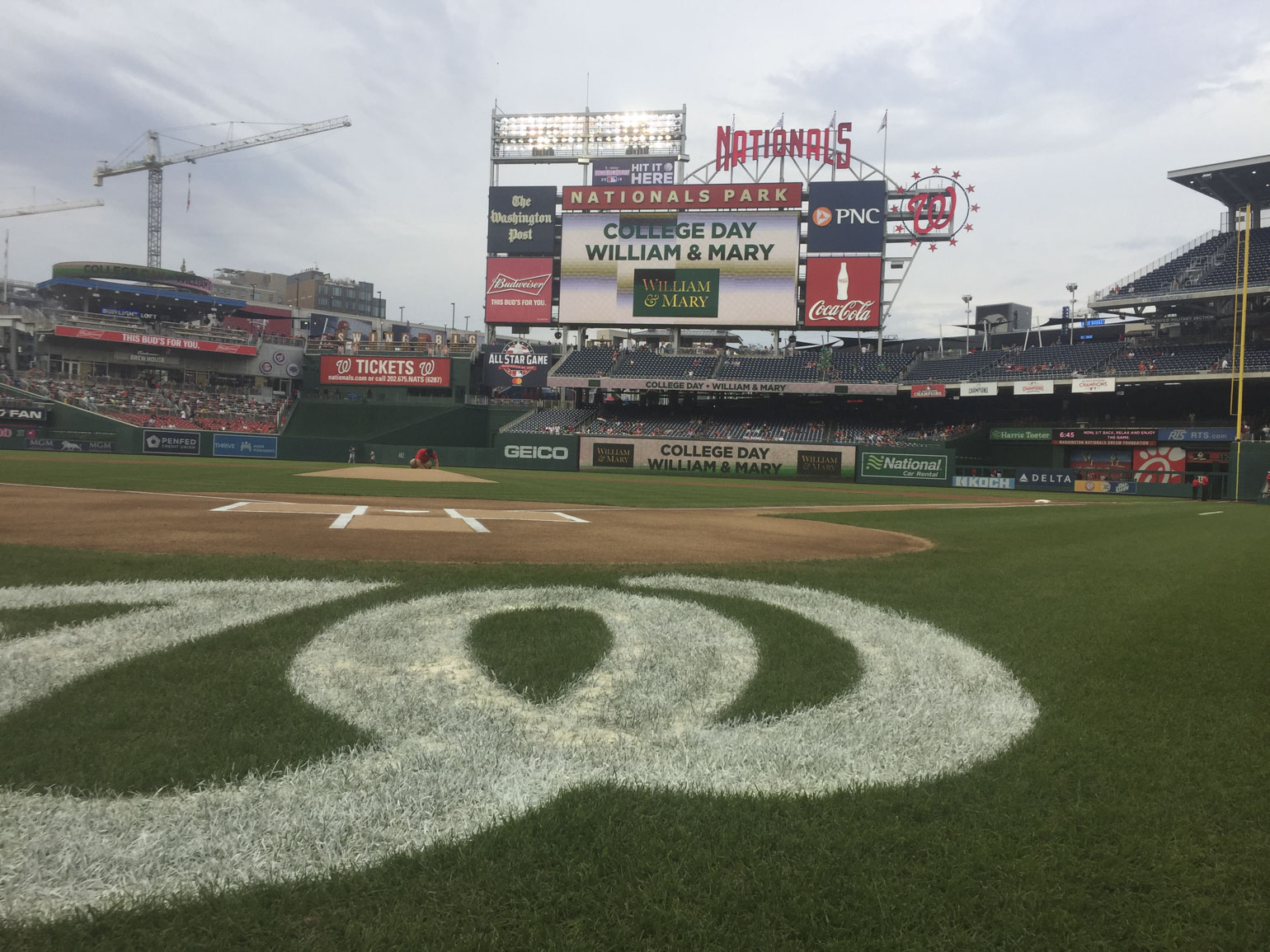 Photos courtesy of the Washington Nationals.
Nationals Stadium was filled with green and gold Aug. 7 as 1,650 alumni, students, family and friends celebrated William & Mary with a night of baseball. 
The game was part of the Washington Nationals' College Day series, themed games celebrating universities in the greater D.C. area. William & Mary had one of the most attended College Series games this season, selling out all available tickets.
"This is our second-largest gathering of alumni, behind Homecoming & Reunion Weekend," said Liz Foster, assistant director for regional alumni engagement. "With so many members of the Tribe family who call D.C. home, this is a great location for us to get together as a group and celebrate William & Mary." 
Tribe Pride was on full display, with attendees wearing William & Mary/Nationals co-branded baseball hats, made by the Nationals and New Era specifically for this game.
"It's amazing seeing this many people come out even though we're a smaller school! Everyone's representing with the hats, but at lot of people are wearing the gear too, real fans of William & Mary," said Vicki Lam '19, who attended the game with several other current students who live in the area.
Bonnie Bakeman Harrison '85 and her daughter Abigail Fraser Harrison '18 traveled from Seattle to celebrate Bonnie's birthday at the game. It was also a reunion: Bonnie met up with Sarah Williamson '84 from North Carolina and Maryanne Boyd '86 from Maryland, her Delta Gamma sisters.
The group had the opportunity to go out onto the field before the first pitch.
"I can't think of a better way to spend a birthday than here with my family, sisters and friends," said Harrison.
Athletics Director Samantha K. Huge, Assistant Athletic Director for Academic Services Jason Simms, and student athletes Paul Rowley '17, '20, Bodie Sheehan '18, Owen Socher '19, Misha Jones '19 and KJ Cook '21 were also honored on the field.
Showing their school spirit and vocal talents, student a capella group No Ceiling sung the National Anthem to begin the game. Watch the video on the William & Mary Alumni Association Facebook page.
Interested in attending alumni events in your area? Find your local chapter or explore all in-person and online events.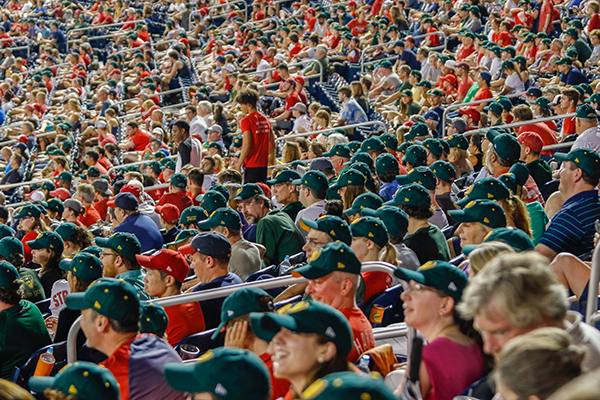 Tribe fans enjoyed outfield seats and New Era Nationals/William & Mary cobranded hats.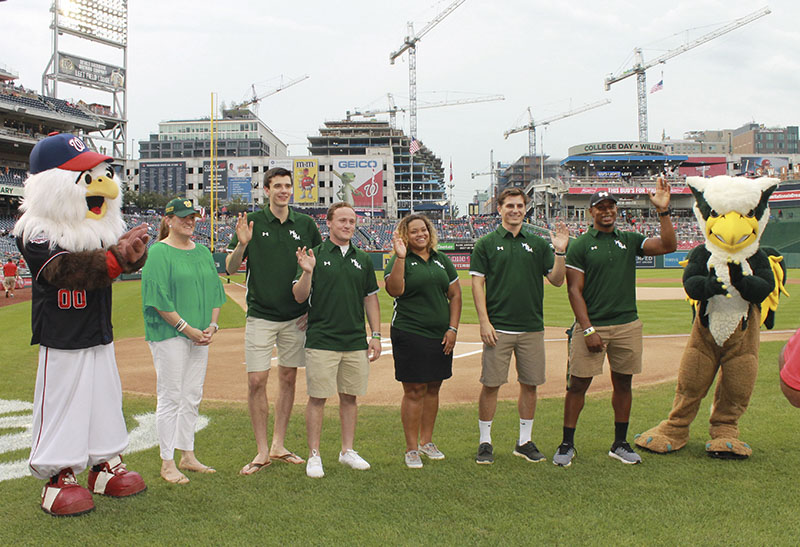 W&M Athletics staff and student athletes were honored on the field before the game.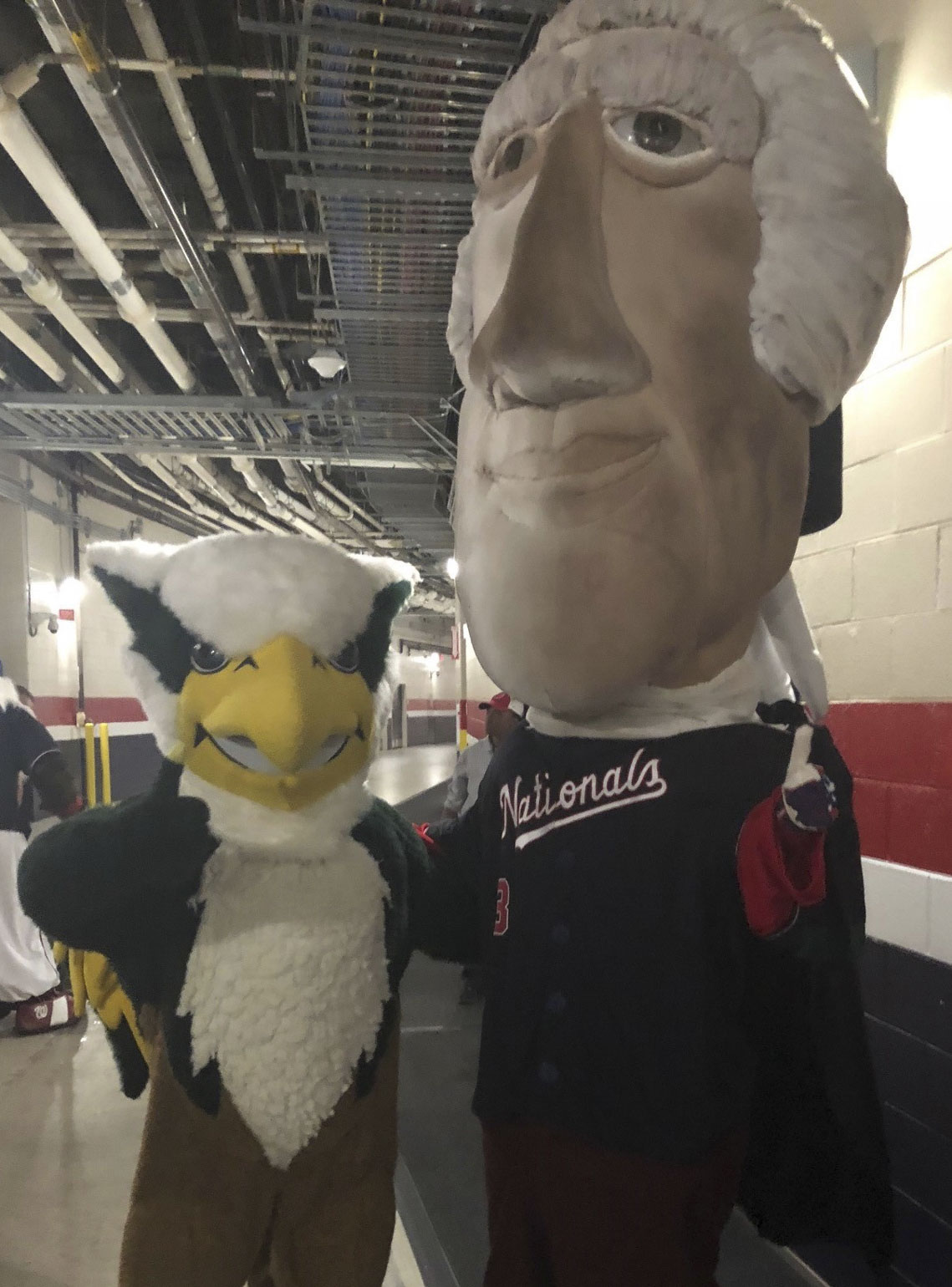 The Nationals' Thomas Jefferson wore a William & Mary graduation gown in the President's Race during the fourth inning, in which he defeated George Washington, Abraham Lincoln and Theodore Roosevelt.