Yule Log magic continues long after graduation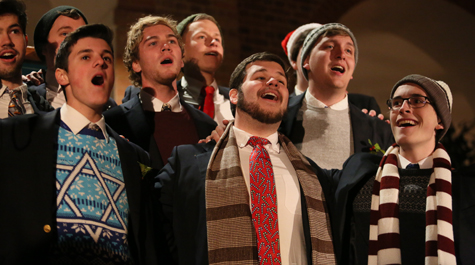 William & Mary students combat the chill of December by bundling up to walk down Duke of Gloucester Street for hot cider, hibernating in Swem to study for finals and attending the university's annual Yule Log ceremony.
After a blanket of velvet night falls over the Wren Building, students crowd into the Wren Yard to usher in the holiday season and forget about pending exams, if only for an hour or so. Cressets flicker against the sky as choral groups sing the opening carols of the Yule Log Ceremony. Students listen to classic holiday stories as they wait to enter the hallowed halls of Wren to cast their sprig of holly onto the fire in a symbolic moment of forgetting their academic woes and embracing the spirit of the season. It is a time for celebrating the present with joy and looking into the future with optimistic anticipation.
Across the country, alumni carry the tradition of Yule Log beyond their collegiate years. The alumni chapter in Charleston, S.C., follows the tradition to a tee, complete with tossing prickly sprigs of greenery into the fireplace. For Leslie Burdett Hart '00, the anticipatory atmosphere of the undergraduate event in Williamsburg followed her from one colonial capital to another.
After graduating with a degree in biology from William & Mary, Hart moved to Florida for a marine biology internship that allowed her to study dolphins. Her dolphin research propelled her to earn a master's degree in environmental studies from the College of Charleston and a Ph.D. in epidemiology from the Medical University of South Carolina, which landed her an opportunity to study bottlenose dolphin health at the National Oceanic and Atmospheric Administration (NOAA). Hart currently serves on the public health faculty of the College of Charleston where she teaches biostatistics and epidemiology. She discovered this position, which she describes as "a dream job, a dream opportunity," through a chance meeting at the Charleston alumni chapter Yule Log ceremony.
At the beginning of the 2013 holiday season, Karen Gray Burnett '72 and Louis Burnett Jr. '73 convinced Hart to attend the Yule Log celebration that they hosted at their home. At the time, Hart and the Burnetts were colleagues at NOAA.
"Karen was always trying to get me to come to these alumni events," laughs Hart, "so I went to the Yule Log ceremony."
Hart and her husband were standing outside in the mild South Carolina air chatting to fellow alumni and their spouses when someone asked her about her work. She answered that she worked as an epidemiologist for the government. Matt Page M.P.P. '96, at the time an epidemiologist on faculty at the College of Charleston, was standing within earshot and introduced himself to Hart.
"We started talking about what I did," Hart said. "He was a human health epidemiologist whereas I was a wildlife health epidemiologist. He thought that was really appealing for his students, a good opportunity for them to be exposed to a different line of research, a different way of thinking. He asked me to come in and give a couple of guest lectures. I loved it. I loved sharing what I was doing with the students."
Sharing her research as a guest lecturer inspired Hart to seek a position as an adjunct professor in her former graduate program. She describes the experience as "moonlighting" for the College of Charleston: "During the day, I'd work at NOAA, and at night, I'd go teach these graduate courses." A few semesters of juggling her teaching gig with her day job, she earned spot on the faculty at the College of Charleston.
"I always thought that teaching would be in my future, just probably further along," Hart said. "Some of my best memories of faculty at William & Mary were also those who had spent time practicing what they got their degree in, so they didn't move straight into teaching, they had real-world experience."
Hart enjoys sharing her real-world experience from NOAA with her students and involving them in her research, some of the aspects that she most appreciated during her time at William & Mary. The chance Yule Log encounter with Page in 2013 altered her career trajectory and enabled her to bring her passion for marine life research that began at William & Mary to her own students.
"When I speak to my students," says Hart, "I encourage them to be actively involved in their alumni groups, wherever they end up going after graduation. You never know what can happen."
Although William & Mary students don't receive gifts at Yule Log ceremonies in the Wren Yard, they might find the best gifts of all when they continue the tradition with alumni chapters: opportunities and open doors.