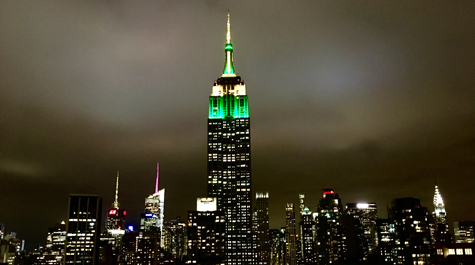 Don't miss your opportunity to attend William & Mary Weekend in New York City — the university's newest signature event. May 10 is the last day to register for the Weekend, which runs from May 18-21.
William & Mary is taking world-class alumni engagement to new heights. This bold endeavor is a celebration of alma mater and each other. The following events still have available spots. Claim your place today at this extraordinary weekend that will go down in history!
W&M Weekend in NYC Kickoff & Raft Debate
Kick off W&M Weekend with Joe Plumeri '66, D.P.S. '11, vice chairman of the First Data Board of Directors and honorary chair of the W&M Weekend in NYC, at a cocktail reception at the New York Athletic Club. The evening will continue with our annual Raft Debate. Described as a "delicate balance of comedy and lecture," this popular event will feature four W&M professors from diverse disciplines — all recipients of the prestigious Plumeri Award for Faculty Excellence — stranded on an island with a one-person life raft for escape to civilization. Come decide who should survive for the sake of humanity and achieve academic glory!
Breakfast of Champions: Conversation with New W&M Athletics Director, Samantha K. Huge
Join us for a conversation with Samantha K. Huge, William & Mary's new director of athletics. Samantha will become the first woman to hold the position at William & Mary since the job was combined in the 1980s to cover both men's and women's sports. Hear how she will set the course for the future of William & Mary athletics, and answer questions about how she will provide "a championship experience for every student-athlete and every fan." Full breakfast included. Attire for ladies and gentleman should follow the New York Athletic Club dress code.
Brilliant Minds: A Conversation with Leading Entrepreneurs
An entrepreneurial spirit is essential in any industry to work smarter and stay ahead of the game. Enter the minds of our enterprising panelists at this discussion concerning the successes and challenges experienced throughout their own careers and in today's business climate. This panel will redefine what it means to be an entrepreneur and address the importance of all individuals developing the pioneering skills and mindset to achieve success in any career.
Rhian Horgan '99, founder & CEO, Kindur
Daron Pope '01, president & CEO, Rosie Pope Maternity & Baby
Graham Henshaw, executive director, Alan B. Miller Entrepreneurship Center at the Raymond A. Mason School of Business – Moderator