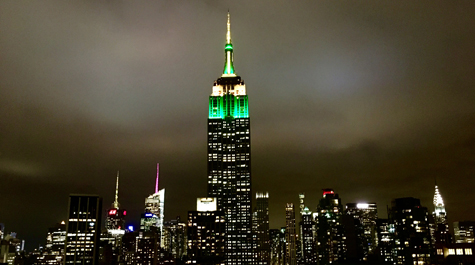 Back by popular demand, William & Mary Weekend will soon spotlight the best of the university in the city that never sleeps. From May 18-21, 2017, the Tribe is taking over New York City with a collection of unique social, cultural, intellectual, and professional events open to all. From our Kickoff and Raft Debate with Joe Plumeri '66, D.P.S. '11 and Plumeri Award-winning W&M faculty to a Breakfast of Champions with new W&M Athletics Director Samantha Huge to a "Sunset Boulevard" performance and special appearance by Glenn Close '74, W&M Weekend NYC will gather alumni, parents, students and friends to experience exclusive access to iconic settings in the Big Apple .
William & Mary is taking world-class alumni engagement to new heights. This bold endeavor is a celebration of alma mater and each other. During W&M Weekend, New York City will serve as an arena to connect, discover and celebrate the talents and treasures of the Alma Mater of the Nation. You will not want to miss it.
The following events still have available spots remaining. Registration closes May 10, so claim your place today in this extraordinary weekend that will go down in history!
· Brilliant Minds: A Conversation with Leading Entrepreneurs
· William & Mary Weekend in NYC Kickoff and Raft Debate
· "Skedaddle" Bus - Transportation from Washington, D.C. to NYC!
· Wines of the World at Le Grand Triage
· Breakfast of Champions: A Conversation with New W&M Athletic Director, Samantha K. Huge
· Ha-Ha-Hark Upon the Laughs with W&M Alumna Carmen Lynch
· "Bandstand"- Broadway Performance and Talkback
. Jazz Revue at Feinstein's/54 Below