William & Mary garners top spot in study abroad among public universities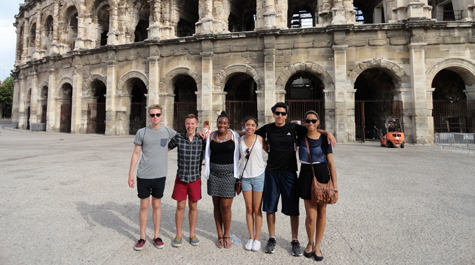 Photo courtesy of Reves Center for International Studies
William & Mary has the highest percentage of undergraduates participating in study abroad programs compared to any other public university in the United States, according to a report released Nov. 13 by the Institute of International Education (IIE). In the 2015-2016 academic year, by IIE criteria, 755 William & Mary undergraduate students (48.9 percent) had studied abroad during their time as undergraduates.
The university is a leader among global education even when compared with private universities, ranking 20th in the report's list of top 40 doctorate-granting institutions, both public and private, moving up from 22nd (with 47.4%) in 2014-2015.
"William & Mary is committed to intellectual and international openness, and in both large and small ways, we enact and expand on this commitment every day," said Teresa Longo, Acting Vice Provost for International Affairs and Director of the Reves Center for International Studies. "Through our study abroad programs, 53 percent of our undergraduate students dedicate their time, energy and intellect to study abroad during their time at William & Mary. The university's commitment makes possible a crucial, transformative process of opening oneself to the unfamiliar."
The Open Doors Report on International Exchange is published annually by the IIE with funding from the U.S. Department of State's Bureau of Educational and Cultural Affairs. The 2017 Report measures the number of students who studied abroad in the 2015-2016 academic year and coincides with International Education Week, a joint initiative of the U.S. Department of State and the U.S. Department of Education to prepare Americans for a global environment and attract future leaders from abroad to study, learn, and exchange experiences in the United States.
For more on this story click here.