W&M's 27th president, Taylor Reveley, announces plans to retire in 2018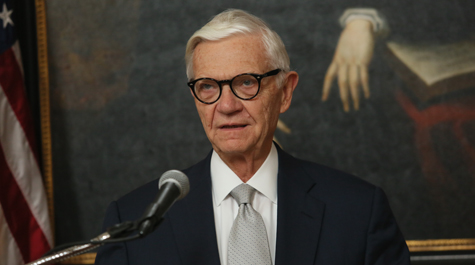 When Taylor Reveley took a long and unexpected walk from the William & Mary Law School to the Brafferton on Feb. 12, 2008, he came to a campus and alumni body in turmoil after the sudden resignation of Gene Nichol, the university's 26th president. Reveley, who had served as dean of the law school for 10 years, was just named interim president.
Today William & Mary's 27th president stood in the Great Hall of the Wren Building to say he would be retiring next year on June 30, 2018, after a decade leading the university. While noting there is much he still plans to get done over the next 14 months, Reveley recalled a time in which William & Mary has made enormous progress.
"Serving as president of a college or university is one of the most challenging but meaningful jobs anyone can possibly have," Reveley said. "It has certainly been so for me. And it has been a rare privilege to lead this magnificent school. All parts of the William & Mary family, working together, have taken crucially important steps forward. I'll leave the Brafferton in June 2018 with confidence that W&M's momentum will keep rolling, while I enjoy the Elysian Fields of retirement at long last."
From reshaping the university's physical footprint and reinvigorating William & Mary's strategic planning process to reimagining the College's undergraduate liberal arts curriculum and building a new financial foundation for the university, the Alma Mater of the Nation has moved ahead over the past decade. Along the way, William & Mary's alumni engagement, philanthropic efforts and avenues of communication have reached new heights.
"Taylor has done a phenomenal job of leading William & Mary to a position of sustainable excellence," said W&M Chancellor Robert Gates '65, L.H.D. '98, former U.S. Secretary of Defense. "The challenge as a leader in a hallowed institution like William & Mary is to honor the traditions that bind the Tribe together but still move the institution forward. The Reveley era will be judged by historians as a turning point for the university, during which we gained the facilities, financial model and processes that will drive William & Mary's preeminence for years to come."
To read the full story click here.