W&M Weekend: New Athletics Director Samantha Huge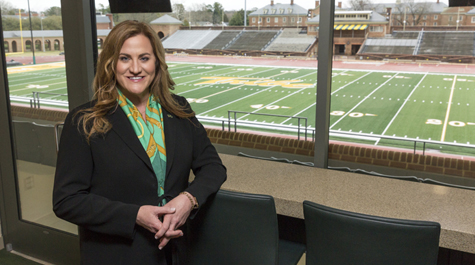 Photo by Jim Agnew
William & Mary's new Athletics Director Samantha K. Huge recently shared her vision for leading Tribe Athletics during William & Mary Weekend.
Huge, who started this month, is the first woman to hold the athletics director position in the university's history. Huge spoke during an event held in her honor. The talk-show style format of the event was led by Audra Lynn Mallow '90, co-chair of the For the Bold campaign in the Western region.
"In the Competitive Excellence Report we talk about providing a championship experience for every student-athlete and fan," Huge said. "Well, what does that mean? We want to make sure that we are making it really evident that we care about the folks who we engage with every day. We want to ensure that we are bringing them into our venues and they're not only seeing great competition, but also having an experience that makes them want to return and makes them want to invest in our continued success."
During her first weeks at the university Huge sought feedback from her staff. She said she noticed a recurring theme; fear of talking about winning.
"I think the sense is that if we talk too much about winning, somehow we're saying that academics isn't as important," Huge said. "We are going to unapologetically pursue excellence across the board and that means we are going to talk about winning when we win. We're going to push for winning, and we're going to win in the classroom, win in competition and we're going to win in life."
Huge was the senior associate director of athletics at Texas A&M University before coming to William & Mary. She described her new job as a "dream come true." Huge remembers sitting in the stands of Zable Stadium watching her brother play football when she was a young girl.
"William & Mary has always had a special place in my heart…" Huge said. "One thing that has amazed me is the quality of the people we have, not only in students and student-athletes, but the staff and faculty who support the great mission of William & Mary. William & Mary truly strikes the appropriate balance between competitive athletics, world-class academics and preparing young women and men to go out and live great lives of impact. That's frankly why I was attracted to this position."