W&M Weekend: Ronald Schechter wins Raft Debate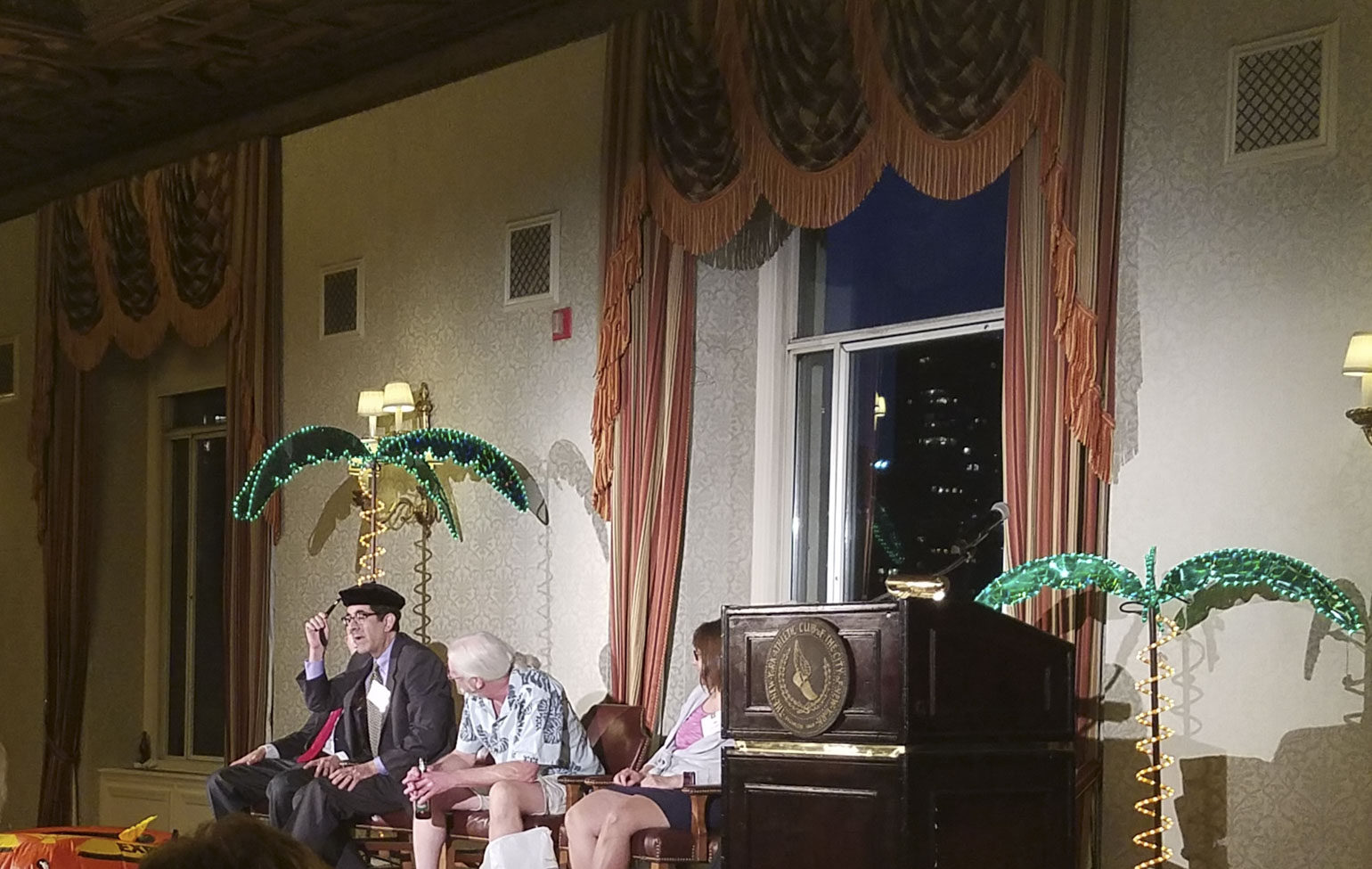 William & Mary Professor Ronald Schechter used solid debate points and the university's history to win the Raft Debate Tuesday during William & Mary Weekend in New York City.
Schechter, a history professor, represented the humanities during the debate where four "shipwrecked" professors defend their disciplines in order to save humanity with one life raft.
"There is one reason in particular that the humanities is going to win tonight," Schechter said. "No matter who is the best debater, the reason humanities wins tonight is because the Raft Debate is nothing but a philosophical discussion - it's an exercise in philosophy and philosophy is at the center of humanities. You are already convinced of the importance of the humanities, otherwise you wouldn't be here."
Schechter, who wore a black graduation cap as a prop, pulled out a 1961 copy of the Flat Hat, noting that the first Raft Debate at William & Mary was sponsored by the philosophy club, and that the professor representing humanities won that year.
The debate, while intellectual, also had a comedic tone that lingered throughout. The crowd of about 200 people repeatedly erupted in applause and laughter as the professors competed for the title. Each year professors representing the humanities, natural sciences and social sciences compete.
Chemistry Professor Lisa Landino, who represented the natural sciences, referenced the professor from "Gilligan's Island," saying that he always saved the day. She noted that the professor was able to make everyone on the island functional.
"So you can imagine if the professor were to be saved on the raft, then the professor, who isn't just a professor, but who is proficient in so many other areas, could remake society," said Landino, whose props included two neurons, a water molecule and a puppet. "I, as the science professor, should be saved."
Representing the social sciences, Lee Kirkpatrick, a psychology professor, asked the audience to down at a rock that he pulled from his pocket.
"We are trying to save humanity," Kirkpatrick said. "We don't need someone who is good at studying rocks. We don't need somebody who can analyze over-educated intellectuals' literature, arts and music. What we need is someone who can take on research methodology and apply it to humans. That's the way we are going to make a better world."
The debate's devil's advocate, philosophy Professor Christopher Freiman, argued that none of the three contestants were fit to save humanity.
"Humanists are always trying to get us to read," Freiman said. "You're telling me that 2,700 years hasn't been long enough to get the themes of "The Iliad" sorted out?"
Schechter, Kirkpatrick and Landino have all been recipients of the prestigious Plumeri Award, named for Joe Plumeri '66, D.P.S. '11.
Plumeri, who served as the Raft Debate judge, is an honorary William & Mary Weekend chair and vice chairman of the First Data Board of Directors.
Plumeri gave opening remarks during the welcome reception, which preceded the Raft Debate. During his remarks he shared some of the first memories he had as a William & Mary student.
"I have had a love affair with William & Mary since I got here in 1962…William & Mary for me was a nurturing place," Plumeri said. "It was very human. It was a place where I felt like everyone cared whether I existed or not."