W&M to celebrate 100 years of co-education in 2018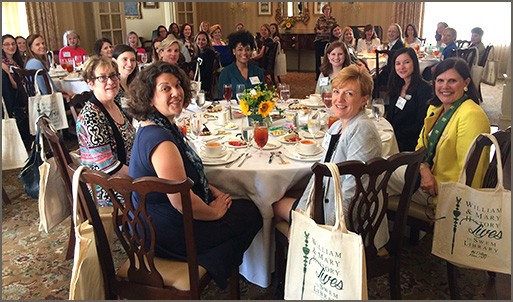 "College life here will without a doubt be altered when Mary is allowed to enter with her brother William." Those words, printed in a March 1918 issue of The Flat Hat, signaled a sea change in life at William & Mary. Just a few days earlier, the House of Delegates had approved a law that would allow coeducation at the College. Six months later, 24 women walked through the doors of the Wren Building and into the history books.
In the fall of 2018, W&M will kick off a year-long celebration, commemoration and exploration to mark the 100th anniversary of women at the university.
"I think it's safe to say the experience of students on campus that year will look and feel somewhat different than it has in the past in terms of the visible presence of women and discussion of gender-related issues," said Jayne Barnard, coordinator of academic events for the anniversary year and chair of the planning committee. "The arts & sciences COLL 300 theme for the fall of 2018 will be "Bodies that Matter," and for the spring "Ceremony," both of which fit well with the goals of the 100th anniversary year."
The 22-member committee, appointed by President Taylor Reveley in 2016, is responsible for spearheading the programming that will make up the celebration. The committee has identified seven key initiatives that will be revealed throughout the year. The initiatives range from a speaker series to the creation of a tangible object commemorating women on campus. Barnard and Val Cushman, director of alumnae initiatives, are now leading a 70-plus-person volunteer team that will implement the committee's plans.
"There are no statues of women on campus and very few representations of women doing anything in the art on campus," said Cushman. "So there's a commitment to produce something around some sort of physical object that's visual and permanent."
Programming for the celebration will kick off in September 2018 with a women's leadership summit, bringing together alumnae, faculty, staff and students for a weekend-long event featuring speakers, panels, workshops, breakout sessions and plenty of informal networking opportunities.
"This will be a summit for alumnae that engages students and faculty," said Cushman. "We're really focused on meeting the needs and wants of our alumnae, a big piece of which is mentoring and engaging with faculty and students."
Throughout the year, W&M's 55,000 alumnae from near and far will have opportunities to get involved in the festivities. Alumni chapters from coast to coast will host events celebrating the milestone, and a new endowment that will fund regional and on-campus alumnae engagement efforts has been established, with the goal of seeking 100 women donors representing each year of co-education.
Across campus, the anniversary will be celebrated in myriad ways. In addition to the physical object, a multimedia exhibition in the Sadler Center will showcase women at W&M through the decades; a research program will fund students and faculty interested in exploring gender-in-education issues; and themes related to women will be robustly addressed in many classes across campus.
"We have a great committee that is working with faculty from VIMS, education, law, business and arts & sciences to either foster completely new courses that have a significant gender component or just taking a course someone has taught for 12 years and putting a little spin on it," said Barnard.
While planning for the celebration is still ongoing, Barnard and Cushman say the enthusiasm seen from women and men volunteers alike has been encouraging.
"There's so much energy from everyone we talk to," said Barnard. "When we ask 'would you like to help?' the answer is almost always yes … that's really satisfying."
Barnard and Cushman both say their goal for the anniversary isn't so much to change the institution and its treatment of women, but to celebrate and commemorate the many achievements of W&M women - alumnae, faculty, staff and students - and to continue a dialogue around gender in the future.
"I think given the national conversation we'd be talking about gender right now anyway," said Cushman. "But [the anniversary] provides a nice opportunity to reflect on our past 100 years and think about our next 100."
In addition to the 100th anniversary of women, W&M will also celebrate the 50th anniversary of African-American students in residence in 2017 - 2018.
Those interested in sharing ideas or getting involved with the celebration can visit wmalumni.com or email ideas@wm.edu.
To read more about this year-long celebration, click here.