2017 W&M Graduation Series: Stephen Gurley '17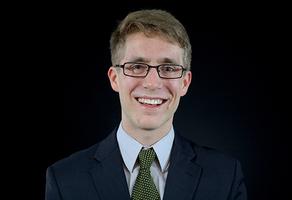 Stephen Gurley '17 was so certain he wanted to attend William & Mary that he applied as an early-decision student. He was accepted and began envisioning a new life as a biology and pre-med major with the goal of someday helping the world's most vulnerable get the best medical care.
By the spring of his high school senior year, his college plans were in place, until the federal budget sequestration of 2013. The cuts went beyond national headlines and blindsided his Northern Virginia family. His father, who worked for a government contractor, lost his job. The two-income household became one — in an instant, each day his parents had worked to fund his college education amounted to a deferred promise. Their lives were suspended as the days to Gurley's freshman year drew closer. The tuition bill laid unpaid with no clear resolution. But the generosity of donors changed this for Gurley, who is graduating this month and heading to medical school in the fall.
I recently spoke to Gurley about his plans after graduation and the impact that scholarships have had in this life. He is the first of several William & Mary seniors who will be featured in a scholarships series on our blog, The Gale, leading up to Commencement.
What are your plans after graduation?
I will be attending Emory University in Atlanta. I was admitted to their five-year joint degree program for a doctorate in medicine degree and a master's in public health. I would eventually like to work for the U.S. Public Health Service Commissioned Corps. They are on the front lines of the American response to infectious disease outbreaks around the world. For example, when the Ebola outbreak occurred, these were the people who responded right away. It's a good way to serve the country and protect its people. The desire to serve the country is pretty strong at William & Mary and this is my way of giving back to my community.
What skills have you gained while attending William & Mary?
I have definitely gained strong research skills during my time at William & Mary. When I was applying to medical schools, the recruiters were very impressed with my research background. At bigger schools there aren't as many opportunities to conduct research as an undergraduate student, because graduate students do most of the research. At William & Mary, undergraduates are taking the lead on a lot of innovative research projects.
What type of research have you done as a student at W&M?
I am studying why cells don't function as they should, which will give us more information about male infertility.
What impact have scholarships had on your life?
It was unexpected that I would be in a financial situation where I needed a scholarship to attend college. It was such a turn of events when my dad was laid off. We had no idea this was coming. When I found out I was getting a scholarship, we all cried tears of joy. We were so excited. Obviously, my parents knew it was still going to be hard to pay the bills and the mortgage, but the scholarship made things a lot easier.
What is your message to other potential donors who are thinking about supporting scholarships?
Giving to scholarships really does make a huge impact. It changes someone's life whether they are expecting to get one, or something unexpected happens like in my case. My scholarship came at a point when my entire world had changed. It really made an impact and changed my life for the better.