W&M alumnus William Ivey Long joins the walls of Broadway legends at Sardi's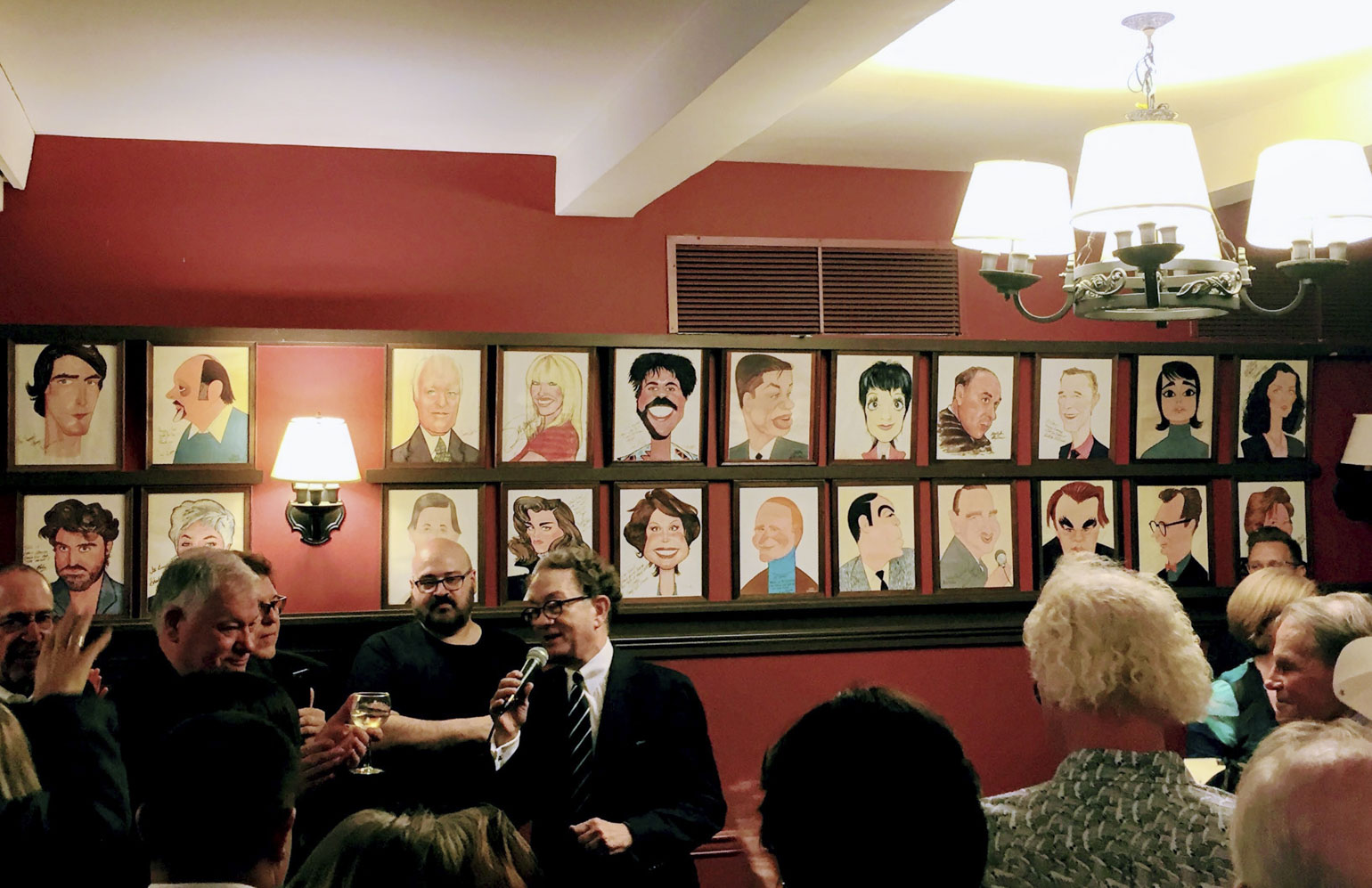 Photo by Vayda Parrish '16
William Ivey Long '69, L.H.D. '04 is the "King of Costumes." It said so on his 70th birthday cake. On Aug. 30, friends and family of the Tony Award-winning costume designer crowded onto the fourth floor of Manhattan's iconic theater district restaurant Sardi's, for a twofold celebration.
Sardi's has been a staple of the New York theatre community since it opened its current location on West 44th Street in 1927, nestled on the same block as five Broadway theaters. More than 1,000 caricatures of famous faces decorate the place's interior. The tradition of the Sardi's caricature began when the restaurant's owner commissioned a young man to draw portraits of Broadway celebrities to line the walls in a way that recalled one of Vincent Sardi Sr.'s favorite Parisian jazz clubs. Portrait subjects have to have dined at the restaurant at least once.
With 15 Tony nominations and six wins in his pin cushion, it was high time the King of Costumes receive another accolade of Broadway royalty: the Sardi's caricature. What better occasion to unveil it than on the designer's birthday?
Sharply dressed in a pinstriped suit and bespectacled in his signature round glasses, Long worked the room full of industry standouts, greeting and embracing guests including Tony-nominated actress Laura Osnes (his self-proclaimed "fairy goddaughter," whom he dressed in Tony-winning garb and gowns for the title role of the 2013 Broadway production of "Rodgers + Hammerstein's Cinderella"), Tony-winning director of "Hamilton" Tommy Kail, whom Long worked alongside and received an Emmy nomination for the costume design in FOX's "Grease: Live!", and current chair of the American Theater Wing David Henry Hwang, who holds the position Long vacated in 2016.
Sardi's owner, Max Klimavicius, introduced the man of the hour first with a rundown of his impressive career credentials, highlighting his designs for shows such as "Chicago," "Hairspray," "The Producers," "Nine" and "Grey Gardens," as well as his commitment to encouraging and nurturing future generations of American theater makers. Long attributed his emphasis on mentorship to his background in history, which was his major at William & Mary.
"I always have an eye on what came before me, and it informs the work that I do," said Long." To that end, it is very important to foster and encourage the next generation, and pass along what you have learned. I feel honored to have a place on the wall at Sardi's among the greats of the American Theatre; the experience was very humbling."
William Ivey Long's legacy is now enshrined at Sardi's, and he is just as busy as ever. Three current Broadway shows feature his designs, "Chicago," "A Bronx Tale," and "Prince of Broadway." He revealed two other projects in the works: a revival of the George and Ira Gershwin musical "Crazy for You," scheduled to return to Broadway in the fall of 2018, and a musical adaptation of the film "Beetlejuice," projected for spring 2019.
The "King of Costumes" presides over a well-dressed theatrical kingdom.