W&M alumnus named Researcher of the Year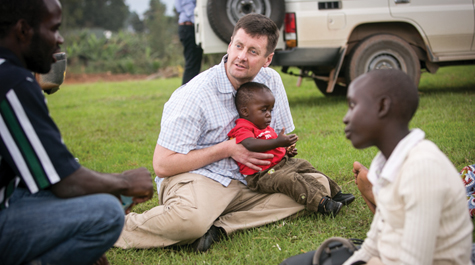 In 2014, an Ebola outbreak in West Africa shook the world. Fear that the virus would spread out of control plagued the nation. Little did people know, scientists had been preparing for this day for years — one of them being William & Mary alumnus John Dye '92.
Dye was recently named Researcher of the Year by the Geneva Foundation, for his work on the Ebola virus. This award means more than just prestige to Dye, it's an opportunity to keep his research moving forward on the cutting edge.
"I was honored to even be considered for the award and when I won it I was in disbelief," Dye says. "The additional $10,000 that comes with the award will immediately be put back into the laboratory, into my people, and the technology that will enable us to continue our research. Every dime of it is going to go back into research to hopefully help people in the future."
Dye has been a researcher for United States Army Medical Research Institute of Infectious Diseases, commonly referenced as USAMRIID, for over a decade. He has worked with a variety of different agents, but his focus was mainly on the Ebola virus. While the primary reason for the research was to prepare for Ebola as a bio-threat, when the 2014 outbreak occurred, he knew that the research he was doing could be used to help people in Africa.
"We always hope that whatever we develop heads out beyond the military aspect and actually out into the mainstream which is exactly what happened with what we did," Dye says.
Dye has taken his responsibility to protect the military from a potential viral attack using Ebola as an opportunity to work toward a better understanding of the disease to help people worldwide.
"You develop a treatment for one reason and hope that it is actually used for multiple purposes to help the global community," Dye says.
Dye's work is moving science and medicine forward. His behind the scenes work with Ebola has brought the world one step closer to preventing and treating this virus. Dye has no plans of leaving USAMRIID anytime soon and hopes to continue to make huge strides in his research of Ebola and other deadly viruses.
To read more about Dye's Zika research click here.