W&M alumnus named Mass. Teacher of the Year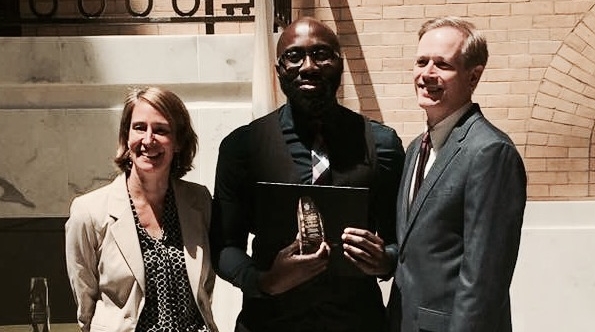 Photo provided by Kevin Dua '09
When Kevin Dua '09 does anything, he puts his all into it. Whether it is working as a high school history teacher, serving with AmeriCorps' City Year, or organizing a group of William & Mary students and faculty to break the Guinness Book of World Record for the most people dancing to Michael Jackson's "Thriller," Dua never fails to go above and beyond. His hard work is finally being recognized. He has been named the first African-American recipient of the 2017 Massachusetts History Teacher of the Year, presented by the Gilder Lehrman Institute of American History. This prestigious award is given to a history teacher in each state that displays a commitment to teaching American and state history in a creative way that incorporates primary sources. Dua displays all of these core characteristics and more.
For Dua, teaching is more than a profession — it's his passion. Being awarded Massachusetts History Teacher of the Year is just a physical representation of all of his hard work.
"Teaching has brought me such remarkable happiness," he says. "To present students with tools to help empathize, while encouraging them to challenge norms in order to better social norms, continues to be the best honor for me."
Whether it is creating a mini-documentary with his students discussing the mistaken identities of enslaved humans like Frederick Douglass, or covering students' lockers with positive messages, Dua always looks for ways to teach beyond the book. Being a teacher means more to Dua than just teaching history lessons.
"History is a subject that provides answers on how to better humanity," he says. "I am fortunate to present the world to students through many narratives, thus empowering them to start dialogue and become critical thinkers. I believe history offers the best forum that encompasses all of that for high school teens."
Receiving the 2017 Massachusetts History Teacher of the Year means not just that Dua is a great history teacher, but an affirmation to Dua that all of his hard work to educate his students beyond the classroom has been worth it.
"It has been such a humbling honor that I am still trying to fully digest," he says of winning this award. "The classroom has become a haven for my students and I over the years; exploring unique ways to understand the complexities of history, society, and people, while trying to become active citizens."
While Dua has already accomplished many great things so early in his teaching career, he still looks forward to many more years of helping shape young minds as a teacher and mentor.