VIMS Receives Generous Gifts to Support Chesapeake Bay and Coastal Waters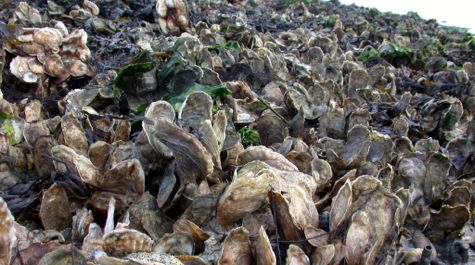 A. Marshall Acuff Jr.'s '62, L.H.D. '07 commitment will help position Virginia as No. 1 worldwide in sustainable shellfish aquaculture. Peg Freeman's privately funded fellowship will fully fund a student at the School of Marine Science to study marine plastics pollution. Harry Wason '50 and Judy Wason's cytobot gift will reduce the impact of harmful algal blooms in the Chesapeake Bay region. Steve and Barbara Ed.D. '95 Johnsen's gift enabled the purchase of a research vessel for VIMS' Eastern Shore Lab.
Read more about these generous gifts here:
Acuff commitment to benefit VIMS and Alumni House
A. Marshall Acuff, Jr. '62, L.H.D. '07 has made a $5 million commitment to advance shellfish aquaculture research at William & Mary's Virginia Institute of Marine Science (VIMS) and to help fund the expansion of the Alumni House.
Read more here.
Tech turns bots into bay keepers
Since 2007, the York River has experienced an increase in harmful algal blooms (HABs). Concerned local citizens, health officials, anglers, and aquaculturists have asked when is it safe to be in the water or enjoy local catch, and they look to VIMS for answers. Recent damage to the west coast seafood industry from a massive bloom of Pseudo-nitzschia, another toxic HAB organism, serves as a cautionary tale for Virginia and its seafood and aquaculture industries.
Read more here.
Johnsens put focus on Eastern Shore
VIMS Foundation President Steve Johnsen and wife Barbara made a gift to the Dean and Director's Fund for the Eastern Shore, which made possible the purchase of a new research vessel for VIMS' Eastern Shore Lab. According to Dr. Christopher Hein, assistant professor in the Department of Physical Sciences at VIMS, the new boat will bring with it "unique capabilities that will greatly expand our research program on the barrier islands of the Virginia Eastern Shore and more broadly along the U.S. East Coast over time."
Read more here.
New fellowship supports study of marine plastics pollution
An advocate of the Bay and its tributaries, Peg Freeman and her children were moved to create a fellowship to support the study of marine plastics pollution by her increasing awareness of the problems plastics present to our marine environment. The partnership between VIMS and the Freeman family's foundation creates a bridge between academic research, public interest, and effective action on plastic pollution.
Read more here.