Thomas to new students: 'Get some light and share it'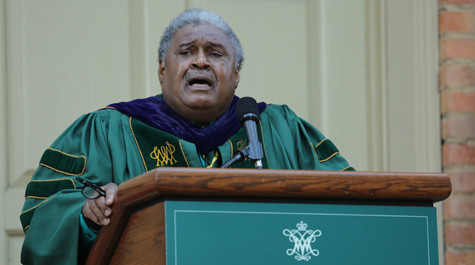 Photo by Stephen Salpukas
The arc of the moral universe may bend toward justice as Martin Luther King Jr., once said, but it doesn't do so on its own, Judge John Charles Thomas told William & Mary's new students Wednesday.
"We have great hopes on this first day of the academic year for what you will become, but it's not just for you," he said. "It's because what we're trying to do is ignite within you the burning desire to learn and to keep learning, to push for fairness and justice and equity and then to share the light that is within you."
Thomas, a longtime member of the Board of Visitors, delivered a rousing speech as part of the university's Opening Convocation ceremony in the Wren Yard. The annual event marks the beginning of the academic year and gives current members of the Tribe a chance to welcome new undergraduate and graduate students to campus.
This year's event coincided with the beginning of the university's yearlong commemoration of the 50th anniversary of W&M's first African-American residential students. Those three students — Lynn Briley '71, Janet Brown Strafer '71 and Karen Ely '71 — were recognized during the ceremony. At its conclusion, they led the traditional promenade of new students through the Wren Building, where they were greeted on the other side by hundreds of cheering students, faculty, staff and alumni in a welcoming line that stretched far into the Sunken Garden.
The skills of freedom
Thomas, who was the first black justice appointed to the Supreme Court of Virginia, said he is always mindful of the history that happened "right up the road" from William & Mary. But as the university began its 325th year, he reminded its new students that history is still being made.
"It was just 50 years ago that people of color were allowed to come here as students … but it occurred because of the perseverance and determination and strong shoulders and the grit of these people, these women right here that you can see and touch, so I want to tell you that history is not just from a long time ago. History is happening right now," he said.
To read more of this story click here.