The inside scoop on ringing the Wren Bell
Every school day, the bell housed inside William & Mary's Christopher Wren Building rings 57 times, or from 9 in the morning to 5 in the afternoon, one strike for each hour on the clock.

Today, the bell could toll as many as 2,500 times, as pending members of the Class of 2017, plus graduates from the Mason School of Business and School of Education celebrate the Last Day of Classes. Graduates of the William & Mary Law School participated in the tradition of ringing the bell once at the conclusion of their classes last week.

Not all of those pending graduates will wait in line for the opportunity to ring the 650-pound campana. But the bell and its usage have always been an integral part of the university. For example, the 1758 College Statutes [and almost certainly those from other years] specified that students could live in town as long as they could hear the College bell.

"To me, the significance of it is in the tradition," said Kevin Kay '17, a double major in music and physics. "I've seen the seniors waiting in line to ring the bell for four years. I would like to ring the bell."

So would Leslie Hamilton '17, a finance major. At the same time, she added, "It's another bittersweet senior experience. You're happy for it, but sad because it means you're at the end."
"It's a big part of being a senior," Hamilton said. "It's one of the last rites of being at school."

Odds are that most people on campus will hear the bell's repetitive tolling — though, oddly enough, the door to the balcony must be open for those doing the ringing on the second floor to actually hear it. Maybe faculty, staff and undergrads will smile at either their memory of experiencing it themselves, or at the thought of one day having the rope in their hands.

But it's a safe bet there is a lot about the bell that they don't know.
Is this the original Wren bell?
Absolutely not. According to Catherine Schlesinger, formerly of the Colonial Williamsburg Foundation's Architectural Research department, this bell has had five siblings. In June 1716, the Board of Visitors directed that a bell measuring 18 inches in diameter at the "Brimms" be ordered from England. It arrived approximately a year later, and served until June 1839. That year, a new bell was purchased from the Tredegar Iron Works in Richmond.

Bell number two didn't last long, two years to be exact, before a different foundry, D.I. Burr & Company, was paid $60.80 in December 1841, to recast it.

What happened? It seems that a lot of "frolicsome students," as they were described by D.I. Burr partner Thomas Samson, put "undue strain ... by ringing it at midnight, to the serious detriment of the repose of more orderly of the matriculates and their professors," and it cracked.

Samson's bell, the third, was consumed by the fire of 1859, after which another new bell was purchased several months later.

Little is known of the fourth bell. It is presumed that it was destroyed in the fire of 1862, although no record exists to prove that.

In 1888, the student newspaper reported that the fifth bell had cracked and a new one was being brought in to replace it. That is the bell the Class of 2017 will ring, and it bears the following inscription:

BUCKEYE BELL FOUNDRY 1889
VANDUZEN & TIFT
CINCINNATI
What are this bell's dimensions?
It's larger than the original, two feet, three inches tall and two feet-six inches in diameter. The bell and yoke are cast iron; the yoke is anchored to a wood frame, and its wheel is also wood.
How many different ways are there to ring the bell?
Three. According to Adjunct Associate Professor of History Susan Kern, who serves as executive director of the Historic Campus, the bell can be rung from a pull cord on the second floor — where the pending graduates will operate. There's a computerized mechanism that can produce a steady toll of every three or every 10 seconds, and causes the bell to ring automatically on the hour. Finally, Kern said, the bell can be tolled by pushing a button on the computerized clock mechanism.
Is this Last Day of Classes bell-ringing a big production?
Bigger than you think.

Greg Henderson, assistant to the vice president of student affairs, said recently that 20 volunteers had signed up to work inside and outside of the Wren. They come from Campus Living, Campus Recreation, the Cohen Career Center, the Counseling Center and other departments. They will work in groups of three or four in hourly shifts that begin at 10 a.m. and end at 4:30 p.m.

And in case you think that all they're going to do is stand there and smile, think again. Henderson provided two pages of guidelines the volunteers are asked to follow in order to keep things moving smoothly — and safely.

For instance: Although the door to the balcony is open so that students can hear the bell, no one is allowed on the balcony.

Only cameras and small, purses (wristlets) are allowed in the building.

No open cans or bottles and no alcohol.
Volunteers are asked to assist students with taking pictures in front of the Wren Building, and to tag them to Instagram and social media with #wmgrad so they'll appear in the slideshow to be presented before the main Commencement ceremony.

Oh, and since this is a celebratory day, have fun. Don't be all business.

In addition, Facilities Management assigns a staffer to disable the automatic ringing system, and to help monitor the proceedings. They also are on hand in case anything unexpected occurs — like the rope breaking (they have a spare, just in case).
What should students know about ringing the bell?
There's a deeper meaning to it than the successful completion of four years of coursework.

In 1854, Benjamin Stoddert Ewell became president of William & Mary. Seven years later, with many students having gone off to fight in the Civil War, the College closed. Ewell, a West Point graduate who had been against Virginia's secession from the Union, nonetheless served as a staff officer to Confederate Gen. Joseph E. Johnson. While he was gone, the Wren Building was burned practically to the ground.
Upon his return, Ewell began lobbying Congress for funds to rebuild what the College had lost during the war. Although he was rebuffed for 30 years, Ewell reopened the school in 1869, using his own money to cover operating expenses.

Again, the university closed, this time for seven years. However, every morning during that period, Ewell rang the bell — at that time the signal for students to come to class. The College's 16th president never wanted it said that W&M had abandoned its mission to educate the young men (at that time) of Virginia.

Now that mission has spread to students from all over the world.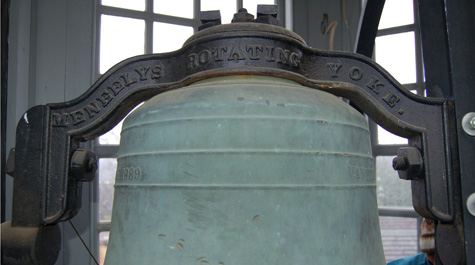 Photo courtesy of William & Mary News