Will Smith '14 discusses the power of scholarships, impact of W&M on his life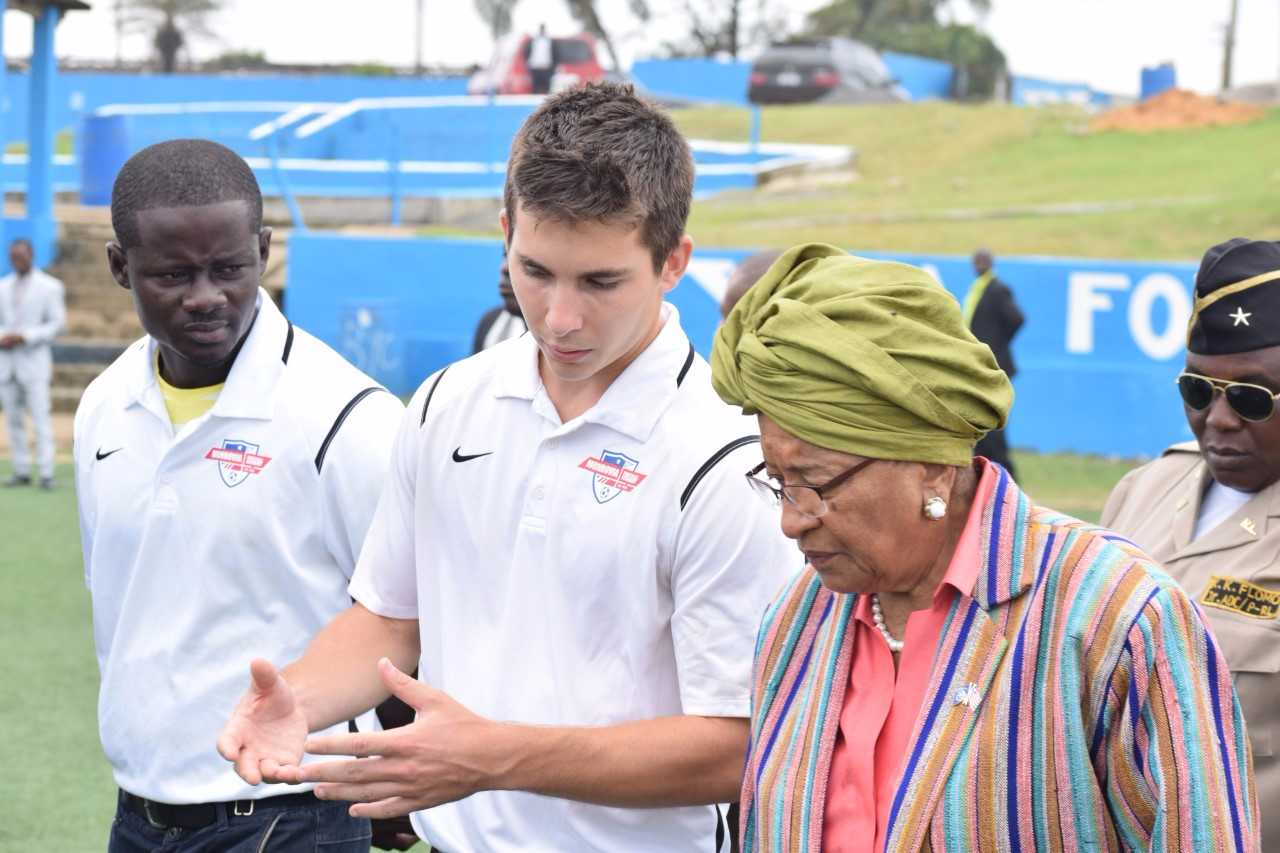 Photo courtesy of Will Smith '14
The Most Important Day of My Life
On Aug. 30, 2012, I walk into Morton Hall for my last class of the day. It is the fall semester of my junior year at William & Mary, and I still have no idea what I want to do with my life.
Professor Phil Roessler stands at the front of the room, eagerly awaiting the start of his new class, Politics in Africa. The clock strikes 2 p.m., and Professor Roessler begins the course by launching into a story about his first visit to Liberia, a small, coastal nation on the tip of West Africa. I am captivated.
President Ellen Johnson Sirleaf
Fast-forward five years. It's Sept. 20, 2017, and the President of the Republic of Liberia, Ellen Johnson Sirleaf, arrives at 56 Leonard Street in New York City. She is here to support Monrovia Football Academy, a school I co-founded in October 2015. The academy is the first school in Liberia to combine high-quality education with professional sport training, and after visiting it several times, President Sirleaf has agreed to contribute to our fundraising efforts.
After exchanging pleasantries, I escort the president upstairs and begin introducing her to some of our most influential supporters. Eventually, we run into the William & Mary corner of the room. Al Albert '69, Graham Albert '03, Roshan Patel '14 and new Athletics Director Samantha K. Huge stand together, smiling widely, expressing their excitement to meet the first democratically elected woman in African history.
At that moment, as my fellow members of the Tribe greet the president, I am reminded of the importance of my time at William & Mary.
The Influence of William & Mary
Professor Roessler's class — and my wider William & Mary experience — completely changed the trajectory of my life. The university created a space in which I could explore and pursue all of my interests — from academics, to athletics (men's soccer and men's golf), to music (a raucous student band) to extracurricular activities (Building Tomorrow, SAAC, among others). For me, that dynamic, inclusive environment is what separates William & Mary .
Perhaps most importantly, William & Mary has remained as present in my life as it was during my four years in Williamsburg. Jill Ellis '88 traveled to Liberia in December 2016 to work with Monrovia Football Academy's soccer coaches and inspire our student-athletes. Phil Roessler is the linchpin of the academy's impact evaluation. Dozens of other William & Mary alumni, professors and coaches support our work and, in June, four William & Mary students visited Liberia to conduct research on the academy.
That is what makes William & Mary so special. It opens doors. It incentivizes innovation, collaboration and teamwork. It is a community that lifts each other up.
And all of this is made possible by the tremendous support of the university's generous donors. I should know. As a student-athlete, I received scholarships support throughout my four years, and my first trip to Liberia was funded entirely by the Charles Center and government department.
At Monrovia Football Academy, our school slogan is "Work Hard. Be a Leader. Dream BIG." As the For the Bold campaign continues, I urge the William & Mary community to dream big. To imagine an even better, even more inclusive, even stronger William & Mary.