The Cabell Challenge: Update and Impact
William & Mary's ability to offer its students and faculty top-notch research opportunities hinges on access to state-of-the-art science equipment. Two years ago, the Cabell Foundation — a longtime partner and supporter of the university — made an extraordinary challenge to the William & Mary community: raise $1 million to help purchase and update essential tools for use in the newest wing of the Integrated Science Center (ISC) complex, and the Foundation would supplement it with a $500,000 grant.
Alumni, friends and organizations from across the world answered the call and met this unprecedented effort in late 2016. The resulting infusion of more than $1.5 million into William & Mary's science programs is already at work advancing scholarship and teaching. The funds are helping to secure more than 40 pieces of equipment critical to important research in the fields of chemistry, biology, psychology and applied science, as well as interdisciplinary programs such as neuroscience, molecular biology and the environmental sciences.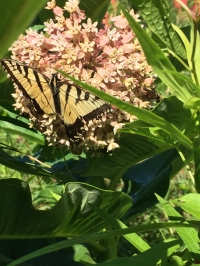 Saving the Monarchs 
Cabell Challenge funds have allowed William & Mary to purchase equipment vital to the university's groundbreaking effort to conserve and support the endangered monarch butterfly. The project involves genetic research on the declining milkweed plant, the monarch's primary host species. A small army of undergraduate researchers are driving this work forward, sampling milkweed in the field, mapping the milkweed genome, and using the new portable spectroradiometer to identify critical variations in milkweed chemistry. The first annual Monarch Butterfly Festival on April 22, 2017, to be held at the ISC, will thrust this research — and the university's science programs — into the public spotlight.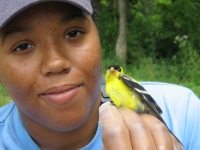 Assessing Mercury Pollution
 One of the most productive collaborative student-faculty research groups at the College has centered around mercury pollution. Biology professor Dan Cristol, working with 10 faculty colleagues, has spent years investigating the hazard that mercury poses to birds and the environment as a whole, and he regularly brings undergraduates into his research. A new methylmercury analyzer, purchased with Cabell Challenge funds, will enable a wider range of research projects in this transdisciplinary area — and the involvement of many more students in a topic of great ecological import around the globe.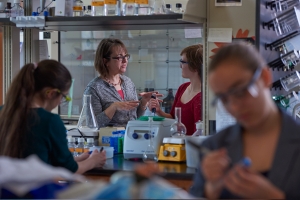 Getting to the Roots of Neurodegeneration and Aging
Chemistry professor Lisa Landino studies the science behind neurodegenerative diseases like Parkinson's, amyotrophic lateral sclerosis (ALS) and Alzheimer's. Many of these diseases have their origins in the chemistry of our own bodies — particularly damage that occurs to certain proteins. Her lab's new circular dichroism spectrometer, bought with Cabell Challenge funds, allows her to apply one of the most important techniques for analyzing proteins (and other biomolecules) today, and is essential to propelling her research forward. Over the years, dozens of undergraduates have been involved in this work, reflecting her deep commitment to nurturing and inspiring the next generation of scientists and physicians.