Symbolic mural created for 50th commemoration of first African-American residential students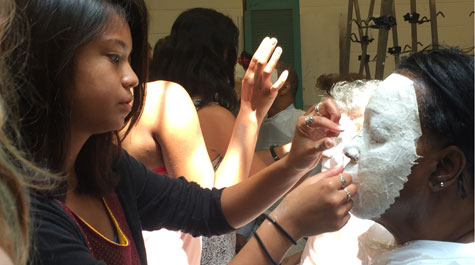 Photo by Cortney Will
Embedded in a mural created during a class this summer are meaningful symbols for the individuals who inspired it, who created it and who will look at it in perpetuity.
As part of the kickoff to William & Mary's yearlong 50th anniversary commemoration of its first African-American residential students, class members including students, faculty, alumni and community members created the mural. The piece, to be unveiled at a ceremony in August, will be included in the W&M President's Collection of Art and permanently displayed in Swem Library.
The mural consists of painting, bronze masks and woodcuts.
Every morning for three weeks this July, visiting artist Steve Prince explained parts of the process, and students in the "Workshop on Black Expressive Culture" course meeting in Andrews Hall went to work on them. He infused meaning into each step, encouraging students to think about the relevance of what they were doing.
Each mask would be a part of the foundation for the piece, Prince said. He suggested they consider incorporating their ethnic history and genealogy, the meanings of their names, W&M history and the themes of going forward while looking back when choosing additions for their masks.
"Each person is a seed for the future as it relates to this institution, as it relates to this nation," Prince said.
For more on this story click here.