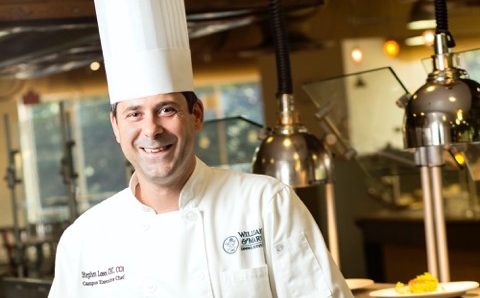 College students eat a lot. Between breakfast, lunch, dinner, second dinner, snacks in-between classes, coffee breaks and late-night pizzas, a constant stream of food is needed in order to meet the demand. That is where Stephen Losee steps in. As the district executive chef for William & Mary, Losee is in charge of meeting the needs of the thousands of students who eat at dining halls each day.
Losee started working for William & Mary Dining Services in September 2014, after working in a variety of kitchens — from the Hilton to restaurants in London — each requiring a different working style.
"College dining has many moving parts behind the scenes," Losee said. "We serve 10,000 meals a day on campus with several different dining venues."
Each of the 10,000 meals that are served across campus daily are unique. With three main dining halls — Sadler, Marketplace and Commons — and a number of other locations on or near campus where students can use their Dining Dollars to purchase meals, students have a variety of options. Losee and his staff work hard to provide an assortment of food that meets everyone's wants and needs.
"Within the venues — specifically Commons and Sadler — we offer 10 different concepts or stations, which offer rotating menus," Losee said. "We are trying to bring restaurant quality food to our dining halls and establish William & Mary as one of the best food programs in the country. "
The hard work and planning that goes into each meal is evident. Walking into the dining halls each day, students are met with a variety of different cuisines as well as reliable basics and foods that cater to students with dietary restrictions. While Losee's main job is to oversee all of the dining programs, he makes sure he is actively involved in the kitchen.
"I try to spend at least half of my day working with the teams on cooking," Losee said. "I am hands-on in the operations; I'm either training or assisting in food preparations. Lately, I have spent a great deal of time working in catering, as we now have a new team in the department."
Losee isn't just involved with the preparation of the food, but also makes sure that all of the ingredients are as fresh as possible. He has paired up with KelRae Farm in Toano, Va., to purchase locally grown produce.
"We meet with the farmers regularly and plan the upcoming crop season," Losee said. "We are very hands on with the crops; from planting the seeds in the greenhouse to picking fresh vegetables and loading them on the truck to be prepared for our dining halls. The entire process of growing our own produce is amazing and very unique to college dining."
For Losee, being a good chef isn't just about the food, it is about the experience that he provides students.
"A successful meal in the dining hall is when the students are really happy with the food being offered," Losee said. "This could be a favorite dish that reminds them of home or something delicious that they have never tried before. Witnessing happy customers (students) makes the entire team motivated to keep working hard to provide great food and top-notch service."