Six join the ranks of honorary alumni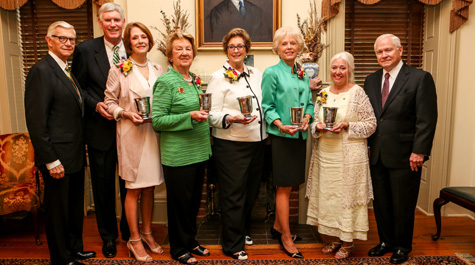 Last Friday, the William & Mary Alumni Association celebrated its annual Honorary Alumni Ceremony by recognizing six exceptional individuals who have a distinguished record of service, support, advocacy and commitment on behalf of William & Mary and its schools, departments, organizations and boards.
The Alumni Association's Honorary Alumni Ceremony was first conceived in 1994. Since then, fewer than 100 individuals have been welcomed into the association as honorary alumni. It has been a tradition for many of the individuals who have been bestowed with honorary alumni recognition to come back to campus the day before Commencement to take part in the ceremony.
During the ceremony, the honorees were each presented with awards in a show of appreciation for selflessly devoting themselves to advancing the mission of the university. Several dignitaries, including President Taylor Reveley, Chancellor Robert M. Gates '65, L.H.D. '98, and many previous honorees, were in attendance to support the 2017 awardees.
Honorary alumni are non-graduates of William & Mary who have gone above and beyond in their support of the Alma Mater of the Nation. Throughout the year, the Alumni Association accepts letters of nominations for this distinguished award. The Alumni Association's Board of Directors then votes on the final awardees.
The following individuals were welcomed into the Alumni Association as honorary alumni on May 12:
Ann Green Baise, Falls Church, Va.
Mari Ann Banks, Gloucester, Va.
Jane P. Batten, Virginia Beach, Va.
Susan Driscoll, Williamsburg, Va.
Terry Driscoll, Williamsburg, Va.
Jeanne Harris Weaver, Cocoa Beach, Fla.
"Each honoree has committed a significant amount of time and energy ensuring William & Mary's present and future are as bright as its past," said Cindy Satterwhite Jarboe '77, president of the William & Mary Alumni Association. "All of these individuals add to the wonderful spirit of our university."
To view a list of past honorees, see here.
"Every year, this ceremony provides us with the opportunity to recognize those who, while not graduates of our beloved alma mater, are dedicated and devoted to her as much as those who are," said Marilyn Ward Midyette '75, executive director of the William & Mary Alumni Association. "Their passion and loyalty is inspiring and we are enormously grateful for their friendship."
The Honorary Alumni Ceremony is one of several awards and recognition programs that the Alumni Association holds throughout the course of a year. Other events include the Alumni Medallion Ceremony, the Douglas N. Morton '62 Alumni Service Awards, the Olde Guarde Distinguished Service Award, the Alumni Chapter Award and the Student Academic Prizes.
View the full bios of the 2017 honorary alumni here:
Ann Green Baise
Baise's connection to William & Mary is exceptionally strong. She served on the William & Mary Board of Visitors for four years, where she chaired the Administration, Buildings and Grounds Committee and the university's Design Review Board. In recognition of her record of leadership and service, Baise was initiated as a member of William & Mary's chapter of Omicron Delta Kappa and the National Leadership Honor Society.
During her service on the Board, she visited about every inch of campus, attended a multitude of campus and alumni events (including W&M Weekend in Washington, D.C.), was a loyal donor, and served as a mentor for many students, faculty and staff. Not only did Baise have a reputation as a Board member for reading every line of the large Board agenda book (and occasionally pointing out mistakes — in grammar or addition), she effectively and enthusiastically provided and fiduciary oversight for the benefit of the university and the Commonwealth of Virgina.
Those who have worked with her describe her as always going above and beyond to act in the best interests of the university. Says one supporter, "Ann always shows up. She was and is a dedicated and tireless supporter of and advocate for the university."
Baise earned her undergraduate degree in elementary education from Longwood University and a master's degree in education from Virginia Tech. She served as a teacher, educator and gifted and talented program director for Fairfax County Public Schools and has also served as a consultant for the National Geographic Society and the National Wildlife Federation. In 2000 and 2002, she was named the Columbia Hospital for Women Volunteer of the Year. She has served as the treasurer of Baise Farms, a corn and soybean operation in Illinois and Vermont, since 2012.
Before joining the William & Mary Board in 2012, Baise served eight years on the Longwood University Board of Visitors — and was held in such esteem, she was elected three times as rector.
Mari Ann Banks
Banks has been a part of William & Mary for more than 30 years. Her daughter Tricia is class of 1987, her grandson is class of 2018 and her husband Charlie is a 2005 honorary alumnus. Mari Ann and Charlie Banks have been generous supporters of the Raymond A. Mason School of Business, the Muscarelle Museum, Athletics and W&M's Virginia Institute of Marine Science.
Mari Ann Banks presently serves on the board of the Muscarelle Museum of Art and has been a key volunteer leader in the Wine & Run for the Roses Auction that takes place each May. She is the ultimate hostess — organized and knowledgeable — she is a master at entertaining. She and Charlie Banks have hosted numerous fundraisers for William & Mary at their historic home in Gloucester, Virginia, over the years. She has also sponsored events in the Raymond A. Mason School of Business, with a particular focus on the Alan B. Miller Entrepreneurship Center.
One of her nominators wrote, "I can scarcely remember a local event where Mari Ann was not at the center … I have marveled at her organizational skills, her tireless energy and enthusiasm, and her ability to mobilize whatever forces were necessary … She is a dynamo for the good."
In addition to William & Mary, Mari Ann Banks is devoted to a number of other local philanthropic causes. She sits on the board of the Peninsula Fine Arts Center, the Jamestown-Yorktown Foundation and the Virginia Living Museum, in addition to being a Trustee for the Virginia Symphony. Recently, she started a charity called Food From the Heart, which raises money and collects food for local food banks.
Jane P. Batten
Batten, along with her late husband, Frank Batten, has long been a dedicated supporter of William & Mary. The Battens were among the first major supporters of the Raymond A. Mason School of Business, and Jane Batten continues to support both the Mason School Annual Fund and the Fund for William & Mary. Those she has worked with describe her as a philanthropist who has "by dint of scale, scope, vision and leadership, literally transformed many noteworthy charitable organizations — touching K-12 and higher education, as well as the environment and society at large."
The Battens have been responsible for creating the Batten Foundation Scholarship Endowment to provide financial support for undergraduate student research, the Frank Batten Sr. MBA Investment Fund Endowment supporting an investment fund managed by MBA students, the Landmark Foundation Endowment to support the most pressing needs of William & Mary Law School's Institute of Bill of Rights Law, and an additional endowment supporting the MBA program. They played a key role in getting Miller Hall constructed and continues to meet with students and faculty.
In addition to her work for William & Mary, Jane Batten is active with many other local foundations. She sits on the Board of Trustees for Elevate Early Education, the Slover Library Foundation, Chesapeake Bay Foundation, the Hampton Roads Community Foundation and the George Washington Foundation. She is also a benefactor for Sail Nauticus, the Hollins University Batten Leadership Institute and the University of Virginia Frank Batten School of Leadership and Public Policy. In addition, she has won numerous awards for her volunteerism and philanthropy, including the 2015 Peter G. Decker, Jr. Downtowner of the Year Award, the 2014 Darden Award for Regional Leadership and Old Dominion University's Hugo Owens Martin Luther King Jr. Memorial Award.
Susan and Terry Driscoll
Together and individually, the Driscolls have fully embraced the people and culture of William & Mary. Terry and Susan Driscoll are a great team, and serve on campus-wide and in the local community — Susan drives for Meals on Wheels and Terry chairs the Walsingham Academy Board.
Terry Driscoll may be the most accomplished individual in the history of Tribe Athletics. As a student-athlete in his own right, he was an academic all-American power forward basketball player who played in two NCAA tournaments with Boston College. He played basketball professionally in Italy before joining the Detroit Pistons for six seasons. As the longest-tenured athletics director in CAA history, Terry Driscoll compiled 114 championships –– a Colonial Athletic Association record –– and boasted one of the highest student-athlete graduation rates in the country.
Under his leadership, the Committee on Competitive Excellence was created and completed a report in 2015, which highlighted funding needs for scholarships, operating expenses and facility improvements. The report serves as the strategic plan for the future of Tribe Athletics. He has spearheaded fundraising efforts in the For the Bold campaign, helping to bring in more than $100 million for the Athletics Department since 2011. During his tenure, he also oversaw more than $50 million in facility upgrades and new construction on campus for all sports, including the two most recent projects: the renovation of Zable Stadium and the completion of the Plumeri Indoor Baseball Practice Facility.
Susan Driscoll was the backbone of Terry's efforts here at William & Mary, focusing their entire family around the mission of promoting our student-athletes. She, along with Terry Driscoll, has attended as many home sporting events as possible throughout the years and made herself available to the student-athletes, supporting their efforts in both the classroom and on the fields and courts. And as a spouse of a former athlete, she assisted the coaches and their families outside of work in order to build a stronger community. Susan Driscoll joined the Lord Botetourt Affair Committee in 1998 and has participated in the planning of every event since then. Susan Driscoll has also been a devoted and loyal supporter of William & Mary teams on the road, often traveling with Terry Driscoll on week nights and weekends to lend support for the Tribe up and down the East Coast. She has made sure that the women's teams receive their due attention, and she has spent countless hours attending fundraising events to increase financial support for the teams.
Jeanne Harris Weaver
Jeanne, along with her husband, Donn Weaver, has been an integral part of the William & Mary community since the early 1990s, as the parent of three alumni, Adrianna '96, Glenn '95 and Todd '08, and mother-in-law of two others, Elizabeth Woodard Weaver '94 and Stephen Vargo '96. In 2010, Jeanne Weaver's youngest son, First Lieutenant Todd W. Weaver, a 2008 Summa Cum Laude and Phi Beta Kappa graduate, was killed in action in Afghanistan.
Along with hundreds of friends and family members, Jeanne and Donn Weaver shepherded the creation of the First Lieutenant Todd W. Weaver Memorial Endowment, which funds an annual Todd Weaver Travel Scholarship. This highly competitive grant provides support for a student majoring in government or international relations to learn more about the people and cultures of others around the world. To date, it has provided support for a half dozen students traveling to destinations such as China, Jordan, South Africa, Sweden and Bhutan. It is a permanent and most fitting memorial to Todd Weaver's own insatiable desire to better know and understand people the world over.
Determined to ensure her son would not be forgotten, Jeanne Weaver channeled her anguish into a series of paintings remembering his life. She compiled the art, along with stories of Todd Weaver, into a book titled Losing Todd: A Mother's Journey-Finding Peace in My Heart, which was published by the Muscarelle Museum of Art in 2015 and has been entered into Swem Library's rare book collection. In an essay within the book, former Secretary of Defense and current William & Mary Chancellor, Robert M. Gates '65, L.H.D. '98, wrote, "... Contributing to this book, a story brought to life with art, has been more than a duty. It is the opportunity to share in book form, a connection I had with First Lieutenant Todd Weaver at our College and in war. I hope this book will help keep his memory alive and remind those who read this volume of America's debt to all who bravely serve — and to their families."
Jeanne Weaver also worked with ROTC to create an annual memorial award in Todd's name, given each year to the top Army ROTC Cadet in leadership and academics. She is a dedicated visitor to William & Mary, and the name of her son rings out across campus — etched on a plaque by a tree donated by the Veterans of William & Mary, carved into the marble of "21st Century Conflicts" at the Wren Building, with a painting in the President's Collection, which at one point was accompanied by others at a showing in Sadler Center, on plaques at the ROTC building and Swem Library, and anytime someone says, "One Tribe, One Family." These markers all prove a connection that will last for all time coming.
Jeanne Weaver first walked across the William & Mary campus in 1970 while on her honeymoon with a young Army infantry officer. From 1992, when her oldest daughter gained early admission, until 2008 when her youngest son graduated, Jeanne Weaver spent many more days on campus, including four graduations. Now she can roam across campus with her children, grandchildren, and hopefully great-grandchildren, officially part of the William & Mary family.