Remembering Dr. Martin Luther King Jr.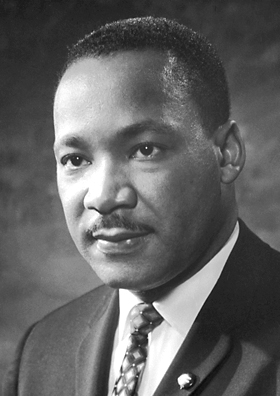 Today, the country celebrates the legacy of civil rights leader Dr. Martin Luther King Jr.
On Dr. Martin Luther King Jr. Day, we commemorate Dr. King's great sacrifices to the U.S. and remember his nonviolent message of equality and justice for all. It was a message that not only awakened the nation, but changed it. King spoke of an America where anyone, regardless of their race, creed, or color is treated equally and afforded the same opportunities as their peers.
Below is an excerpt from Dr. Martin Luther King Jr.'s "I Have a Dream Speech" given at the 1963 March on Washington .
"I have a dream that one day this nation will rise up and live out the true meaning of its creed: "We hold these truths to be self-evident: that all men are created equal." I have a dream that one day on the red hills of Georgia the sons of former slaves and the sons of former slave-owners will be able to sit down together at a table of brotherhood. I have a dream that one day even the state of Mississippi, a desert state, sweltering with the heat of injustice and oppression, will be transformed into an oasis of freedom and justice. I have a dream that my four children will one day live in a nation where they will not be judged by the color of their skin but by the content of their character. I have a dream today."
Dr. Martin Luther King, Jr. Day is also a time reserved for service to others, which is how Dr. King lived his life. In observance of this important holiday, the following events are being held at William & Mary.
MLK Community Day
The Office of Community Engagement is hosting MLK Community Day on Tuesday, Jan. 17 from 10-6 p.m. Participants will sign up for one of four community themes and spend the day volunteering with local non-profits while also reflecting on how their work fits into Dr. King's greater vision. The events will be held throughout Williamsburg.
http://www.wm.edu/offices/oce/programs/local-engagement/service-days/mlk-day/index.php
Annual Dr. Martin Luther King, Jr. Commemoration Program
An annual event commemorating the life and impact of Dr. Martin Luther King, Jr. This year, attorney and political analyst, Angela Rye, will be the keynote speaker. The event will be Thursday, Jan. 19 from 7-8:30 p.m at the Sadler Center.
https://events.wm.edu/event/view/wm/82870
This year, William & Mary will be celebrating the 50th Anniversary of African-American residential students. Check out this recent story about this forthcoming celebration here.