One Tribe One Day fun on the Sunken Garden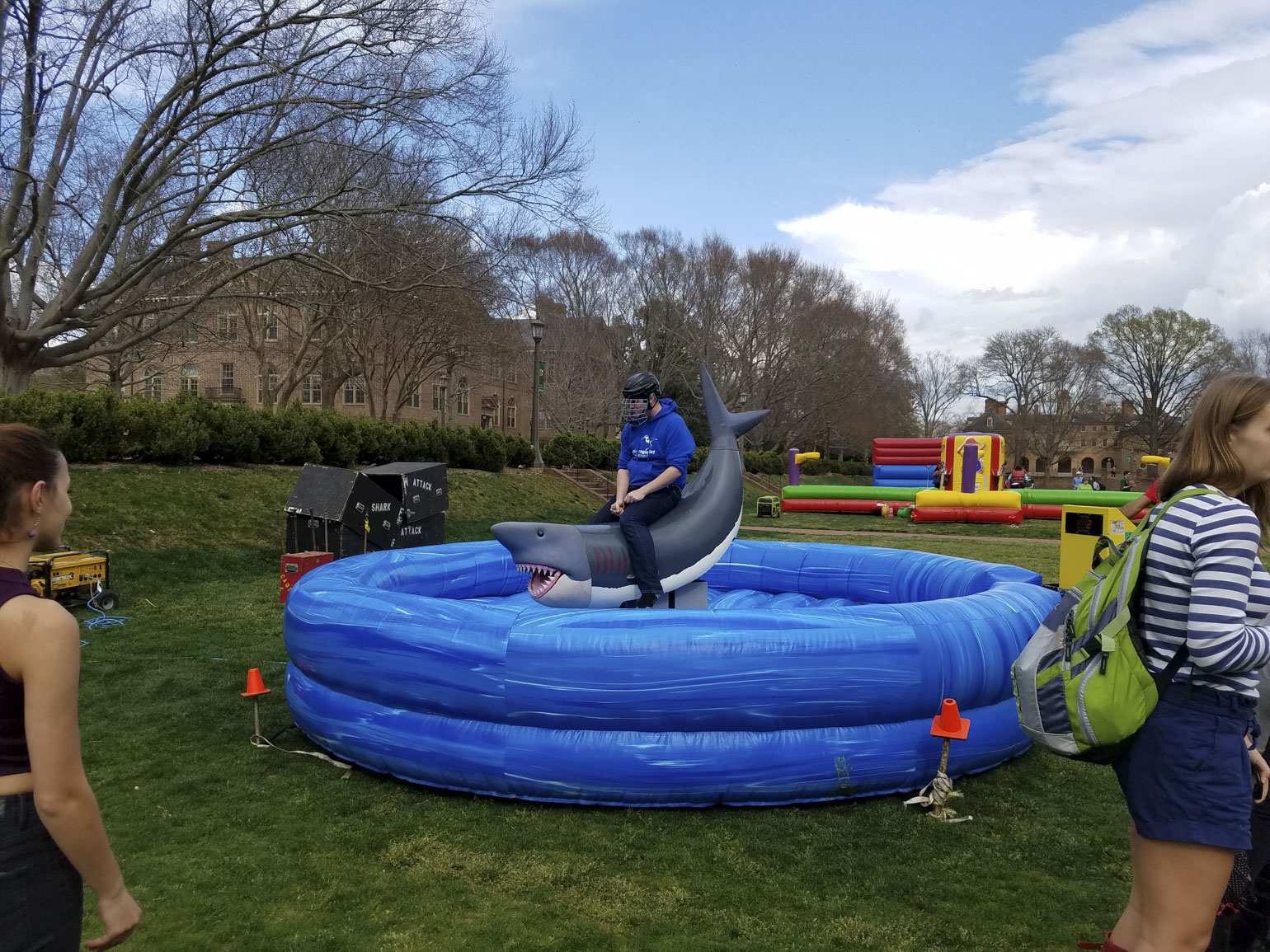 Lyndah Lovell '17, a neuroscience major, decided to take a break from her schoolwork and go to the One Tribe One Day (OTOD) campus carnival today. Lovell, who was sitting on a hill in the Sunken Garden eating and watching her fellow classmates, says she is glad she decided to stop by.
"It's very peaceful seeing everyone spending time on the Sunken Garden and having fun with their friends," Lovell said. "This is an important event — I'm literally looking at the people this is going to help. It's always good to give back and I try to give back when I can. Funds raised on One Tribe One Day are supporting so many areas around campus. Most of us were helped in some way to be able to attend William & Mary, which is why it's important for us to support this day."
Lovell was among nearly 1,000 other students, faculty, staff and others in the community who enjoyed food, games and various activities in the Sunken Garden to celebrate OTOD — William & Mary's official day of giving back. The carnival, sponsored by Students for University Advancement, featured an electronic shark, an eating contest, and several inflatables for children and adults.
At least 30 students stood in line waiting at a snow cone truck, which was a big hit at the carnival. Other students were having an eating contest with marshmallows. Steps away, two students were taking a selfie with William & Mary President Taylor Reveley. Others brought their own entertainment — two students tossed around a Frisbee.
Asef Wafa '16, a business analytics graduate student, said his friends were posting about OTOD on Snap Chat, which made him pay closer attention to the day this year. Their posts prompted him to visit the carnival.
"I saw people posting about a One Tribe One Day event in Washington, D.C. and other events that are going on," Wafa said. "I was very surprised about how much people were talking about this day. This carnival is a fun way to take a break from classes. Also, one of my best friends asked if I had donated on Snap Chat, which got me even more interested in participating in One Tribe One Day and going to this carnival."
Stay tuned for more information about all of the exciting OTOD activities and events taking place around the world on The Gale.