On the front lines of the accounting profession with the MAcc program's D.C. Financial Markets Trek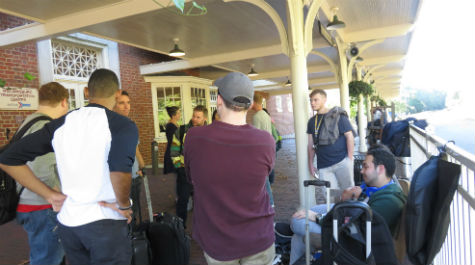 How can you benefit from a William & Mary Master of Accounting (MAcc) degree?
At the Raymond A. Mason School of Business, students are discovering that that the program's experiential learning opportunities are leading to long-term career advantages. The D.C. Trek, a faculty-led exploration of the Washington D.C. financial markets, invites students to meet with national and international experts, and immerse themselves into the "hot" topics in the accounting profession. This year's Trek, held October 18–20, was led by Kimberly Smith, Chancellor Professor of Business, who describes the trip as a one-of-a-kind experience that brings the curriculum to life. "Visiting these organizations in person, and meeting such high-level professionals, provides our MAcc students with a unique perspective, one that allows them to stand out from the crowd, and feel prepared to take on the most challenging projects," said Smith.
Bridging coursework and real work
The group of 64 students began their journey with a visit to the Public Company Accounting Oversight Board (PCAOB), an organization that "audits the auditors," according to Smith. They met with senior members of the organization who shared insights into new auditing standards, investigation regulations, and enforcement procedures. "We were one of the first universities to bring students to the PCAOB," said Smith. At the U.S. Securities and Exchange Commission, the group was able to meet with a number of top professionals including a Commissioner. Students had the opportunity to learn more about enforcement, the impact of new technologies, and the challenges of securities regulation. Student Luoyi Chu appreciated the hands-on perspective. "It's amazing that we get to visit agencies like the PCAOB and the SEC, and get to talk to the people who work on the issues that we read about," said Chu. "Everything I learned in Professor Picconi's class about derivatives and hedging is valuable in the real world, and you will use it," said student Alunique Smith.
The day also featured a panel discussion hosted by KPMG in their Washington D.C. office, and was led by several William & Mary alumni including Doug Williams, partner at KPMG. They introduced the group to a new accounting standard, "Current Expected Credit Losses" (CECL), that was implemented as a result of the 2008 financial crisis. Students and faculty were especially excited to learn how accounting firms such as KPMG use sophisticated analytical techniques to make the estimates required by these new standards. "We were at the center of the accounting world, interacting with some of the most influential people," said student Campbell Cooksey. "It was great exposure — and experience."