Mastering the art of trial advocacy
On a fall afternoon at William & Mary Law School, members of the Trial Team have gathered for Jeffrey Breit's Trial Advocacy class. A quartet of students are recapping their most recent performance, having successfully vied against teams from 15 other schools to take first place in the past weekend's tournament. Breit quizzes them: "Crosses were good? Tight?" When they reply affirmatively, he feigns surprise and asks, "Someone learned how to do that?"
The playful tone continues as he asks the competitors about the judging, if they correctly anticipated objections, and how other teams adapted to their defense. Then, with a smile, he declares, "Enough gloating," and invites Jennifer Quezada, a second-year law student who will compete for the first time in an upcoming tournament, to join him in the well of the amphitheater-style classroom. Breit asks her to begin the cross-examination she has prepared. "Good afternoon, Ms. Martin. I have a couple of questions for you," she says, addressing the "witness," who is a classmate familiar with the facts of the fictitious case.
To read the full story click here.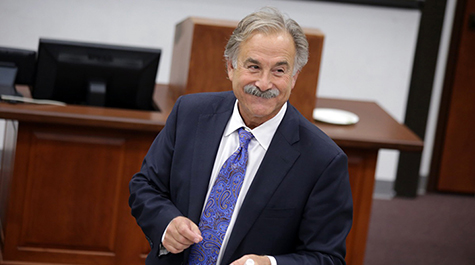 Photo by David F. Morrill