Laughter is the Best Medicine: How One Alumnus Helps Veterans Through Comedy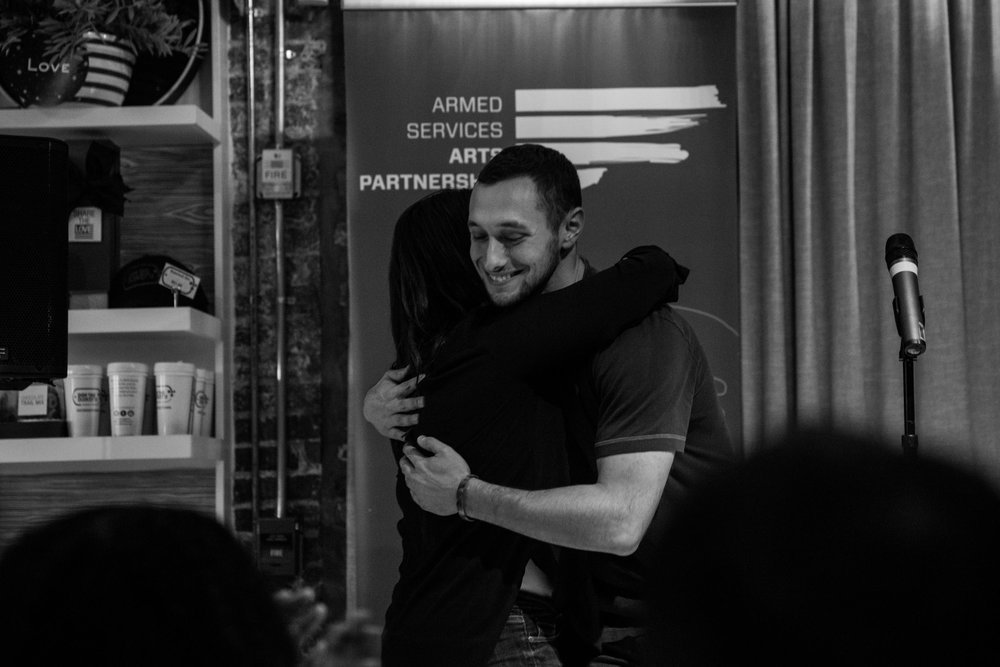 For most college students, senior year means hunting for jobs, soaking up sunlight on the carpet of grass encircling hallowed academic halls and savoring the last few carefree undergraduate parties. Not so for Sam Pressler '15, who spent his senior year developing the William & Mary Center for Veterans' Engagement. After graduation, he turned the organization that he developed as a student into the Armed Services Arts Partnership (ASAP), with locations in Hampton Roads, Va., and Washington, D.C. ASAP seeks to reintegrate veterans into civilian life through the arts community.
"Within the community of the arts, each experience is unique; however, there are common themes. One of the themes for people who have participated in the program is really the value of community and feeling like they finally have the community and the camaraderie [at home] that they had in the military," Pressler said.
Each of ASAP's four programs — standup comedy, improv, storytelling and creative writing — contains narrative components that assist veterans in recreating their civilian identities after their service.
Currently, the standup comedy program, Comedy Bootcamp, is a favorite. Participants sign up for a six-week course. The first three weeks focus on teaching the fundamentals of comedy: joke structures, stage presence and delivery. During the second three weeks, participants progress to writing their own material and performing it in front of one another as they prepare for a community performance the week after the course instruction ends. Upon graduation from the course, veterans can stay connected to the arts community by participating in open-mic nights and other performance partnerships that ASAP offers, and they have the opportunity to become alumni mentors to assist future students.
"After they graduate, we're finding that about 75 percent will continue to practice and perform on a monthly basis, both with ASAP and at open mics and community shows," Pressler said.
The unique program has received ample media coverage — from a CNN piece published on Memorial Day in 2015 to a PBS documentary filmed in the spring of the next year — since its startup stage at William & Mary. Most recently, NBC's television program GIVE partnered with the Ford Motor Company Fund to donate $15,000 to ASAP.
"That's definitely one of the most unique funding opportunities that has come from this work. I essentially just got an email asking us to be on this show," Pressler says of the experience. "They said that there would be this celebrity guest, and then there was going to be a gift at the end. It seemed like a good opportunity for us to raise awareness of the work that we were doing, and also receive funding. I think that for us, it was an excellent outlet for our veterans in the program to have their experiences and voices projected on a national level with television. It's a really strong validation of the work that we do."
Pressler plans to use these funds to increase the number of veterans that the program reaches. ASAP currently has a waitlist of 100 veterans. The $15,000 will enable the program to increase the number of classes to connect 20 to 24 more veterans in the Hampton Roads, Va., and Washington, D.C., areas to the arts community.
ASAP owes its current success not only to Pressler's dedication, but also to the William & Mary alumni network.
"William & Mary alumni have actually been instrumental in getting us off the ground," said Pressler, and "the support of William & Mary people who have graduated has been just invaluable to our establishment and inroads in the last two years now."
From the beginning, alumni have served as Pressler's closest mentors by encouraging him to apply for his seed funding, connecting him with other alumni and increasing his recognition in Washington, D.C. Alumni also sit on ASAP's advisory board, and two members who have served from the beginning walked Pressler through the technicalities of organizing a non-profit.
Although Pressler founded ASAP to create support networks for veterans, he has inadvertently established something even bigger: an inclusive community where any member of the Tribe can contribute.