Judge Pontzer, J.D. '89 awarded Carnegie Medal for saving drowning teen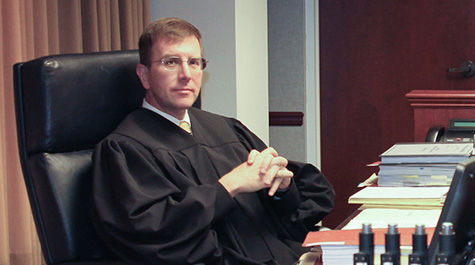 Photo courtesy of William & Mary Law School
Nowadays, the word "hero" is used to describe everything from movie characters to pop culture icons to favorite relatives. But every so often society learns of an act of true heroism when one risks his own life for another. It is this extraordinary heroism which showcases the best of humanity, and it is the sort of heroism recognized by the Carnegie Hero Fund Commission in awarding the Carnegie Medal.

Judge Peter F. Pontzer, a William & Mary Law School Class of 1989 graduate, was awarded the Carnegie Medal on Dec. 20, 2016 for one such act of heroism. Pontzer was on vacation with his family in Emerald Isle, North Carolina, in July 2015 when a relative alerted him that someone was in trouble on the beach. A 13-year-old boy was being dragged by a current away from the shore and was crying for help. Pontzer, still healing from a sprained ankle, ran to the water after grabbing a rescue tube from the beach.
To read the full story click here.