Hundreds Gather for Alumni Admission Weekend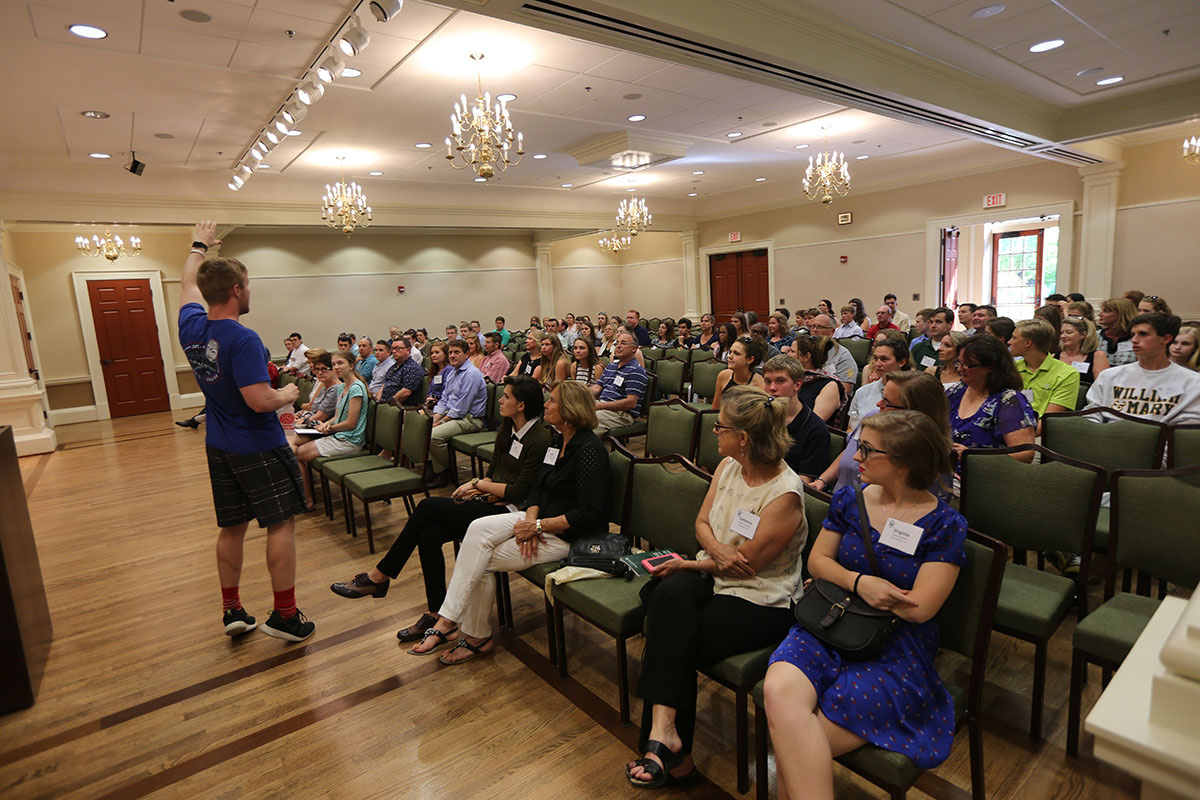 On a hot weekend in June, more than 240 William & Mary alumni and their high schoolers converged in Williamsburg to learn more about the college application process.
The Alumni Association hosts Alumni Admission Weekend annually. This program is designed to assist alumni and their students navigate the often-stressful college admission journey. While many of the students are already interested in W&M, we welcome everyone, so that the less interested will fall in love with our alma mater as well.
The festivities began with a dinner with President Taylor Reveley, who shared a few gems of wisdom with the families, including the importance of applying to a range of schools and making the most of the school they choose to attend.
Saturday was a full day of workshops and presentations. To give families multiple perspectives, admission professionals were invited from an array of secondary and post-secondary institutions. Tim Wolfe, William & Mary's associate provost for enrollment and dean of admission kicked off the morning with a presentation about the college search process from a macro perspective. Following Wolfe's session, Ryan Hargraves of the University of Virginia led families in an interactive workshop on the college admission essay. Breakout sessions included the following options:
Finding Your College Fit
Nanci Tessier, vice provost for enrollment management at Boston College

Making the Most of Your College Visit
Danita Salone, associate director of admission at the University of Richmond

Early Decision, Early Action, Regular Decision: Knowing the Difference, Weighing the Pros and Cons
John Gaines, director of admission at Vanderbilt University

Financial Aid 101
Melissa Franks, assistant director of financial aid at William & Mary

Navigating the College Application
Nettisha Lyte, associate director of college counseling at Cape Henry Collegiate

The Transition from High School to College: Tools for Student Success
Bill McDonald, dean of students at the University of Georgia

I Would Never Get in Now: How College Admissions, Demographics and Institutions have Changed Since the 1980's
Bruce Chamberlin M.Ed. '91, senior associate director of admissions at Georgetown University

Popping the Question: Will You Right My Recommendation
Tamisha Williams M.Ed. '10, dean of adult equity and inclusion at Lick-Wilmerding High School

The group reconvened for lunch and a short panel discussion with students and an alumna parent. We wrapped up the day with a mock admission committee exercise where students and parents became admission deans. They received four applications to review. The families were instructed to discuss the strengths and weaknesses of the applications and to decide who should be admitted, placed on a waiting list or denied admission.
Overall this was an amazing experience and families gained valuable information about the admission process. We look forward to welcoming families to campus again next year.
The Alumni Admission Weekend is just one more way we provide added value to our alumni at various stages of life. We look forward to continued connections and serving our alumni as they embark upon the college admissions journey.