Helping young people with diverse needs find their next move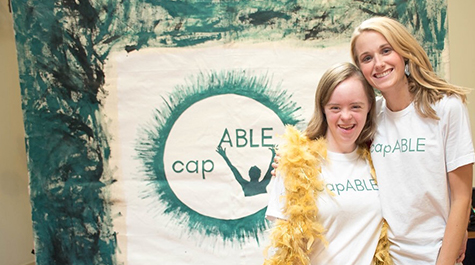 Photo by Oliver Anne Photography
In Virginia, the unemployment rate for young adults with diverse needs is around 70 percent. One in four adults with a disability is living at or below the poverty level. Elizabeth Redford Howley M.Ed. '10 is working to change all that.
The Next Move Program, a non-profit she co-founded and directs, partners with businesses in Richmond, Va., to create guided internship experiences for young adults with disabilities.
"Through education and job training, we empower these individuals to achieve their goals," said Howley. "Eighty percent of our graduates have gained employment or acceptance to post-secondary education."
Her path to non-profit work began with a serendipitous meeting, but grew from a passion for helping individuals with special needs and a degree from William & Mary that uniquely suited her for the work.
From classroom to non-profit
After graduating with her master's degree in special education in 2010, Howley jumped into teaching in central Virginia, first in a fifth grade self-contained classroom and later in collaborative classrooms for sixth and eighth graders.
"I loved my students," she said. "But working across several grade levels of content and with students with a large variety of labels was challenging."
In 2013, she met the director of education for a large biotech company that was looking to start an internship program to train and employ adults with disabilities. She was hired soon after as a program coordinator, running the internship program and providing case management services for employees hired through the program.
The interns performed work that had previously been done by temporary workers, which had resulted in an expensive, high turnover rate and frequent errors. After the interns began work, explained Howley, not only were these issues eliminated, but there was an unexpected positive impact on workplace culture.
"Our interns were motivated and always smiling, and it inspired the best work from fellow employees" she said. "The relationships that employees form with our students are transformative, opening minds and hearts to what individuals with disabilities are capable of in our community."
And while the benefits for the company were significant, the effect on interns was life-changing. In addition to the internship experience, Howley developed a curriculum which offered interns a deeper understanding of concepts required for acquiring and maintaining employment. Topics include safety training, goal setting, body language, appropriate workplace dress and conversation, resume writing, and interviewing.
"Our interns make tremendous gains, as they are learning concepts in the most authentic setting by training and learning in an actual business among working professionals," said Howley.
For more on this story click here.