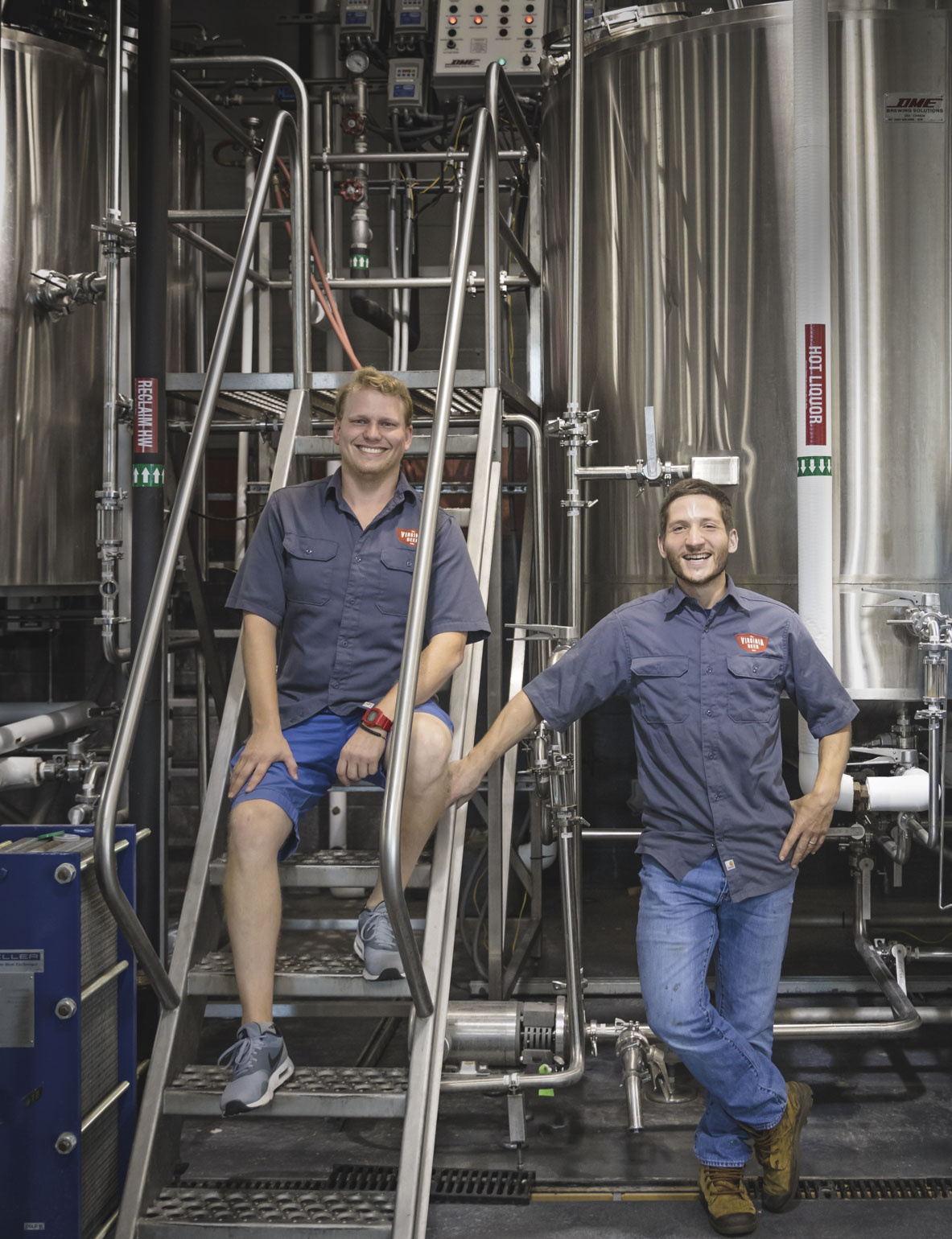 Photo courtesy of The Virginia Beer Company
One of Williamsburg's most popular breweries, The Virginia Beer Company, is owned by two William & Mary alumni. What a perfect way to celebrate St. Patrick's Day!
The Virginia Beer Company
401 2nd St., Williamsburg, Va.
Owners: Chris Smith '07 and Robby Willey '05
Nibbles: Food trucks daily
In spring of 2004, Chris Smith and Robby Willey both worked for William & Mary's Phonathon. Around Easter, Phonathon held a Peeps eating contest.
"It was sanctioned by our manager," Willey confirms with a laugh.
Smith motions to Willey. "He was my trainer," Smith says. "I won."
Thirteen years later, the two are still fast friends — Willey served as best man in Smith's wedding — and the two became business partners when they opened The Virginia Beer Company.
Smith and Willey's interest in beer began with nights at the Green Leafe, their chosen haunt for relaxing after long weeks of classes. There, the two chose from 40 different beers on tap. The sampling continued after Willey's graduation when he visited the area. After Smith graduated in 2007, the two visited each other's new cities up and down the East Coast and eventually tried their hand at homebrewing.
When they decided to end their careers in finance and open a brewery, they were traveling to Williamsburg regularly to attend meetings for William & Mary's Annual Giving Board.
"It just kind of hit us. It makes so much sense for us, being alums, the connection to the community," Smith explains of the decision to relocate to their college town. "After doing some research, we realized it was a really good place to open a brewery in terms of demographics and things that weren't here yet."
The business' connection to the university goes beyond proximity. They've used their taproom to host William & Mary events and have donated their beer as auction items for university fundraisers.
"They've even let us in to teach. Isn't that terrifying?" Smith says of his and Willey's guest lectures at William & Mary's Raymond A. Mason School of Business.
Their label itself has a college connection: The drape of the word "Virginia" on their label mimics the curvature of the Crim Dell Bridge. True to the company's name, the label also pays tribute to Virginia as a whole: The outline of their logo is a cross-section of the hull of the state boat of Virginia, the Chesapeake Bay deadrise, a traditional workboat for harvesting the bounty of the state's large waterways.
"Being 'The Virginia Beer Company' certainly has some weight, so it puts some pressure on us to live up to that expectation," says Willey. "This is a very big, bold open brand, so that gives a lot of flexibility from the marketing standpoint."
Smith and Willey thrive under this flexibility. Cheerful cream-colored walls of the taproom, built in 1960 as housing for the Chesapeake and Potomac Telephone Company's utility trucks, enlarge the already expansive space. Retro steel chairs and simple wooden tables dot the floor. Two big glass panes allow tipplers to peer into the brewing facilities. When the weather cooperates, a garage door slides open to reveal the bustle of Second Street; you can almost imagine the telephone company employees of yesteryear eating their brown bag lunches in the same spot and counting the cars driving past while you enjoy a pint.
The bold flavors of the beer suit the classic Americana feel of the space. The Virginia Beer Company offers four beers year-round and rotates four beers on tap each week.
Of their perennial beers, Willey declares Elbow Patches, an oatmeal stout with a strong coffee nose, his favorite. "It's great with dessert. It is dark; it is smooth — it's not a sweet beer, it's not a milk stout — but it is perfect to cut the sweetness of vanilla ice cream and chocolate syrup."
If Elbow Patches appeals and you visit the taproom at the right time, you might try Copper Patches, the oatmeal stout aged in bourbon barrels from nearby Copper Fox Distillery. Notes of caramel and toasted marshmallow cut through the coffee flavor.
For fans of hoppy goodness, Smith recommends their newly released Fresh Powder, a double IPA brewed with citra. The sweet mango aroma carries over to the palate and dissipates in a refreshing, bitter finish. Year round, you can find Saving Daylight, an American wheat ale brewed with orange and grapefruit peel, that has a crisp sweetness. Saving Daylight complements the sweetness of shellfish, and Willey adds that Chef Jim Kennedy of FoodaTude used it in the batter of a fried lobster tail.
If you're looking for a St. Patrick's Day libation, stop in for a pint before "going out into the wild," Willey says. The Virginia Beer Company will feature a traditional British style, gravity-poured cask ale that day and a food truck with Irish cuisine.