Four William & Mary Alumni Lead Fundraising Campaign in Nation's Capital
The journeys of the For the Bold Washington, D.C., metro co-chairs are unique, yet all are defined by a common thread: William & Mary. It's a green and gold thread, woven into a mental fabric of memories reborn each time they are retold.
The four co-chairs' recollections of life as undergrads at William & Mary are all different. Teri Dale Dungan '88 and Thomas Dungan III '88 speak of a love story that began on a dance floor in the spring of 1985. Former William & Mary Rector Jeffrey Trammell '73 remembers discussions of politics in the wee hours of the morning in dorm room B32 inside Taliaferro Hall. Lynn Melzer Dillon '75 recalls special friendships formed at William & Mary that span decades. It was also at William & Mary where she met her husband, John Dillon '75.
It's those rich experiences, coupled with a William & Mary world-class education, that each co-chair has relied upon to achieve success in our nation's capital and now to lead the university's For the Bold campaign in the Washington, D.C., metro area.
"We want to support the overall effort of the College and want the D.C. region to lead that effort because it's a place where the largest percentage of our alumni are," Tom Dungan said.
The Washington, D.C., metro area has the highest concentration of William & Mary alumni, family and friends in the country with more than 50,000 in the area. In April, there will be a For the Bold campaign D.C. kickoff celebration. Washington also served as the backdrop of the inaugural William & Mary Weekend last year which attracted more than 1,300 attendees.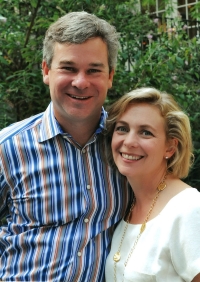 The Dungans
For Teri and Tom Dungan of Great Falls, Va., William & Mary represents more than the place where they both earned their undergraduate degrees. It's where they met and began a special friendship, which has turned into 25 years of marriage and three children.
They crossed paths when they lived in the same freshman dorm. Their first date was the DuPont Hall spring formal in 1985. The Dungans, like other alumni, graduated and started lives outside of Williamsburg, leaving the charm of the Historic Triangle in the rear view mirror to travel the I-95 north corridor to the nation's capital.
"We all went to college in Williamsburg, but after graduation we all dispersed — the D.C. region is where many of us have made our homes and raised our families," Tom Dungan said. "It's the place where many alumni took their William & Mary education out into the world. The D.C. region is where we have made our impact, so it makes sense for the College to come to where we and other alumni live now."
Teri Dungan previously worked for Arthur Andersen LLP as an accountant, Ogden Environmental & Energy Services as the director of accounting and as senior director of corporate accounting for the Host Marriott Corporation. In 2000, she transitioned into the role of stay-at-home mom to the couple's three children.
At William & Mary, Teri Dungan has served on the Parent and Family Council and several Class of 1988 reunion committees, and she is currently a member of the Campaign Steering Committee.
Tom Dungan is CEO and owner of Management Concepts Incorporated, a second-generation training, organizational development and consulting firm focused on career development, performance improvement and human capital solutions for the public sector. He is also the president of Andover Investment, a company focused on banking and real estate.
At William & Mary, Tom Dungan has volunteered his service on the Parent and Family Council and the Business Partners Board and serves with Teri on the Campaign Steering Committee.
The couple says they continue to see the amazing impact of giving back to William & Mary. Their loyalty to alma mater stems from their own experience as alumni and now through two of their children who are students at the university.
"Early on as alumni we felt a really strong connection to William & Mary because we got so much from our experience there personally and professionally," Teri Dungan said. "Now we have the amazing pleasure of having two children at William & Mary, watching their journey, seeing how the school has changed, grown and developed."
Each year, the Dungans host a reception for students who have recently been admitted to William & Mary. It's a way to immediately engage and connect them with the William & Mary community. The couple says it's not just monetary gifts that are needed to continue to build the university's rich legacy, they also need members of the Tribe family to give of their time and talent.
"If people have a gift of some kind, or a passion, they just need to reach out to the College and tell them what it is, so that their gift can be used in some way to move the university forward," Tom Dungan said.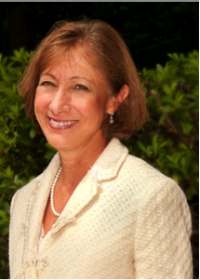 Lynn Melzer Dillon '75
Lynn Melzer Dillon '75 has risen to the highest levels of the business world with a 25-year career in corporate finance. Dillon, who spent her childhood in Chicago and Southern California, set her sights on attending a prestigious university on the East Coast that provided a quality education, but had smaller classes compared to other universities.
"William & Mary is certainly a special place to me," Dillon said. "While it was academically challenging, the support from all the professors created a sense of confidence and a sense of being able to learn and succeed regardless of the subject."
Dillon, who lives in Mclean, Va., said the For the Bold campaign is essential to continuing efforts to broaden alumni engagement.
"I think For the Bold is an exciting opportunity not only for engaging alumni but also for generating the critical resources needed to maintain our incredible legacy of excellence and continuing to build for the future," she said.
In recent years, Dillon has been active as a community and civic leader, serving in a variety of positions with non-profit organizations to support STEM education, at-risk children and the arts. During her corporate finance career, she was employed by First Chicago Corporation/Bank One Corporation and managed various multinational banking units. At the time of her retirement, she served as senior vice president, leading corporate banking operations for the eastern United States.
At William & Mary, Dillon has served on the Alumni Association Board of Directors, the Annual Fund Board, the W&M Foundation Board, the Washington Council, reunion committees for the Class of 1975 and currently serves on the Board of Visitors and the Campaign Steering Committee. Dillon earned the Alumni Medallion in 2009, the highest honor bestowed upon a William & Mary graduate.
"I think that the D.C. area continues to be a growing community in terms of the business world and the breadth of industries that are here and the breadth of opportunities provided to graduates," Dillon said. "Part of it is the economic engine that is here and continues to grow. William & Mary has a wonderful support system in the D.C. region that does a tremendous job helping students who come from this area."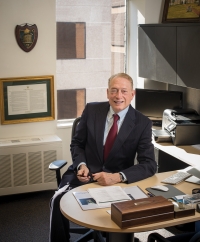 Jeffrey Trammell '73
Jeffrey Trammell '73 doesn't dwell on defeat when he thinks about playing his first basketball game inside Kaplan Arena against the University of North Carolina at Chapel Hill. Despite the loss, Trammell recalls the sense of camaraderie between him and his teammates during the game.
"We made a valiant effort that day," Trammell said.
Trammell, who lives in Washington, D.C., was such a skilled player that he came to William & Mary on a basketball scholarship. That scholarship opened a window of opportunity for Trammell. He later became team captain and was named all-conference in 1972.
"I know firsthand how important scholarships are and how foundational the W&M educational experience was for all of us," Trammell said.
But being a member of the basketball team was just a piece of the life he was offered as an undergraduate student at William & Mary.
"I was looking for a school that was strong academically, but was not a huge university," Trammell said. "For me, William & Mary was a place where you would walk across campus and run into person after person who you knew, but they weren't just people who knew about you, they were people who cared about you."
Trammell is president of Trammell & Company, a public affairs firm in Washington, D.C. He started his career as counsel to the chair of the Subcommittee on Health and Environment of the House Energy and Commerce Committee and served in other staff roles in the U.S. Congress. Trammell then worked as the senior managing director and head of public affairs at Hill & Knowlton for 12 years. From 1999-2000 he was a senior advisor to Vice President Al Gore.
Trammell served on the Board of Visitors from 2005-2013 and as the rector of William & Mary from 2011-2013, overseeing the adoption of William & Mary's sweeping new operating model, the William & Mary Promise. He has served on the Annual Giving Board, the Public Policy Advisory Board, reunion committees for the Class of 1973 and the Campaign Steering Committee. Trammell was recently named a 2017 Alumni Medallion recipient.
"D.C. is the largest gathering or aggregation of alumni. They range from individuals who have just gotten out of school and come here for their first jobs to those who have built very successful careers in business, government or nonprofits," Trammell said. "The bottom line is that the Washington area affords great opportunities for William & Mary alumni."
Engaging and connecting with alumni is the mission of the D.C. co-chairs and there has never been a more fitting time to do that, Trammell said.
"I think it's important for people to understand that we are at a unique point in our history," Trammell said. "We now have the strategic plan and the drive to ensure William & Mary's long-term excellence. We are doing that with President Reveley, Matthew Lambert, the board, the rector and everybody working together. Everybody is working together now in a way we never have in the history of the College."