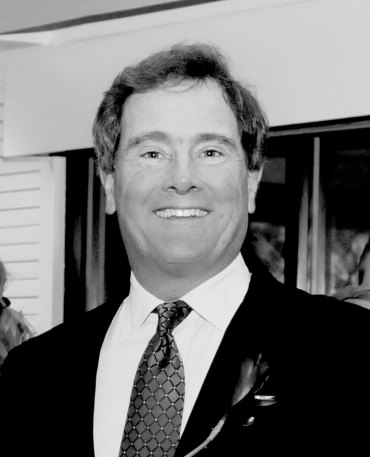 To Russ Brown '74, there were no strangers. According to his wife, Dottie '74, upon first meeting him you were either going to hear a great Russ Brown story or become a part of one. "He quickly became a friend you'd never forget," said Dottie.
Brown passed away on Aug. 12, 2014, after a 27-month battle with acute myeloid leukemia. In 2015, during Charter Day Weekend, William & Mary posthumously granted him the Alumni Medallion award, the highest distinction of the Alumni Association that recognizes individuals for their professional accomplishments, leadership, dedication to the community and commitment to their alma mater. After graduation and two years in the NFL, Brown began a career in real estate and mentored others in the business throughout his professional life. In 1983, Brown founded a real estate development, sales marketing and property management firm, RBC Enterprises.
While Brown was building both his career and his company, he still found the time to remain involved with William & Mary. Since a football scholarship enabled him to attend the institution as an undergraduate, Brown wanted to ensure that individuals would have the same opportunities in the future. He created three endowments, each in honor of a family member. In addition to his financial gifts, Brown served on the Alumni Association Board, the William & Mary Athletic Foundation Board and the College of William & Mary Foundation's Board of Trustees.
When he received his diagnosis, Brown wanted to transform his experience with the disease into hope for others, so began working toward creating a foundation to fundraise for acute myeloid leukemia research. Despite Brown's optimism throughout his treatment — he'd coax nurses to disconnect him from IVs so that he could hit the gym, and he continued to spend time with family on the golf course — he succumbed to the cancer before the foundation's birth.
In honor of his memory, Brown's family picked up the project where he left off. His wife, Dottie; his daughters, Elizabeth Brown '01 and Lindsey Harrell '04; and his son-in-law, Wade Harrell '05 unveiled For the Win: the Russ Brown Foundation to End Myelogenous Leukemia in May of 2016. "We felt it was important to turn our grief into something positive," says Dottie of the family endeavor.
In October 2016, the foundation kicked off its first event, Shuckin' For The Win, in Williamsburg as a celebration of both Brown's continued legacy and of William & Mary's Homecoming.