Fall brings a full slate of arts offerings at W&M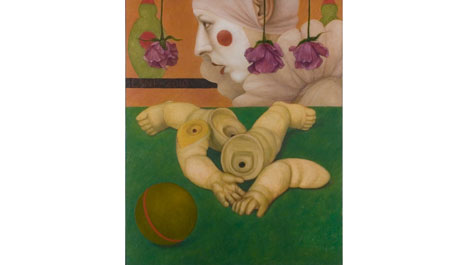 Lani Irwin, "Pulcinella Suite II"
The new semester brings with it a vast array of opportunities for people to enjoy the arts at William & Mary. For more events happening at William & Mary this semester, see the university's online calendar.
Art
A mural project completed with visiting artist Steve Prince over the summer to kick off the yearlong commemoration of the 50th anniversary of W&M's first African-American residential students will be unveiled this week and on permanent display in Swem Library.
The Muscarelle Museum of Art will host two exhibits as part of the 50th commemoration. Fred Eversley, 50 Years an Artist: Light & Space & Energy and Building on the Legacy: African American Art from the Permanent Collection will open Sept. 2 and run through Dec. 10 and Jan. 14, 2018, respectively. A career survey of 23 of Eversley's sculptures will be shown.
Eversley, an African-American sculptor and innovator, was trained as an engineer. He began making his polyester resin sculptures with an aim to "create kinetic art without using kinetic elements such as mechanical movement or artificial light changes."
Eversley's strong interest in energy has led to further creations that utilize wind current to create dynamic acrylic cast forms. Eversley embarked on his 50-year career as an artist in 1967, which was the year W&M's first African-American residential students started at the university as freshmen.
The Muscarelle will host its Third Thursday Lecture Series, which is free and open to the public, on Sept. 21, Oct. 19 and Nov. 16.
The Department of Art and Art History's Andrews Gallery will host No Man's Land: A Collection of Works by Contemporary Female Artists from Sept. 7 through Oct. 3. It will feature numerous works on the first floor of the free gallery, located behind Phi Beta Kappa Memorial Hall. A reception, free and open to the public, will be held on Sept. 14 from 4 p.m. to 6 p.m.
For more on upcoming fall events click here.