Ethnomusicologist returns to Indonesia for new research on Islamic music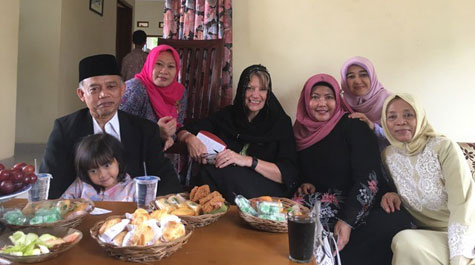 Courtesy photo of W&M News
Anne Rasmussen's connections in Indonesia have helped build the evolution of her research there, and over the years, the way she does it as well.
Rasmussen, William & Mary professor of music and ethnomusicology and William M. and Annie B. Bickers Professor of Middle Eastern Studies, spent the first six months of this year as a Fulbright U.S. Scholar in that nation, traveling extensively in Java and Sumatra.
She was expanding on her earlier work, which took her to the area more than 20 years ago and back several times since, including two full years of living there. Those efforts resulted in her award-winning 2010 book, Women, the Recited Qur'an and Islamic Music in Indonesia, among other works.
Rasmussen's research focuses on female religious authorities and practitioners in Indonesia. The country is notable because it is home to the world's largest Muslim population and also because women play prominent, public roles in what Rasmussen calls "the business of religion."
"The project that I began in the late '90s and about which the book was published in 2010, focuses on women as religious authorities, as religious practitioners and as people who are empowered by their knowledge of religion," Rasmussen said. "Women are valued as teachers and particularly as reciters of the Quran."
For more on this story click here.