Connections: Surgical fellow puts Navy training to use during storm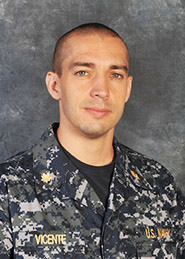 William & Mary alumnus Diego Vicente '05, M.D., fellow, Surgical Oncology, learned to stay calm in any situation from his surgical training and deployment as a strike group surgeon in the Navy. That training kicked in during Hurricane Harvey to help him get to work safely and to care for patients once he arrived.
"My street had flooded by the time I woke up on Sunday, and I knew my house and car would probably flood soon as well," Vicente says. "My family was out of town and safe, and I knew that if I thought it was crazy to try to make it into MD Anderson on Sunday morning, there would not be a lot of people who would even try."
Vicente knew his car wouldn't make it, so he quickly placed his electronic devices in zippered bags and decided to run to work, which was 3 miles away.
"I ended up swimming a bit near the bayou and Buffalo Speedway. Besides some fire ant bites, it was not that bad," he says. "The most concerning part was when I looked up while swimming and saw power lines swaying amid the wind, rain and lightning."
Caring for patients is a team sport
Vicente says his Navy training in triage came in handy both during the trip to work and while caring for patients once he arrived.
After taking a shower and putting on dry clothes, he started rounding and contacted other fellows to make sure the team could care for every patient in the hospital. They all were grateful they made it to work safely under such dangerous conditions.
The Surgical Oncology team covered Urology, Plastics and Orthopedics and worked with a Gynecology Oncology fellow and Nocturnal advanced practice providers to cover other areas outside of their own.
"We were able to coordinate care amongst our service and multiple other services by working as a team and helping each other out," he says. "We formed a special bond getting through this tough time together."
His home and car flooded, but that team support continued after the storm as he and his family began their recovery.
"There's been an incredible outpouring of support from the Surgical Oncology department," he says. "Over 40 people from both MD Anderson and City Church showed up at my house to help, and we were able to move the entire house in 2.5 hours."
Connections is a series in Employee Notes featuring our employees and their connection to our mission.