Come to the sundial to see the eclipse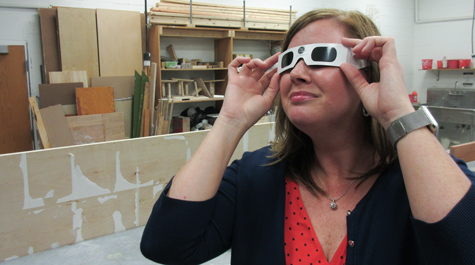 Photo by Joseph McClain
William & Mary's Swem Library and 2017 Solar Eclipse Working Group will be hosting an informal eclipse-viewing event on Monday, Aug. 21.
The community is invited to stop by the sundial courtyard outside Swem Library during eclipse time, 1:19 to 4:05 p.m., with peak coverage of 88 percent occurring at 2:45 p.m. Visitor parking will be available on level 3 of the Parking Deck at 201 Ukrop Way.
Lisa Nickel, associate dean of research and public services, said Swem is joining libraries across the eclipse path in hosting viewing sessions. Special eye protection is absolutely essential for viewing the eclipse without incurring eye damage and Nickel added that Swem Library is providing a limited number of eclipse glasses at the event.
"It's a great opportunity to bring the William & Mary community together to experience something amazing," she said.
In addition to watching the moon pass over the sun, there will be a few eclipse-related activities. Michael Gaynes, a lecturer in the Department of Art and Art History and a member of the Solar Eclipse Working Group, will bring his two telescopes equipped with solar filters. Gaynes said he might set up some pinhole viewers as well.
For more on this story click here.